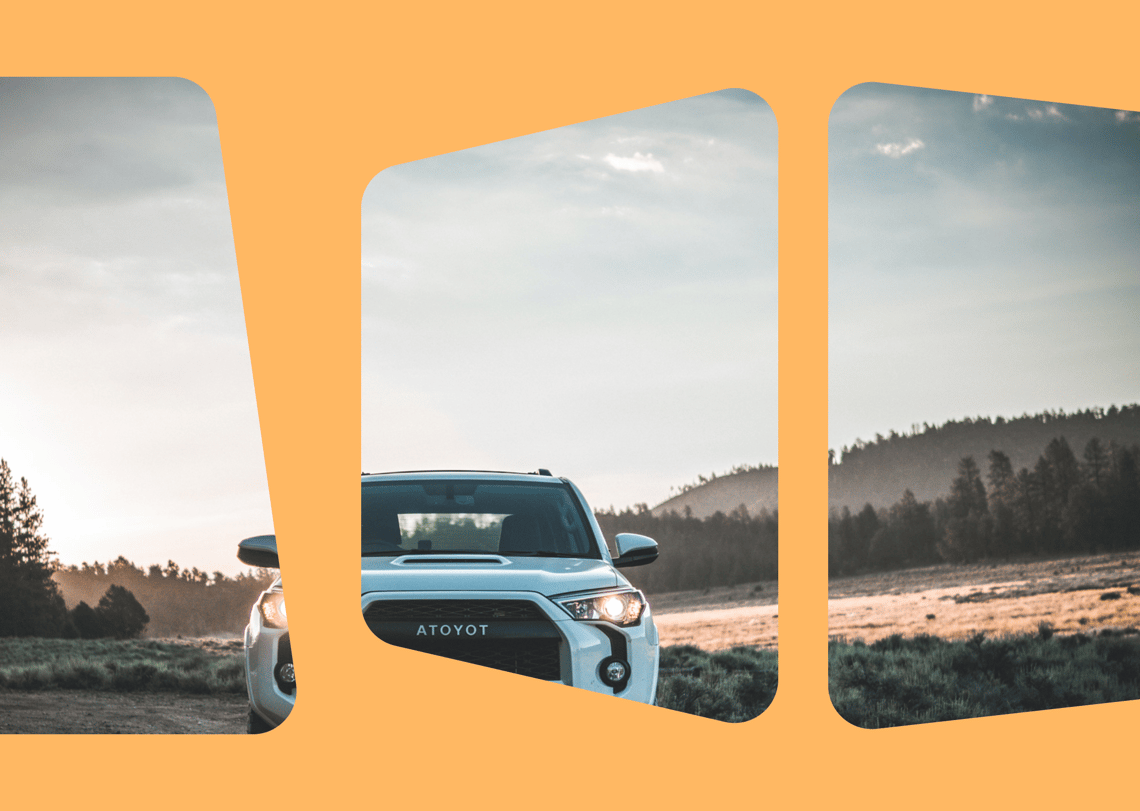 There is no better feeling than buying a car. 😍 The excitement, the endless possibilities, the envy of your neighbours! Buying a car on finance is a sensible decision too. Leveraging finance allows our customers to purchase newer, greener, more economical, and reliable cars for a monthly cost that fits their budget.
Applying for Car Finance
First, there's the small matter of the application process. Traditionally, applying for car finance can be confusing and frustrating. What if you go through the whole process, only to find you've not been accepted? Don't worry, we've got your back! At Carmoola applying for car finance is quick and painless, it often takes 60 seconds or less. In this article, we're going to walk you through everything you need to know about applying for car finance.
Getting Ready to Apply for Car Finance
When exploring if car financing is the best option for you, you will need to know how much you can borrow. Carmoola is a great place to start. Thanks to the Carmoola Car Finance Calculator, you can have a figure in minutes, without affecting your credit score.
What's great about Carmoola is that the whole process is managed online. Say goodbye to 'old-school' lenders with their paperwork, which could take weeks for applications to be reviewed manually. Lie back, put your feet up, and relax with Carmoola… it's car finance on cruise control.
When getting ready to apply for car finance you need to take the following 3 things into consideration:
Simply check your credit score with apps such as Experian and ClearScore which are very simple and easy to use. The higher the score means the more likely you are to get car financing.
Finance is subject to status and is only available to UK residents aged 21 and over. Carmoola is committed to responsible lending.
Amount of monthly residual income
Money left over after your monthly outgoings have been paid for, e.g. housing and utility payments.
Applying for Car Finance with Carmoola
We have resources that explain everything you need to know when you apply for car finance should you want to dive deeper. Essentially, there are 3 simple steps when partnering with Carmoola:
1- Find out how much you can borrow
By answering a few quick questions, you'll find out how much you can borrow on car finance, so you can shop with confidence.
2 - Check your car's history
Run a free history check and have complete peace of mind that you've chosen a great car.
3 - Pay with your Carmoola card
Checkout with Carmoola online, or in the showroom. Accepted on all online car-buying websites, and 1,000's of reputable dealerships.
At Carmoola, we are on a mission to make car financing easy for everyone! There's no waiting around for a car finance decision or painful paperwork. Carmoola is great on your back pocket too, with no broker commissions that bump up the cost unnecessarily.
Understanding Car Finance - the Nitty Gritty
Carmoola offers a hire purchase agreement (HP). We want to make financing feel effortless and empowering. We want our customers to have a reliable, efficient, and economical car they can be proud of after the loan has been paid off.
Hire Purchase (HP)
HP is a car financing plan that allows you to spread the cost of your next car over a set period of time by making monthly payments.
You'll likely pay slightly larger monthly payments than with a Personal Contract Purchase (PCP) deal, you can find out more about these here - but with HP you'll own the vehicle outright at the end of the term. What's also great is that there are usually no annual mileage restrictions, so you have the freedom to drive the car as much as you want.
Here's why a lot of car owners are choosing HP:
The contract term is usually between two and five years.
For the term of your loan, you'll make fixed monthly payments.
Begin your financing with or without a down payment.
Once all of the payments have been made, you will own the car outright.


How to Make Car Finance Affordable
Our free auto finance calculator is a great place to start. It will give you an idea of how much you can borrow, but it can't help you with how much you can afford to pay. Only you know how much extra income you have to invest in your new car.
Here are some pointers to help you figure out how much you can comfortably afford to spend on financing, without stretching yourself too thinly.
Step 1: Calculate your monthly income
How much money do you earn per month? Is it a consistent amount? If not, try averaging the previous six months.
Step 2: Tally up your monthly expenses
How much money do you personally spend on a monthly basis? The important word is "personally". Many people share costs with a partner or housemates, but car finance will be your burden solely. With that in mind, note down all the expenses you need to cover before you can even consider a car finance application.
Step 3: Determine how much residual income you have each month
Now that you have your monthly revenue and monthly expenses, you can subtract the expenses from the income to get a reasonable estimate of your monthly disposable income. For example, if you earn £1,600 per month but only spend £1,200, your residual income is £400.
Step 4: Examine your credit report
You have a good idea of what you can afford to spend each month, now it's time to look to see if lenders will lend you money. There are numerous credit score tools that will give you everything you need to know about your credit score and what finance you're likely to be offered. Experian and ClearScore are great places to start. Find out more about credit scores here.
Step 5: It's time to use the calculator!
To discover what kind of budget you're working with and how much it would cost to finance a used car, try our handy hire purchase auto loan calculator. Don't forget that you might have some cash on hand or an old auto to trade-in as part of the deal.
Step 6: Use Carmoola to create an accurate budget
If you are ready to upgrade your car, you need to set a realistic personlised budget. It's time to use Carmoola. The app takes 60 seconds to complete, and it helps you understand your budget when filled in correctly with your personal details.
The great thing is, once you've used Carmoola to calculate your budget, there's no need to fill out any additional paperwork. You only need to verify your ID and you'll be ready to go car shopping!
Benefits of getting a car with Carmoola Car Finance
Super quick, get an instant decision on how much you can borrow with Carmoola.
Own the car outright - after the loan has been paid off it is yours to keep - only a £1 transfer fee.
Get a better, greener, more reliable car - because you're getting a loan you can look at cars that have been looked after much more and are newer than the cars that would have been in your price range without a car finance loan. Look out for our "green" discounts coming soon!
How much can you afford? Well, it helps if you can spread the cost - and Carmoola will calculate an amount you can comfortable afford. And set monthly payments make it easier to budget and keep on top of your personal finances - and you get to hang on to your savings for a rainy day!
Improves your credit score - keeping on top of your personal finances whilst having a loan in place looks great and makes you a great customer for other loans in the future.
Fixed rates of interest - with loans term between 24 to 60 months.
Carmoola allows you to increase, decrease or even pause your monthly payments at any time.
It's an app (no small talk, you won't have to discuss the weather).
Once you're approved you will receive a virtual Carmoola card on your phone. You can use this at any reputable dealership or online seller to snap up that dream car.
What next?
It's important to pause for a second. Online car finance can be a smart option, depending on your financial position. At Carmoola we take our responsibility seriously, which is why we created the budget calculator as part of our app. This way our customers can be sure they can afford the finance they're looking to secure.
If you're having trouble getting accepted for car finance, a smaller loan for a less expensive car can be a good option. Alternatively, you might want to save for a higher down payment, and in turn minimise the amount you need to borrow.
Don't forget that making multiple applications for finance can further damage your credit score. So you might want to check your score first for yourself, before making the actual application. You may need to work on improving your credit score, as this will improve your chances of approval in the future.
The lender and the borrower are protected by an auto finance affordability check. So you will only be offered an amount you can comfortably afford based on your circumstances. If the lender determines that you will not be able to repay the loan you are requesting, don't take it personally. They're simply trying to keep you from becoming entangled in a financial responsibility that could bring you stress and difficulties in the future.
Always continue to improve your credit score in order to increase your chances of obtaining car financing. It will also go a long way toward minimising the amount of interest you have to pay. That can only be a good thing 😀
Carmoola has revolutionised the car finance world, by making the process quick and painless. Apply online today to see if Carmoola can help you with your next car. 🚘