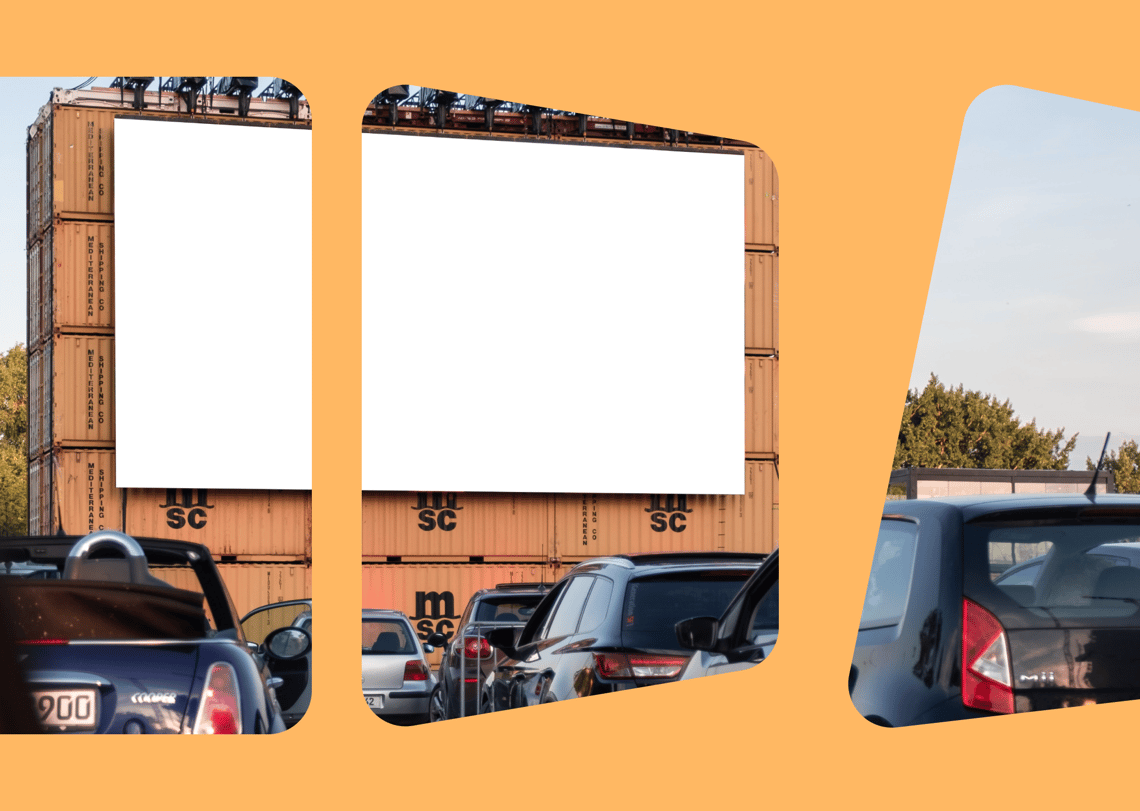 Drive-in cinemas saw a resurgence during Covid. Watching a film from inside your car was much safer (and more comfortable if you ask us) than sitting in a room with lots of strangers. Even as lockdowns ease and Britain gets vaccinated, it looks like the popularity of drive-in cinemas will see them here to stay. So it might be handy if you knew where the best drive-in cinemas were located. That's where we come in with this handy guide.
The Great British Drive-In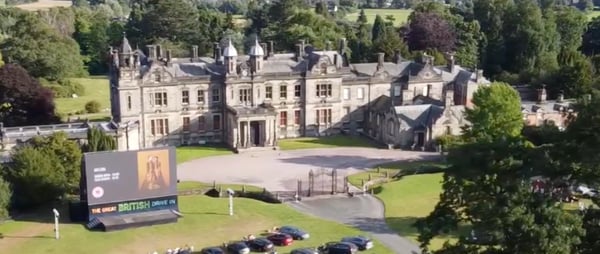 If you're after an upmarket drive-in cinema experience, then look no further than The Great British Drive-In in Staffordshire. It's set on the grounds of a country mansion with 400 acres, close to the town of Stafford. The 100 sq m LED screen is ideal for 165 cars, and you can watch blockbusters to Bollywood and everything in between.
Luna Big Screen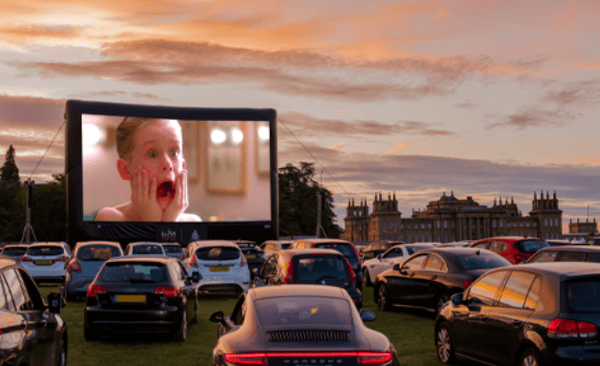 One of the best drive-in cinema experiences, Luna Big Screen has multiple locations in country estates, swimming pools, abbey ruins and castles all over the UK. So sit back, recline the seats and pretend your car is in an action movie while watching a Hollywood favourite from the comfort of your own vehicle.
Drive-In Film Club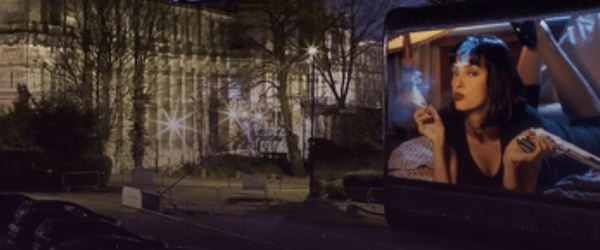 With a drive-in cinema experience dating back to 2014, the Drive-In Film Club set the trend for watching movies in your car in the UK. It's now back with a new offering at Alexandra Palace in London and boasts a 40-foot LED screen. Movies include classics like Grease, Pulp Fiction and newer films like Rocketman. There are also snacks and drinks galore, so get your cup holders at the ready.
Sunset Cinema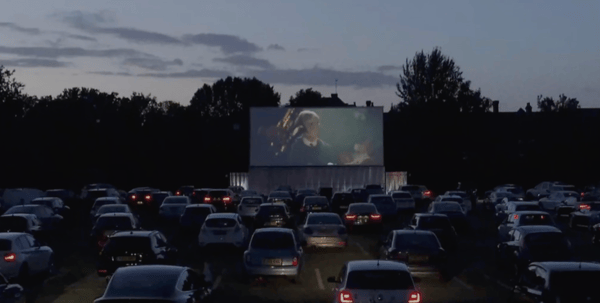 Sticking with London, the Sunset Cinema is located in West London and features a collection of movies that you can watch while chilling in your whip. You can also pre-order grub through Dirty Bones, which will satisfy those hunger pangs with burgers and the like. All cars are spaces two metres apart for added peace of mind.
Cinestock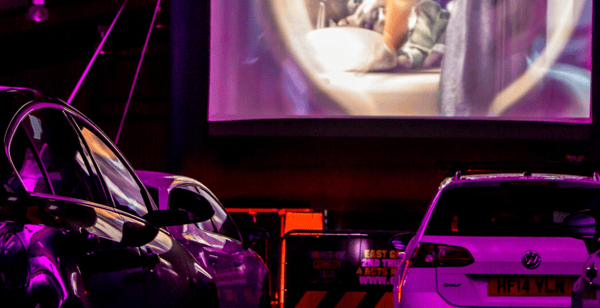 Enjoy the Great British Summer at Cinestock by pulling up, putting your car into gear and watching a flick. The drive-thru cinema caters for 200 cars and features an indoor screen, meaning you don't need to wait until it gets dark to enjoy a movie. Located in West Sussex, there's also a second venue where you watch comedy shows.
The Alfresco Theatre Drive-In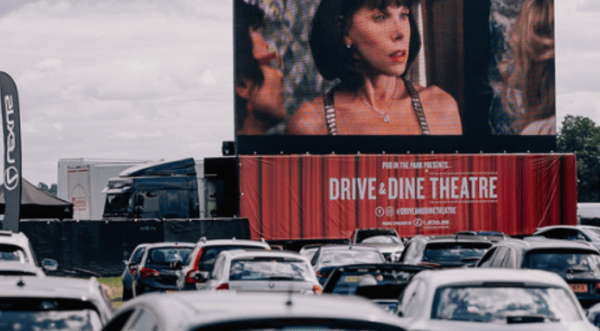 Combine great food and awesome movies at The Alfresco Theatre Drive-In, a brand-new travelling restaurant and cinema with food, shows, comedy and films. If you're after some feel-good vibes, The Alfresco Theatre Drive-In is the place to be – it's showing Dirty Dancing, The Greatest Showman and Grease.
At The Drive-In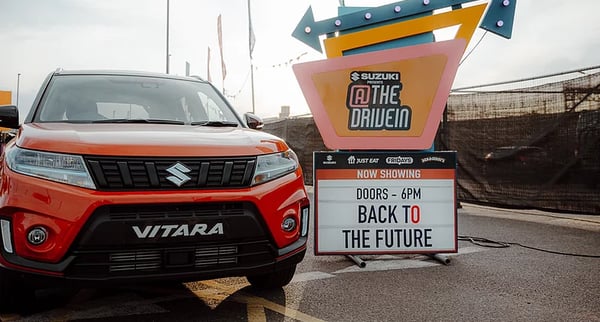 At The Drive-In is touring around the UK, with shows in major cities across England, Scotland and Wales. Movies on show include Joker, Jaws, The Lion King and Back to the Future, so get the popcorn out and indulge as you watch all-time classics.
The Star And Mouse Picture Show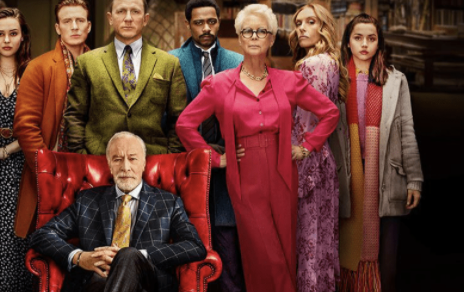 Another touring cinema, The Star And Mouse Picture Show brings drive-in movie experiences to several venues. Screenings include the classic Breakfast at Tiffany's, as well as Some Like it Hot and Knives Out. There's also a pre-screening DJ set, just in case you fancy shaking a leg behind the wheel.
Tamworth Castle Grounds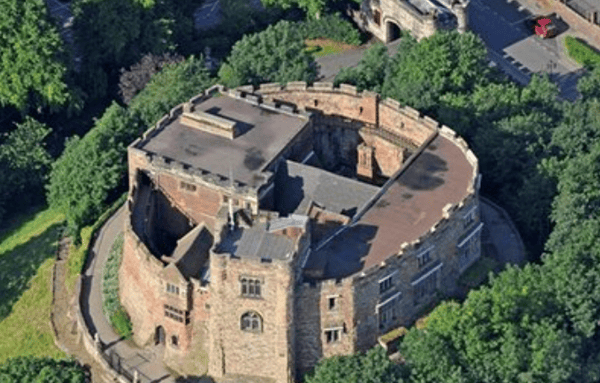 The county of Staffordshire clearly enjoys hosting drive-in cinemas, as it's back on our list with Tamworth Castle Grounds. The castle was built in 1073, and they probably didn't envisage it becoming a hotspot for drive-in movies. But here we are, mixing history with John Travolta – because if there's one thing all these drive-in cinemas enjoy, it's showing Grease.
The Drive-In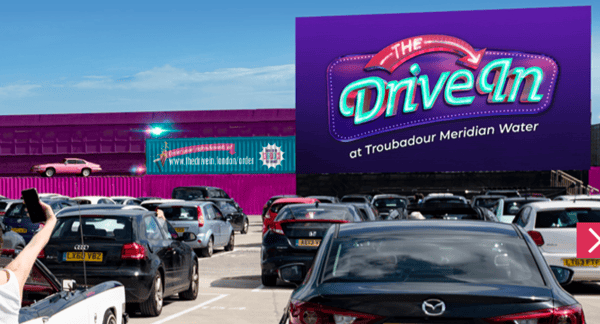 It's fair to say that some of these names aren't that original. But you didn't come here for snazzy names; you came for movies and cars, and movies and cars are what you'll get. The Drive-In is located in North London and shows movies such as Dirty Dancing, 1917, and, you guessed it, Grease. There are also nibbles and drinks available from Nanny Bills.
The Big Drive-In

Over in Northern Ireland, The Big Drive-In has you covered with a selection of movies that doesn't feature just Grease or Dirty Dancing – Paranormal Activity, The Conjuring and Trolls are just three of the films on the line-up. Pre-booking is required, and you can either listen to the film via a handheld Bluetooth device or do it old school by winding down the windows to listen to the outdoor speaker system.
Drive-in delights
With our drive-in cinema options, you can enjoy a great night out whether you're catching a flick with a few friends or trying to impress a date (just make sure your car is date ready).
Got a favourite drive-in that we didn't mention? Drop a note in the comments and we'll add your fave!