Brentford Football Players and Their Cars
Brentford Football Club's players, or The Bees, as they're affectionately known, are notoriously active. Whether they're competing for their respective national teams or playing home and away games with Brentford, they're, well, busy bees. But one thing about the boys? They're going to show up in style. And usually a luxury 4x4. We've scoured the lads' social media to find the player with the best car collection - and allow me to promise you, they're all goals.
Please note - we won't be including Yoane Wissa, Pontus Jansson, Christian Norgaard, Aaron Hickey, Mathias Jensen, Charlie Goode or Rico Henry, as they've chosen to keep this information private. Hopefully one day we'll get a cheeky look!
Ethan Pinnock
First up is Ethan Pinnock. Pinnock started playing football for Brentford F. C. in 2019 and apparently drives a mystery 'luxury car'. Intriguing! More recently, Pinnock decided to spend some time with the F1 team in Silverstone, and shared a picture of himself in front of one of their cars on his Instagram page. Let's hope he doesn't decide to hang up his studs and join the Formula One team instead.

Josh DaSilva
A team player who's had bad luck with cars is Josh DaSilva. In an interview on Brentford F. C.'s Youtube page, DaSilva mentioned that while cheering his team on in Wembley, he'd managed to lose his car keys! The story seems to involve lots of jumping up and down and going to pour beer over one of the other Brentford F. C. players. Luckily, they turned up in the end… which is probably less hassle than buying a new car, even if it's not as much fun.
The Mercedes Boys
Ivan Toney has got into trouble and isn't well liked by fans after describing Brentford as 'nowhere exciting', but even the most entitled player has an annoyingly enviable ride. Toney drives a black Mercedes G-Wagon. Ogochukwu Frank Onyeka might not be so disparaging of his team, but both men do seem to like Mercedes - Onyeka has a grey Mercedes Benz, and loves a good photo in his luxury car.

Ben Mee
Whilst many of his teammates have some pretty fuel intensive vehicles, Ben Mee mostly opts for electric cars in an attempt to reduce his carbon footprint. Whilst similar vehicles seemed a bit lame a few years ago, the meteoric rise in the Tesla's popularity (probably thanks to the chaotic and controversial brand owner, Elon Musk) has changed the perception and allowed electric cars to become a luxury and enviable ride. When Mee transferred to Brentford F. C. earlier this year, he explained that he wanted the change to be carbon neutral, so he worked with Carbon Neutral Britain to plant 20 trees per month for a year, which will absorb 15 tonnes of CO2.

Sergi Canós
Saving the best for last might not be the best technique for football managers, but I'm going to do it here. Sergi Canós might have a hamstring injury that's keeping him off the pitch at the moment, but don't worry - he's still travelling in style. According to his Instagram, Canós owns a red Ferrari in his home country, Spain, and after moving to the UK got his British driving licence in 2015 so he could keep cars here, too. Canós' collection includes a shiny black Range Rover from Urban Automotive and another black Jeep. We'd love another peek into his garage to see if there's anything more colourful, yet I suppose we'll just have to wait and keep an eye on his Instagram page. One thing's for sure: if you are tired of walking, Canós is the best player to give you a lift.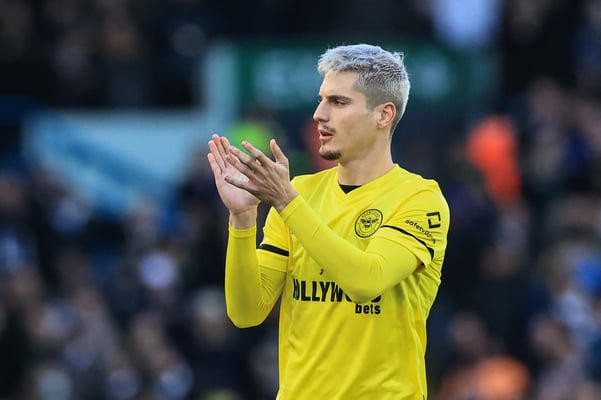 Takeaways
So, there you have them. The Bees are flying around in some pretty great vehicles and love travelling in style. When they're not on the pitch, they're often enjoying their luxurious rides, courtesy of those generous footballers' salaries. Who knows - maybe we'll get to see more of their vehicles in a promotional video for the club. Fingers crossed, and good luck with the upcoming season!
And, if you're a Brentford fan that is looking for car finance, we can help. We offer competitive rates and can tailor a package to suit your budget. Check out the how it works page to find out more. With Carmoola's car financing deals, you can drive away in your dream car from thousands of dealerships, download our app to get started today. 👍🚘