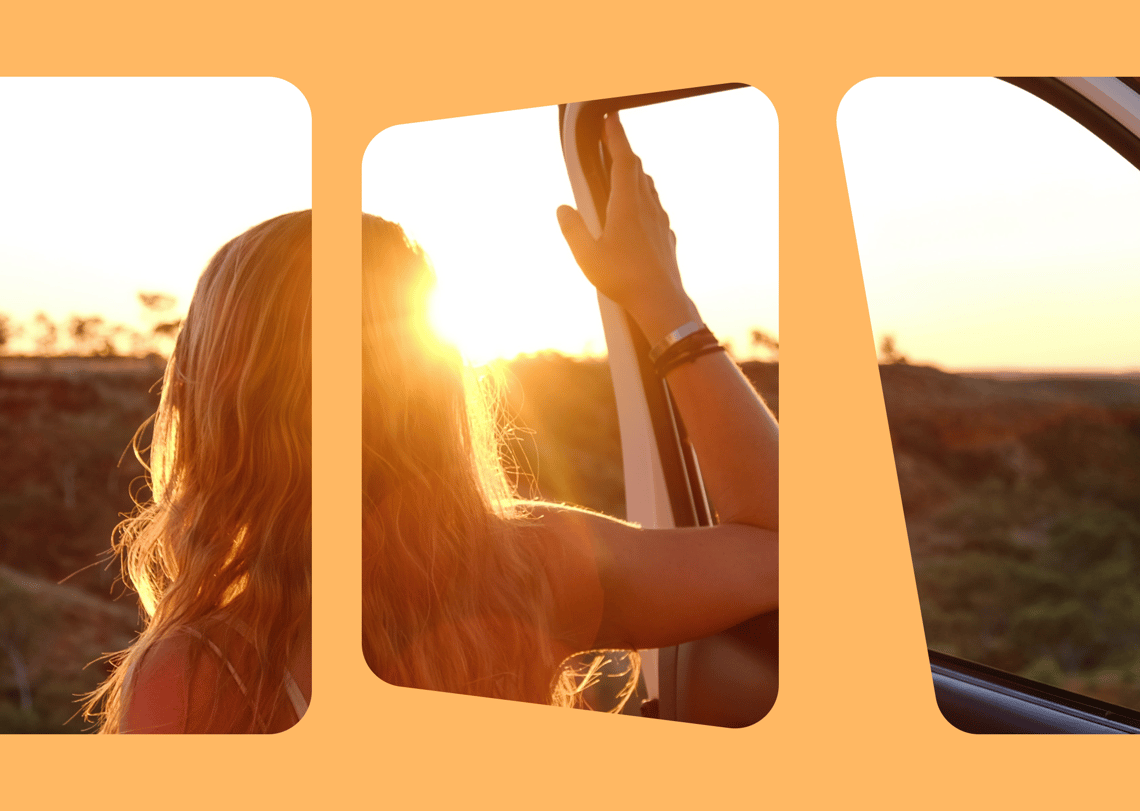 It's official: Love Island, a.k.a. the nation's number one guilty pleasure, is coming back for another series - and we can barely contain our excitement! So, as we gear up for another eight weeks of drama, romance, inevitable heartbreak and awkward shenanigans from the next batch of insanely beautiful contestants, and watch as they battle it out to find love, ahem, win £50k in prize cash, we've created the perfect fix to tide you over until the long-awaited return date. On that note, have you ever wondered what the Islanders drive? 🚗 Well, stay tuned because you're about to find out.
We've recently been doing some digging into the preferred vehicles of some of our favourite series 5 cast members, and this time around, we're taking a peek into the Lucie Donlan car collection.
Remember Lucie? Of course, you do. When her whirlwind romances with Tommy Fury, Joe Garratt, and George Rain fell flat, our beloved surfer barbie was dumped from the villa following her 36-day stay. So close, yet so far, Lucie love.
The Sky's The Limit
But while she didn't find the man of her dreams in sunny Majorca, nor make it to the finals, Lucie's Love Island experience wasn't a total waste. Like many of her fellow contestants, being on the show has changed her life for the better. And by better we, of course, mean she's now swimming in cash.
With every Instagram upload, the 23-year-old model rakes in between £2,500 and £3,900. And, on top of that, she's got brand deals flooding in from all sides, including a jaw-dropping £200k partnership with Peng Hair, which she used to buy her gorgeous coastal home with her new beau, Luke Mabbott. Yes, the very same Luke Mabbott from series 6! Small world, huh?
What Car Does Lucie Donlan Drive?
What you really want to know, though, is what Lucie is driving, so we'll cut straight to the point. But be warned, this surfer chick's taste in motors probably isn't anything like the image you have in your head. Or, maybe it is! Either way, there's only one way to find out...
Ford Transit Connect T220 L90
Most first-time drivers will opt for smaller, more manageable cars that can be manoeuvred with ease. But in case you hadn't noticed, our Love Island lass, Lucie Donlan, isn't like most people. And so, after peeling off the L plates in 2016, she ventured into a second-hand car showroom with a very specific vision in mind for her new set of wheels.
As an avid surfer, Lucie needed a vehicle large enough to be able to transport her precious boards down to the Cornwall coast, and the Ford Transit Connect T220 was just the ticket. With more than enough room in the interior space for all her kit, a sturdy chassis for handling the bumpy British roads, a practical cabin and a promising fuel economy of 47.1mpg (miles per gallon), this unyielding wagon checked all the boxes.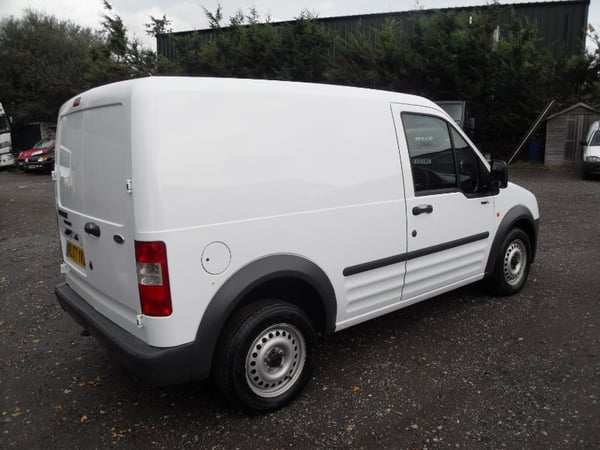 While a Ford Transit isn't everyone's preferred run around, they are a fantastic option for business owners or those who dream of packing up their troubles and hitting the road for good. Side note: We can totally see Lucie embracing van life in the future, can't you? Anyway...whatever reasons you have for wanting one of these bad boys in your life, you can pick up a more recent model for around £5,000 second-hand.
Volkswagen Karmann Ghia Convertible
Are you a big fan of classic cars? If you're nodding right now, then you're in for a real treat because not only does Lucie own an original Volkswagen Karmann Ghia Convertible in soft white, but it's in pristine condition! And taking advantage of the distinct vintage class that can't be found in today's vehicles, the Cornish beauty regularly features the striking 70s motor on her Instagram page for all to see.
While it's certainly not built for speed and doesn't benefit from the likes of Bluetooth connectivity or lane assist, what the Ghia lacks in modern features, it more than makes up for in other areas. For those who appreciate the retro aesthetic and open-air driving experience, not to mention the car's longevity, this little beast truly hits the mark.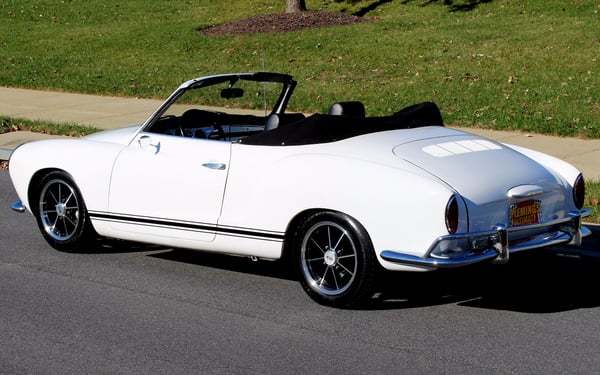 As with any classic model, though, these cars can sometimes be tricky to get a hold of. And depending on their condition, they can fetch between £7,000 and £30,000 at auction.
GMC Camper Special
If there's one thing we love about Lucie, it's her travel content. And back in 2018, she didn't disappoint when she posted a snapshot of herself behind the wheel of a GMC Camper Special while making her way through the Utah landscapes, sending her followers wild in the process.
For those of you who are unfamiliar with this all-American car, the Camper Special has amassed quite the cult-sized following for itself since its release in the late 60s, which, as we know, fits perfectly with this Love Islander's taste in motors. Built to provide comfort during long journeys and robust enough to endure even the harshest terrain, this roomy camper has everything you need - and more - to go on the road trip of a lifetime. As an added bonus, this car looks great. And I mean really great. Lucie, herself, proved that when she uploaded her stunning shot to the Gram.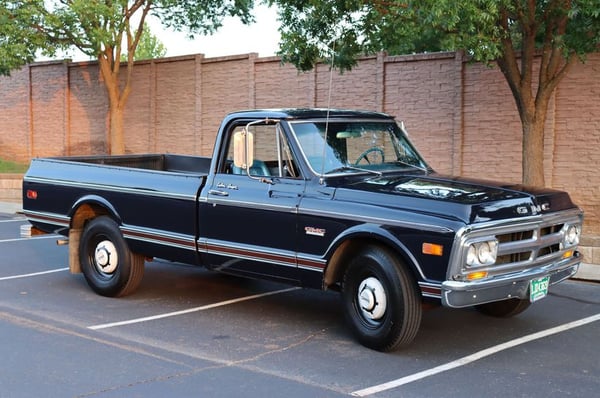 How much will a Squarebody like this set you back, I hear you wonder? Well, first of all, being an American classic, these monster motors can be hard to come across on British soil - but it's not impossible. So, when you do find one, prepare to pay between £7,000 and £10,000.
Born To Be Wild
You might take one look at this blonde bombshell and think that butter wouldn't melt, but we know from her time on the show and the posts she puts on social media that this beach goddess has a bit of a wild side. So, when she's not hitting up her usual Cornwall stomping grounds with her surfboard in tow, you'll likely find her tearing up the roads on her bike. Yes, you read that right - our lovely Lucie is a biker! Badass, right?
Honda CRF 125F Dirt Bike
When child of the ocean, Lucie Donlan, got her first taste of motocross racing, she was hooked instantly, and before too long, she was bringing home her very own dirt bike. A Honda CRF 125F, to be precise.
Designed to suit the diverse needs of growing riders and fully-fledged motocross racers alike, this Honda dirt bike manages to strike the perfect balance between a powerful engine and compact size, making it the ideal model for all ages. With its larger front wheels, the CRF 125F ensures a comfortable and smooth ride. Meanwhile, the heavy-duty clutch guarantees more control when shifting. Aesthetically speaking, these bikes are really something to be seen. Boasting clean lines, sleek angles and bold colours, the Honda CRF 125F is everything you could want from a dirt bike.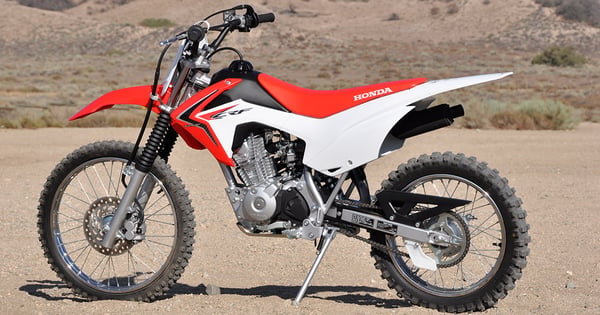 Honda CG125 Scrambler
Giving us biker babe realness with her bleach blonde waves, killer figure and all-black get-up, Lucie posed with her 1995 version of the classic Honda CG125 scrambler. If you're new to bikes and are looking for a way to ease into life on two wheels, then this motorcycle is a fantastic starting point. Oh, and on top of being learner-friendly, its low running costs mean it's kind on the ol' wallet too. How's that for a win-win?
But wait, there's more! Being a Honda creation, this bike is as reliable as it is stunning, and if you're an Instagram star like our girl Lucie Donlan, then you'll find it's the perfect prop for sultry photoshoots on the beach.
Depending on the age, condition and location you're planning to purchase from, we expect one of these slick motorcycles will set you back around £2,000.
What's Next For Lucie?
When it comes to cars, Lucie Donlan is very much a substance over style kind of gal, with the exception, of course, being classic models, which seem to be her Achilles heel. With that in mind, it's probably a safe bet to assume that her next motor will also fit her desired vintage aesthetic.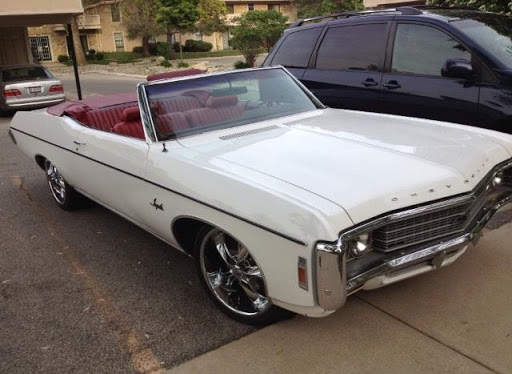 Maybe we'll soon see her pulling up in a 1955 Cadillac like The King himself or even a 1969 Chevrolet Impala? Let us know your guesses!