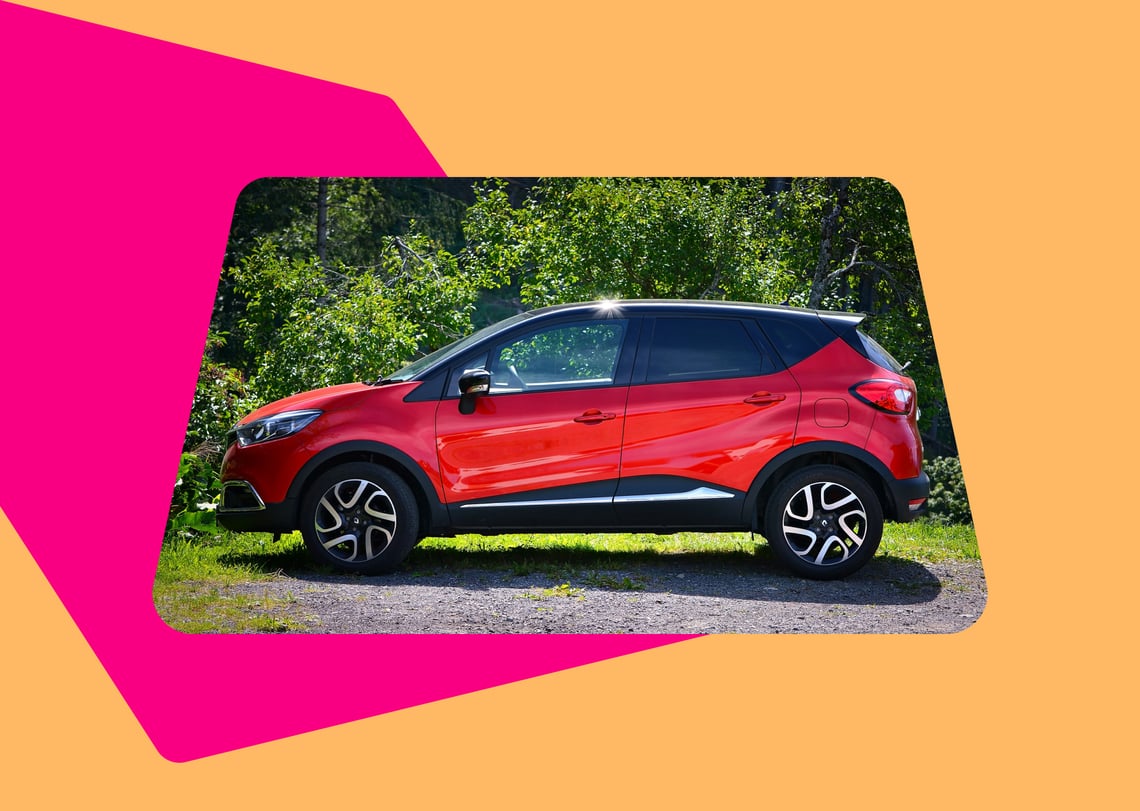 Welcome to the Carmoola blog, 👋 if you're looking to get the best finance deal on your car, then you are in the right place. In today's blog we are going to be taking you through how to get the best finance deal on a second hand car. With things like car finance, it's important to be in-the know, so you can make sure you're getting a deal you're happy with, find the best car finance lenders, and don't fall victim to the last-minute sales pitch at a dealership.
What is car finance?
In order to know exactly what you're signing up for, let's look at what car finance actually is. Car finance is essentially a loan agreement, where you are able to pay for your car in monthly instalments, instead of it all in cash up front.
The exact length of the finance agreement (sometimes called the "term" ) and the monthly repayments will vary from one type of finance to the next, so it's important to first decide whether you want to eventually own the car outright, or whether you're happy to just lease it for a period of time.
Usually, finance agreements will be around 2-5 years. The longer the agreement, the lower the monthly payments. The better your credit score, the lower the interest rate (and monthly payments).
So do consider all these points to ensure you look for and find the best finance package for you.
What are the different types of car finance?
There are really three main categories of car finance you'll come across. We've broken it down here, and you might want to find out more by clicking on the links:
PCP (personal contract purchase)
HP is the easiest one to understand. You usually pay a small deposit towards the car, and then take out a loan for the rest, which you repay in monthly instalments over a set period of time. At the end of the contract the car is yours. During the term of the loan it is secured against the car you buy. This is the key difference from a personal loan, which is unsecured, so will usually attract a higher rate of interest. And you will need a good credit score to get one.
With PCP, there are some similarities. You'll often pay a deposit when you first get the car, you'll have set monthly repayments over a fixed term, but this time there will be a decision to make at the end of the term. You'll have two choices:
Return the car without any further payments
Pay the balloon payment, and keep the car
These agreements are a form of leasing plan, where you don't own the car until the balloon payment has been made. So if you're not planning to buy the car at the end this could be an option for you as the monthly payments will be less than an HP. This would be the best way to finance a used car if you are looking for low monthly repayments. These can be some of the best car finance offers if this is what you are looking for.
PCH is basically a long term hire agreement - more often used for new cars. You pay a monthly repayment for a set term, stick a to pre-agreed mileage, and return the car to the dealer at the end. Read more on PCH and Subscription here.
What factors affect the costs of car finance?
There are a number of costs when it comes to financing your car! We have outlined some below, but if you are looking for more detail check out this blog post:
Your credit rating or risk profile (the riskier your profile is, the higher the interest rate is likely to be)
The interest rate for the loan
The total term of the contract (usually between 2 and 5 years)
The total amount you want to borrow
The deposit you pay upfront (if any)


What can I do to get a better deal on my car finance?
If you want the best car finance loans UK, these are the things that you should consider. Aside from those listed below, sourcing the best car finance offers is also important, and more on that below, but here are some important things to consider if you want to keep you costs as low as possible:
Borrow a Lower Amount
If you've been super responsible with your finances, then there is something you can do to reduce the cost of your finance... sounds obvious but you could contribute a small deposit, and borrow less money!
Lots of lenders nowadays offer zero deposit loans, which can be tempting, but it does mean you're borrowing the entire cost of the car, and that could result in larger monthly payments
Spread The Cost Over a Longer Period
Another factor you can consider is the length of your loan. The longer the loan, the lower the repayments will be each month. You will be paying more overall however, due to paying interest for a longer period, so taking a loan for longer isn't always the right option for you. The age of your car is also a point to consider, it will be difficult to get a finance deal over a long period if the car is getting old.
Finding the Best Car Finance Deals In The UK
Again, you need to get organised. Do shop around, there are so many online car finance companies on line, so you don't need to rely purely on the offer from the dealer. Carmoola offers a brand new way to finance a car - simply download the app to see what you can borrow in just a few minutes, so great to check this out before you go shopping. You can use your virtual Carmoola card at any online or reputable dealership. Don't rush into a financing deal until you know everything!
Get a Better Interest Rate
When you are comparing and looking for the best car finance offers, always check the APR. Everyone calculates their APR in the same way and it includes all incidental fees and charges, so it's a great comparison tool.
Also you will be offered a better interest rate if you have a great credit score. It's a good idea to get organised up front and work on improving your credit score. There are a few things aside from credit score you'll need to consider to improve the rate you're offered significantly. You can read our tips for getting a good credit score in our previous blog on that here.
What are the benefits of car finance?
Most people don't have tons of spare cash lying around to pay for a new car, and saving up can mean a long wait if you need one now! So this is where car finance can be a great solution. Here are a few reasons we have heard in our time of getting the best car finance packages for our customers…
"I can invest my capital in other things"
Making sure your pension is up to date, property purchase or investments, or stock investments are always popular when we ask people why they chose finance. You can't invest money you don't have, so some of our customers prefer to invest and grow their savings, as they can make more money overall by doing this. Then, they use the money they've made to pay off their car loan! So at the end of the loan, they're left with a car that they own, and also the savings they've invested wisely.
"I can get a better car by borrowing some additional money"
So, you've got £8,000 in the bank, and yeah you could buy an older car outright... but is that the right decision? Older cars can have more problems and cost you in repairs. They might be less fuel-efficient or have higher insurance premiums or tax bands. You'll also lose money over time as the car depreciates in value, and so next time you may only have £4,000 cash to spend, and an even older car that could take some time to sell. An alternative might be to put some of your capital towards a new car but top it up with finance. Get a better, newer car, maybe even still in warranty, and limit the risk of costly repairs!
"I don't have much money saved, so can spread the cost"
We get it, sometimes you are in a situation that doesn't allow you to splash out £10,000 or so on a new motor. If that is you, car financing could be a great option. MAny people don't have a large savings pot but they do have a good regular monthly income. Spreading the cost of the car into manageable monthly payments, where you essentially own more and more of the car over time has always been a great way to go about things for a lot of people.
What we advise though is you do your research, if you are looking to find the best car finance offers, you will not do it by picking the first one you see.
How do I know if it's a good deal?
With finance, it's difficult to compare your deal against a deal your friend or family member may have. For one main reason: their credit score will be different to yours!
Also, different lending companies have different ways of assessing your risk profile. A more traditional lender could put more focus on your credit score, and therefore your rates would be affected through that. However, with Carmoola, we look at other aspects of your income and financial situation in order to try to get you the best rate possible.
If you have been reading our blogs for some time now, some lenders do run full credit checks. A full credit check can leave a mark on your credit file, and lots of credit checks at one time can reduce your credit score and be seen as a negative. So please do be wary of that. Multiple applications all at once may in fact mean that you end up getting a worse deal. Don't be afraid to reach out to the lender before they run a full credit assessment on you, so you know how many are being done.
Takeaways
Many car buyers wait until the very last minute to organise their car finance and to be brutally honest, we would say this is a mistake. Dealerships understand what they are doing, can take advantage of that and then often offer financing deals at the last minute that are not very competetive.
You're also likely to be offered other add-ons such as Extended Warranties and GAP Insurance by the dealership. If you're not sure exactly what these things are, or how much you should be paying for them, click on the links to find out more 👍 (both articles have got short videos you can watch too!)
Here at Carmoola, we highly recommend organising your finance in advance. This means when you're ready to buy your car - whether that's online or at a physical location - you're in the strongest possible position to negotiate from. And if you have our virtual Carmoola card on your phone, you're buying like a cash buyer, you can negotiate, and you've got the power to take the car home today if you want to!
We hope these tips have armed you with enough knowledge to make sure you get yourself the best deal, and you now know how to find some of the best car finance deals UK.
If they have, then perhaps we can help your friends too? If you know someone else who'd benefit from reading this article, then give it a share and spread the Carmoola love 😍