The Brutal Truth About Our Company Values
In the words of Nas "Keep integrity at every cost.'' In short, values matter a lot in my humble opinion. Values are really the DNA of the culture you build at the company.

We set our values very early doors at Carmoola, and although they have developed over time, they remain very much the same. So you ask "what are they?"

What are our company values?
Deliver "WOW"
Love to grow
Grit and hard work
Don't be a dickhead
Always be automating

Why these values?
Deliver "WOW"
Delivering "wow" is really close to my and the team's hearts. For us, this is the feeling you get when something positive surprises you. This can also be known as the Disney effect. We want to build the greatest car finance company in the world and to do that, we're definitely going to need a little magic 😉
Love to grow
Growth is really important to us, not only because we are all really motivated by learning but because we're very competitive. We wanted a value that always reminds us there is more to achieve, and more to learn.
Grit and hard work
Grit and hard work are hopefully obvious ones! We all struggled a lot in our previous business, but so much enjoyment and positivity came from going through hard times. It's really about sticking together and working hard to enable you to achieve your goals in life. One thing that separates the people who achieve their goals, and the people who don't, is that the former never gave up!
Don't be a dickhead
This one took a little longer to develop but basically says what it means "Don't be a dickhead". We feel it enables you to call out people for being rude, obstructive, or anti-social and encourages a culture of open and honest feedback.
Always be automating
We covered our focus on automation in my last blog post. Aside from the clear business benefits of automation, it also means that we can eliminate the boring bits in our day-to-day work, and can get to delivering WOW to our customers faster.


How do we use our values?
For me, this is the most critical part… Anyone can create words on a page, or stick up fancy posters in the office, and we have all heard of famous examples like Enron! One of their values was "integrity" 🤦‍♂️ So how do we build our values into everything we do? Well, it's really hard for me to explain it in words, but it may be easier to show you.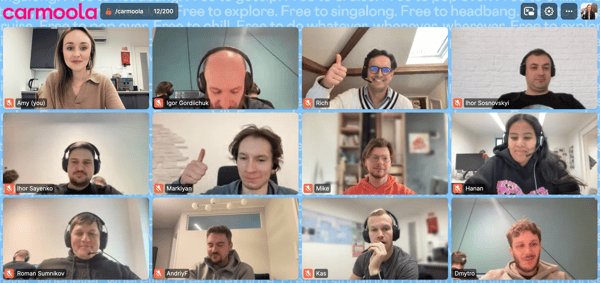 On our Friday call, we all share how someone in the team has lived up to our values. Everyone goes around and shares who and how they lived one of the values. This really keeps it fresh and top of mind. I feel super proud hearing everyone talk about this and am constantly amazed by our team!

We use them internally a lot as a benchmark for the quality of our work. I find myself in meetings asking "Is this really WOW yet?" It's a great question to encourage creative thinking, evaluate if we're really pushing the boundaries, and see if there is anything else we can do to make this piece of work even better.
It's equally important for the customer support team, to make sure we're pushing ourselves to go the extra mile for customers. This once led to the team organising and paying for a customer to stay the night in a hotel because he had traveled four hours to pick up a car, and it wasn't ready for him to take home that day. The dealership was delayed, and he would have had to travel all the way home and back again in the morning… I was blown away by this, and I hope he said "wow"!
Why are values so important?
If your goal is to build a world-class company with amazing products, this takes years and people need to make thousands of decisions every day. We believe that having the right context (our values) helps enable the team to make more of the right decisions, that move us closer to the goal.
I'd love to hear how you're using your company values, so make sure to share in the comments 🙌