Can You Build a £1BN Car Finance Business with Less Than 100 People?
I have been thinking about this question a lot over the last year. When coming up with the idea for Carmoola, automation was high on the priority list. So much so that it had to be one of our core values "Always be automating". Oh and yes, we measure it too as one of our key KPIs…
"Mo

money

, mo problems"
In the words of Notorious BIG. But in the words of Aidan Rushby "More money, more people, more problems!" Historically, as traditional car finance lenders grow, the more complex the business becomes, due to the growing number of people in underwriting, operations, collections, customer service, sales, and accounts. As they welcome more customers, they are forced to expand their team in order to be able to service their customers. But doubling the numbers of people in a team doesn't mean that you get double the amount of work done. In fact, every new team member creates exponentially more lines of communication needed, and therefore slows down progress. The diagram below shows how quickly the magnitude of complexity rises as the number of people in a team increases.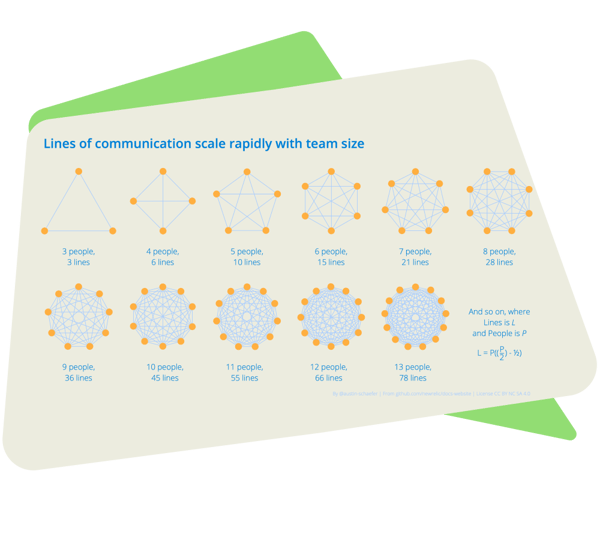 As well as the obvious cost benefit of having fewer people in a team, you can see that fewer lines of communication also delivers many other competitive advantages such as scalability, speed, consistency/quality of service, data network effects and 24/7 availability.
Measure, and it will grow
Like everything in life (except one thing 🤣) measuring it makes it grow. We thought long and hard about how to measure each of our strategic pillars. After a lot of discussion we decided that the best KPI for automation would be "% of customers who experience a fully automated journey". Although we have a long way to go, we started measuring this from day one, with the aim being to improve on it every quarter. We have learnt that sometimes this has to go down to come back up again. One of the areas we've been concerned about is Fraud and as such, we've had to implement additional manual measures temporarily so we can learn more about it. This caused a big drop in this KPI, but we're now using the data we collected to automate where we can, causing the metric to trend back up in the right direction.
Automate. Everything.
We believe it's possible to automate most things. All the way from acquisition, to loan disbursement, right the way through to collections and servicing the loan. That's the easy part. The skill and challenge will be to tailor the experience across different types of customers, catering for each and every need in a personalised, intuitive and friendly way.
In our quarterly planning and monthly roadmap sessions we focus on how we can deliver WOW to our customers, and often the way we do that is by automating the boring bits! We look at what is currently taking up the team's time, or what is projected to take up the most amount of time/resources in the coming months, and we try to eliminate all that so we can skip to the good stuff - wowing our customers! Below is an example of the road map before it gets carded up for the engineering team.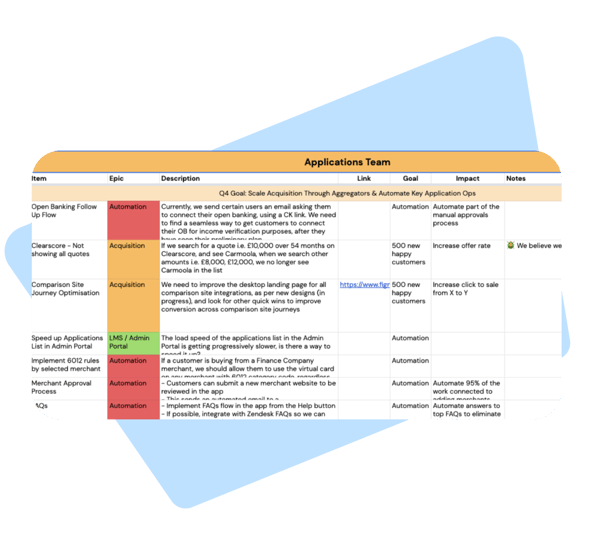 What are the critical parts to automate?
The key areas of our system that need to be automated are:
Customer application and purchase journey
Decisioning
Loan management system
Collections engine
One of the things customers are loving about their journey on Carmoola so far is the speed and ease of use, so it's critical that as we automate more of the journey, we continue to keep it simple and intuitive.

So, what can't be automated?
We believe there is a role for a human touch to give the "wow" factor. There is nothing more frustrating than when something goes wrong and you just want to speak to someone. Our goal is not to get to 100% automation but 98% would be great.
We are passionate about delivering "wow" in every interaction, and we make sure that customers can speak to a real human who is a full time employee and capable of resolving almost any query, between the hours of 8am - 9pm every day.
It's tempting to try and play in the edge cases, but sometimes we do have to say no. "No" is the hardest word but over time we hope we can help more and more people access better car finance.
Time will tell if this is all possible, but we are definitely up for the challenge!