Carmoola Launched 4 Integrated Partnerships In 1 month: This Is How.
Carmoola understands that customers prefer to search for car finance in all sorts of different ways, and looking on comparison sites is definitely a popular option. In our quest to help as many customers discover an easier, faster and cheaper way of financing their next car, we wanted to get set up with our comparison site partners as soon as possible! We're pretty proud that we managed 4 integrations in one month - what do you think?
In June, 3 months after our launch in March (😎), we announced our partnership with ClearScore. We went live with Motiv in November - giving MoneySuperMarket and MoneySavingExpert customers access to Carmoola.
It was in December - traditionally a very slow month - where we saw some real traction, launching 4 fully integrated partners!
Here are 5 tips to get your collaboration wheels turning...
1. Build A Product That Customers LOVE 🤩
This is probably the most obvious point but a tricky one to get right. We're lucky to have already found so many customers who absolutely loved their experience with Carmoola within our first 9 months of trading.
We're very proud to have excellent reviews across TrustPilot, Google and both app stores (all whilst maintaining a Net Promoter Score of over 95! 💪). Many of our incredible customers take the time to leave long, heartfelt and honest reviews about how we've helped them. This makes it much easier for us to 'sell' Carmoola to prospective partners!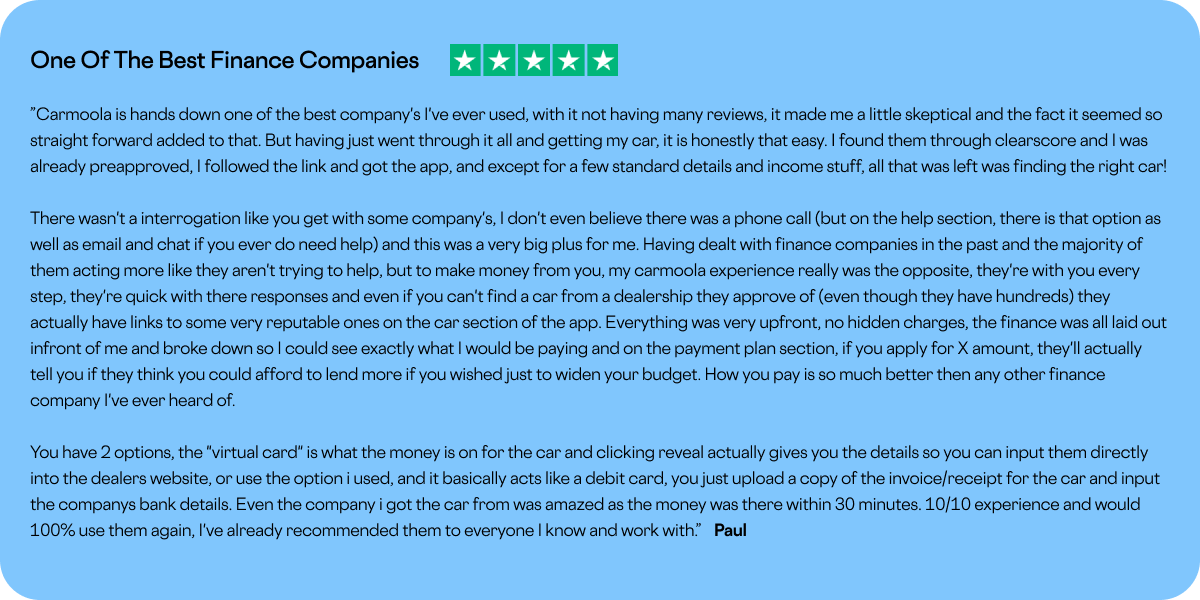 2. Find Your Partners Sweet Spot!
😏
A scatter-gun approach rarely works - particularly if you're a small team - so we wanted to spend time up front thinking about which segment of partners we wanted to target. We scored 6 key verticals by 9 different variables and came up with a weighted score to define priority order. We found that comparison websites represented the best opportunities for us in the short term, hence this being our initial launch focus. Have you got a game plan on how to prioritise your partnerships for 2023? 😉

3. Prove You Can Deliver Results At Pace

🏃

Return on investment features high up on the list for most commercial / partnerships persons. If you can prove that the entire end-to-end API integration can be delivered in as little as 3 days (as we found with TotallyMoney) and this will generate £10,000s of recurring monthly revenue, a partnership should seem like a no-brainer.

Of course, there are always more light touch Minimum Viable Product options. We could, for example, go-live with a basic click-out in a matter of hours (if not minutes!). This might be a sensible route if we wanted to prove that the product is relevant for the partners' customers, although conversion would be much lower as customers would have additional application steps to complete and, sadly, may not get accepted for obvious reasons. This option made less sense for price comparison websites, but likely will for some of our future partnerships in other segments.
4. Have An Awesome Team Behind You 👬
I couldn't possibly write this without acknowledging some of my awesome colleagues at Carmoola. Whether it's the product team turning around a full integration in a matter of days or customer support repeatedly churning out 5 🌟 customer experiences, all of this wouldn't be possible without such an amazing team. Every partner interaction with others on the team helps reassure them that we are 'on it' and we will deliver the results we say!
5. Don't Be A D*ckhead ❌
Again, another crucial point...and a core value at Carmoola, it couldn't be more important than in the context of partnership discussions. Treat others the way you expect to be treated. Be organised. Know what partnership you have in mind on that first call. Know what your key questions are.
That all being said, don't be afraid to have some fun and get to know your prospective partner on a more personal level! In my case, this often means throwing in the occasional awful joke for good measure. There's one meeting that comes to mind in particular involving 'pump and dump schemes'. We were referencing crypto scams but clearly certain people's minds went elsewhere… 😉
In conclusion
Partnerships can play a critical role in any customer acquisition strategy. Focus on building a great product, find the right target partnerships segment and everything else should fall into place!