What Are the Best Estate Cars in the UK?
Estate cars are a perfect choice if you want to enjoy increased fuel efficiency, lower running costs and extra carrying capacity without compromising the comfort of your passengers. If you're growing family 👨‍👩‍👦 ,it's worth considering getting an estate car. But what are the best estate cars in the UK? We have a shortlist prepared for you, in no particular order. So lets have a look! 🔎
1) Volvo V90
If you're looking for one of the best executive estate cars known for its practicality, comfort, and generous boot space, then consider the Volvo V90. This estate car comes with a whole lot of handy features and advanced onboard tech. It also has an attractive design and a classy cabin that is all about comfort.
What's awesome about the Volvo V90 is has identical engines and chassis parts to the Volvo XC90 SUV, as well as the S90 saloon. This gives the V90 plenty of power as an estate car. You can even choose the Cross Country version of the V90 if you like a car that can go off-road with ease. But other than these capabilities, the feature that the V90 is most known for is how comfortable it is to drive, even if you're driving at motorway speeds.
The Volvo V90 has petrol, diesel, and plug-in hybrid versions. If you're looking for maximum fuel economy for those long road trips, the diesel engine version of the V90 gives you this. Indeed, many drivers of the V90 prefer the diesel version because of the budget-friendly price and running costs. If, however, you want to reduce daily running costs, the plug-in petrol hybrid version is more economical, especially if you're only driving in the city. The Volvo V90 is a capable estate car with excellent safety features and a generous amount of space for a relaxed driving experience.
2) Skoda Superb Estate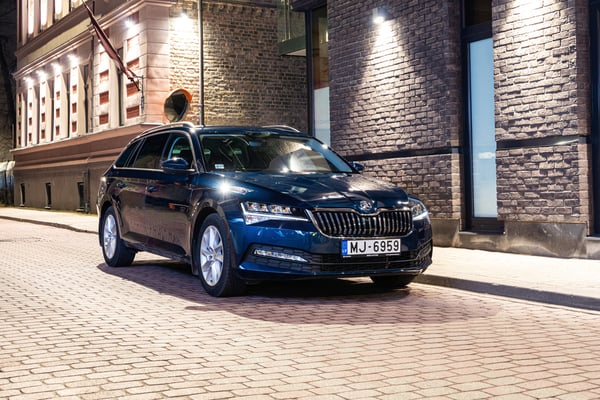 With a name like Superb, this family wagon from Skoda needs to deliver. Fortunately, it offers both comfort and style. With its huge interior and its outstanding design and engineering, you'll have peace of mind whenever you're on the road with your family. The Skoda Superb Estate is already in the third generation, and the latest version is, without a doubt, the best one yet. The boot expands from 660 litres to 1,950 litres when you put the seats down. It's more than what you can get with the Mercedes E-Class Estate!
There are six trim levels to choose from, but all of them have 16-inch alloys as well as five-inch touchscreens. The best version, the Laurin & Klement, comes with leather trim, 18-inch wheels, an eight-in touchscreen with a sat nav and also a ten-speaker stereo. You can choose from a wide array of diesel and petrol engines for your Superb Estate. The SportLine trim level has the same engine as the Octavia vRS. Diesel-engine versions of this estate car are preferred by drivers who need power for towing and carrying capacities.
The Skoda Superb Estate is known to have a budget-friendly price, economical to run, a practical choice for a family car, and it's also fun to drive. It easily gets a five out of five from owners who are enjoying the benefits of choosing this estate car. And even if it's a family car, it still looks good. You can really tell that the manufacturer has made an effort to make a well-designed estate car. With many trim levels and engine types to choose from, you know you'll be able to find the best Superb Estate that suits you well.
3) BMW 5 Series Touring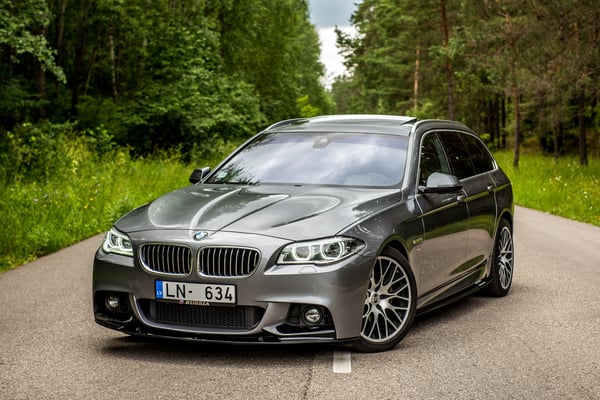 The Touring is one of the best estate cars in the world because it perfectly combines practicality with outstanding performance. You can choose among the different engine types, depending on your needs. Do you want a fuel-efficient car, or do you want one that will make you feel like you're driving a sports car? There's definitely a version that will fit your preferences. The BMW 5 Series Touring has a reputation for being among the most sought-after family car. With its beautiful interior, generous space, and practical features, it's easy to be captivated by this BMW estate car.
Buying a 5 Series Touring is perhaps one of the best decisions you'll make when choosing a car for the family. The Touring gets its foundation from the 5 Series saloon, but it has a larger boot and more spacious interiors so that everyone in your family stays comfortable even through a long road trip. There are two trims to choose from, but all versions have self-levelling suspension, front and rear parking sensors, a powered tailgate and a separate opening glass, sat-nav, heated front seats, as well as two-zone climate control. BMW has designed the Touring to be a versatile, safe, and comfortable car that your family will enjoy.
4) Mercedes E-Class Estate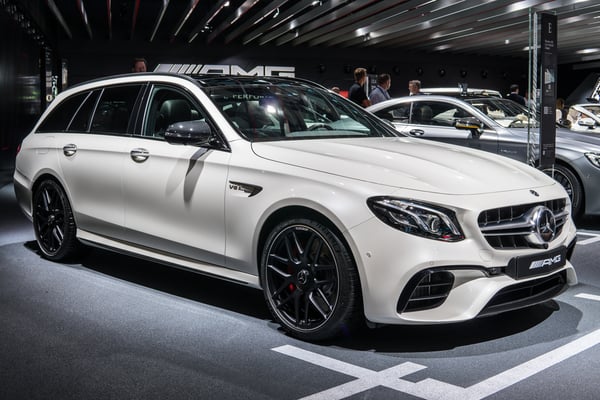 The Mercedes E-Class Estate continues to be a benchmark in the premium estate car segment. The latest model carries forward the legacy of this iconic line, blending style, practicality and luxury in a uniquely Mercedes fashion. The E-Class Estate comes with a variety of engine options, from efficient diesels to petrols and even a diesel/plugin electric hybrid. Such variety ensures there's a variant suitable for every kind of driver.

A standout feature of the E-Class Estate is its spaciousness – the model has always been known for offering ample room. It's perfect for those who need a car that can cater to the demands of a busy family life or transport large items while still providing a high-quality driving experience.

One of the major updates in the latest E-Class Estate is in its aesthetics. It boasts stylish LED headlights as standard and an LED light bar on higher-spec models that runs the width of the front grille. These updates give the car a more road presence than ever before.

The E-Class Estate, with its blend of style, practicality, performance and luxury, continues to be a compelling choice in the premium estate car market. Whether it's for family duties, business use or simply the pleasure of driving a well-engineered car, the E-Class Estate checks all the boxes.
5) Ford Focus Wagon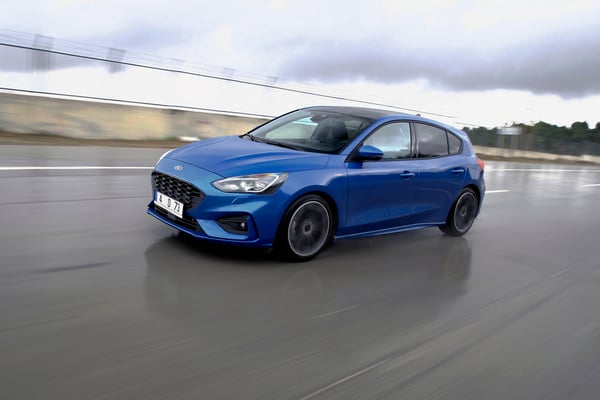 Clamber into the Ford Focus Wagon and you'll immediately notice the cabin's sense of refinement. The interior materials have a quality feel that nudges the Wagon into a more premium territory. You can stretch out in comfort thanks to generous legroom and headroom, a boon on long-haul journeys or quick trips to the supermarket.

But let's talk about the gem in this estate's crown: the boot space. The Ford Focus Wagon presents a capacious cargo area, ready to swallow up the weekly groceries, camping gear or the kids' sports equipment with ease. While it may not boast the largest cubic footage in its class, the boot impresses with its practicality, with a wide opening that makes loading bulky items a breeze.

Should you need to haul larger items, the rear seats fold down seamlessly, expanding the boot space significantly. With this configuration, the Focus Wagon transforms into a mini transporter, ready to accommodate anything from flat-pack furniture to a bicycle.

The Ford Focus Wagon isn't just about practicality and comfort; it also delivers an engaging driving experience. It's lively on the road, showing off a sporty side that distinguishes it from more staid competitors, such as the Volkswagen Golf Estate. The Ford Focus Wagon is a testament to the fact that practicality and performance can coexist in harmony, and this estate car truly represents a fun and versatile choice for the modern family​
The Best Estate Cars in the UK
What do you think of our top five choices for the best estate cars in the UK? 🤔 Each one has its own set of strengths but is an ideal family car. You only have to select the one that fits your needs best, so bring the whole family with you when you head to the dealership to try one out. It's a great way to know if everyone is comfortable, and then you can also decide as a family which is the best estate car! Bear in mind that buying a car is a big purchase, so you'd want to be sure that you'll get the most out of your money by getting a car that your family loves.
Once you have selected your favourite estate, why not check out a great finance deal with Carmoola?We have some fantastic deals available, and it's super simple to download the app and find out how much you can borrow in under 60 seconds. The whole process takes place in-app, and you can simply pay the dealer with your rather impressive virtual card! Don't lose out on getting the perfect car for you! 🚘❤️