The Best Seven Seater Cars to Buy
A run-of-the-mill sedan may be ideal for most drivers, but when your family is larger than average 👨‍👩‍👦, you're going to need a little more wiggle room! Between the weekend football matches, daily school runs, family road trips and everything in between, a standard car just doesn't cut it. What you need is a seven-seater SUV.
Seven seater cars are more than just a vehicle to get you from A to B. They are like a second home on wheels, your trusty ally helping to make family adventures possible 🛣️. However, not all seven seater cars are made equal. Here, we reveal our picks for the best seven seater cars you can buy right now.
Which Seven-Seater Car Has the Most Room?
All seven seater cars can be considered spacious. However, did you know some have way more room than others? Whether it's for extra legroom or generous boot space, let's dive into our top contenders for the roomiest seven-seaters on the market:
Skoda Kodiak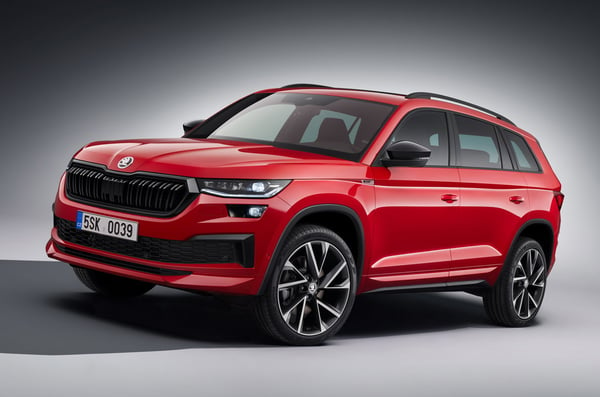 If you need a spacious SUV but you have a modest budget, the Skoda Kodiaq is a fantastic choice. Not only does it offer ample passenger and luggage room, but it also comes with a sumptuously chic interior. While it could have more tech included as standard, and it may not have the smoothest suspension at lower speeds, it more than compensates with its outstanding value.
This isn't the most luxurious seven seater, but it does offer plush higher trims that won't disappoint. All in all, the Kodiaq offers stellar value for a roomy, well-priced vehicle.
Dacia Jogger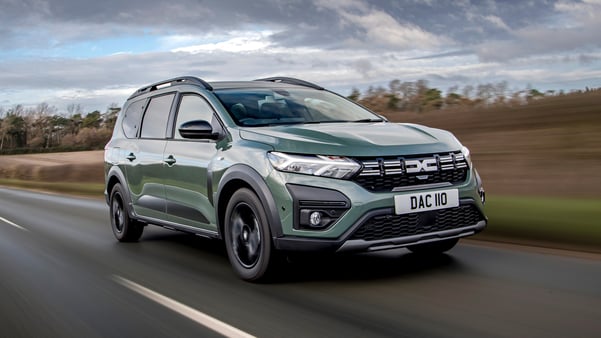 Striking a balance between an estate car and MPV, the Dacia Jogger is a stylish yet practical seven-seater. Functionality is its strongest suit, presenting an interior that's more about utility than lavishness. Its power may leave something to be desired, but it offers unmatched value for money, with the higher trims equipped with all the necessary tech features.
This impressive seven-seater has one of the largest cabins around. Even if you're six feet tall, you'll be able to comfortably sit in the third row. That's an impressive feat given many 7-seater cars come with a cramped middle row.
Keep in mind that the Jogger isn't built for speed. Don't be surprised to find you need to make frequent gear shifts when travelling uphill with a full load either. The hybrid model fares slightly better, but all focus on prioritising practicality and affordability over speed.
Which Seven Seater is the Most Economical?
In the world of seven-seater SUVs, it's not just about space and comfort – the economics of driving also matter. Fuel-efficiency or power-consumption, depending on the vehicle type, becomes a key factor for consideration. Here are two notable models that manage to blend practicality and eco-friendliness:
Tesla Model X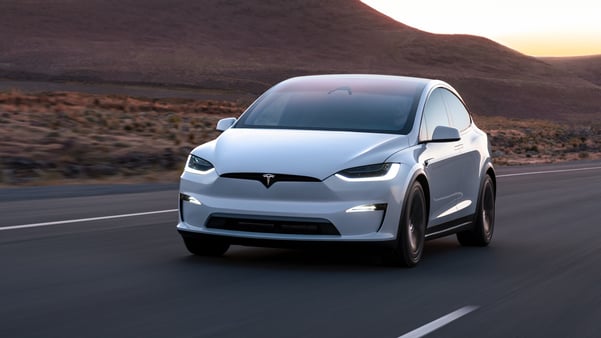 Known for its economically friendly design, the Tesla Model X captivates not just with its iconic 'falcon-wing' rear doors, but also with its performance credentials. These unique doors aren't just for show – they offer easy access to the spacious five-seat passenger compartment.
This electric SUV also boasts astounding speed, and its battery life is among the top performers, offering over 300 miles of range on a single charge (according to official figures). Look out for 'Long Range' Model X variants if you want to spend as little time charging the car as possible. If you do want to snag yourself a Tesla Model X, it's worth noting the company is no longer producing right-hand drive variations. So, you'll either need to settle for a left-hand drive model or buy a used left-hand model.
SEAT Tarraco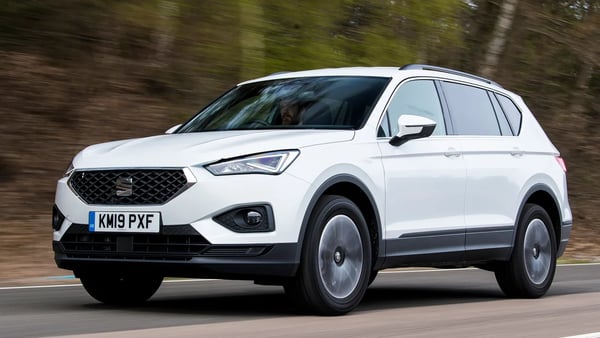 The SEAT Tarraco makes a strong case for being one of the best all-around performers, rivalling perhaps only the Skoda Kodiaq in this category. It impresses with its sleek aesthetics, roomy interior, and affordable price. Inside, you'll find a tech-laden, durable interior that feels slightly more luxurious than similarly priced rivals.
While its rear seats are best suited for kids or short adult passengers, it compensates for this with a generous boot space. The back row conveniently folds down, expanding the boot space considerably when operating in five-seat mode.
Which Seven Seater is Most Affordable?
Whether you are shopping for a seven-seater car through a private seller or dealership, affordability is often a critical factor. But affordable doesn't mean you have to compromise on practicality or value for money. Let's check out two models that bring together budget-friendliness and utility:
Vauxhall Zafira Tourer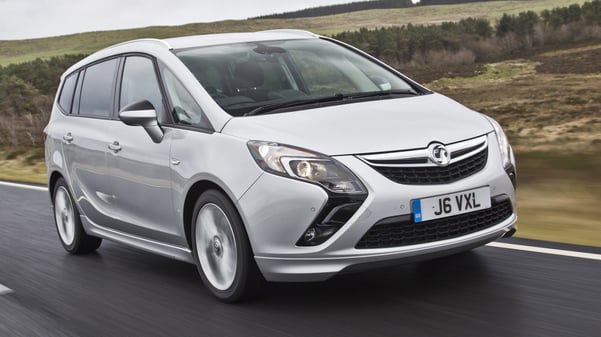 When it comes to used seven seaters, the Vauxhall Zafira Tourer offers exceptional practicality and value. Its middle seats are adjustable, and the rear seats conveniently fold into the floor when they aren't being used, making it incredibly versatile. With five seats occupied, its boot accommodates a generous 710 litres. This volume extends to a whopping 1,860 litres when all rear seats are folded, providing ample room for any load.
The design of the Zafira Tourer also adds a touch of style, looking more like a souped-up estate car, rather than a conventional minibus. If you prefer to steer clear of diesel engines, a 140hp 1.4-litre petrol engine is available. However, we believe the diesel's extra muscle suits a full load better.
Renault Grand Scenic

The Renault Grand Scenic is a larger variant of the Renault Scenic, offering two additional seats at the back, along with clever storage options. Despite its smaller size compared to some competitors, it remains an attractive seven-seater option. It boasts a 233-litre boot that extends to 596 litres when the rear two seats are folded.
The interior offers several configuration options, featuring a 60:40 split middle row of seats, and two individual rear seats that allow for a seamless balance between luggage and seating space. Electric folding seats in Dynamique models add an extra level of convenience.
For mid-row passengers needing entertainment, the car features folding tray tables attached to the back of the front seats, designed to hold a tablet securely. Under-floor compartments and a pair of USB ports simplify device storage and charging, enhancing overall passenger experience.
With a little digging, you could find these models in a list of used cars under £5,000. Just remember to check the condition of the car thoroughly before you buy a used model.
What is the Best SUV to Buy for a Family?
Finding the perfect vehicle for a family isn't always about going for the biggest or the most expensive. It's about finding the perfect blend of space, safety, practicality, and comfort to fit your family's unique needs. So, which SUVs rise to the top when it comes to family-friendly features? Here's our pick for the best family friendly seven seater SUV:
Volvo XC90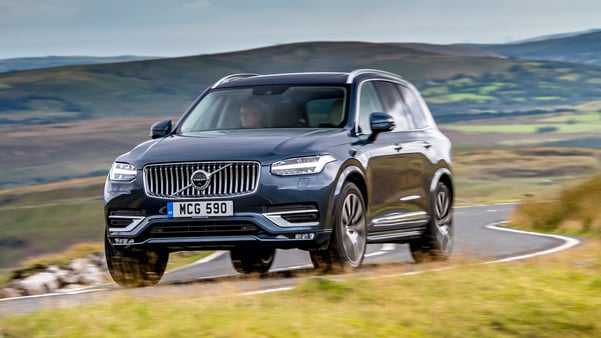 The Volvo XC90 is a statement of luxury, technology, and undeniable elegance. Among a sea of competitors, it gracefully differentiates itself with its high-end offerings. While the third-row seating might be a tad cosy for some, the expansive boot space more than makes up for it.
This SUV doesn't just win the best family seven seater award for its space and aesthetics. It is also renowned for its safety. Impressively, according to extensive crash-data research, there have been no recorded fatalities of anyone travelling in an XC90 - a fact that is sure to make the Volvo XC90 particularly appealing to safety-conscious families.
Your Dream Seven Seater Awaits
When it comes to choosing the perfect seven-seater car for your family, each model offers its own unique advantages. From the performance of the Tesla Model X to the affordability of the Vauxhall Zafira Tourer, and the unrivalled safety record of the Volvo XC90 - there's something to suit every family and budget.
Finding your ideal seven seater is often just the first step. We know that financing a large car can be the real hurdle. That's where Carmoola can help. We offer a variety of flexible car finance options tailored to meet your individual circumstances. With our affordable deals, the best seven seater cars may be cheaper than you think. Get started by calculating how much you could borrow.
If you are confident you can afford the monthly costs, apply for car finance with Carmoola today. We're here to make car finance simple 😀