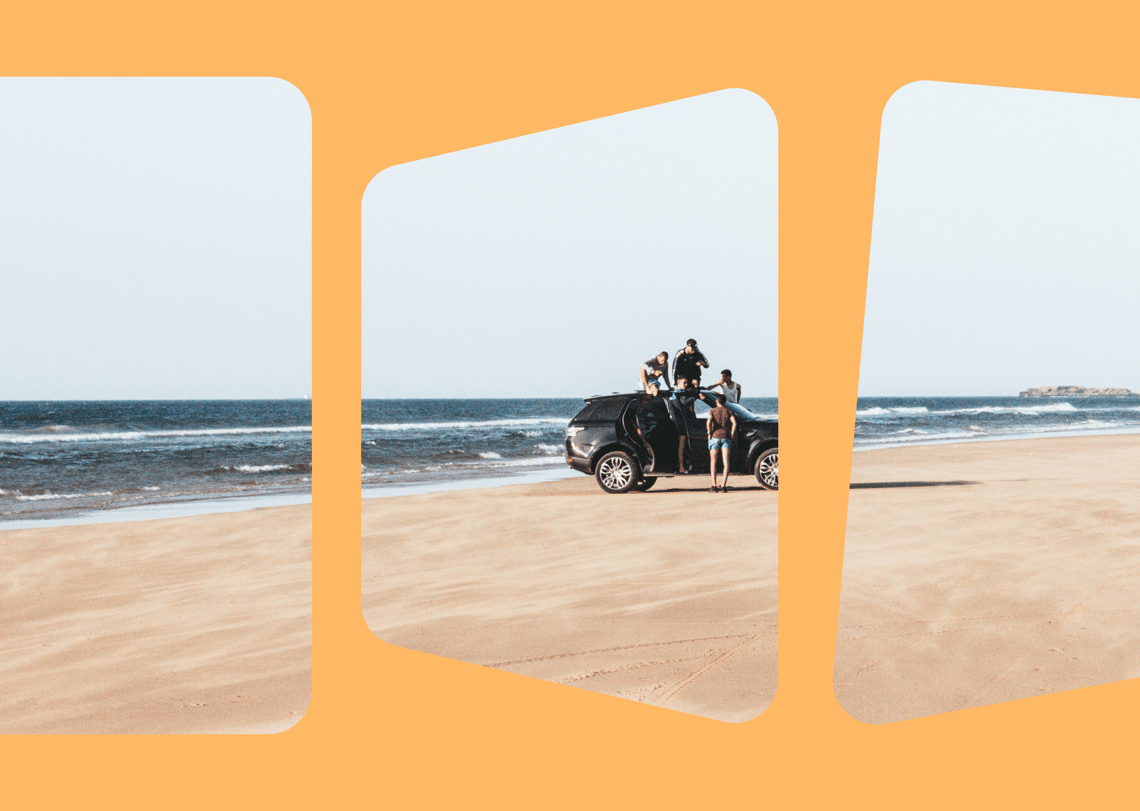 Let's be honest, buying a car these days can be a nightmare. It is definitely a road paved with challenges: so many things to research, the shortages, the awfully long delays… I'm sure someone in your family has recently told you it's the worst time ever to buy a car. And that's not even taking into account the question of financing.
Well, we've got good news! Long gone are the days of haggling with lenders for your car loan, it now takes under 4 really quick steps to happen. With our car finance app called Carmoola, we can help you figure out how much you can borrow in under 60 seconds (I know, right?!?).
To make things even easier, we've created this quick guide to car financing with Carmoola. Car finance is now just a swift ride away… We'll be going over how getting your car loan works on the app, what happens once you get your loan, and other useful tips to help you have the smoothest car financing experience possible. Right, let's do this.
Why not watch Jade's video on all things Carmoola and how to apply for your car finance using the app
How to get a car loan with Carmoola
What is Carmoola?
Let's start with the basics. Carmoola is a direct to consumer lender: we help our customers spread the cost of their next car thanks to our mobile app, which uses the latest technology. We know how much there is preventing some people from taking car finance, so we made a really easy app that allows people to finance their next car at their own pace.
How much can I borrow?
Before taking out a car loan, it's really important to find out how much your monthly loan payments will be, to check you can afford them as time goes on. Okay, but how exactly do you calculate those payments? Well, it's actually a tricky thing to find out!
Good thing is, we're pretty experienced in the matter, so we've made our very own car finance loan calculator. Feel free to check it out and play with its different options. We can give you a quick result based on our lending criteria, and you'll be able to choose:
How much exactly you want to borrow, within a range of what we believe is affordable for you
The length of your loan (12 months, 24 months, 36 months, 48 months, and 60 months)
Once you've chosen your plan, be sure to review the plan breakdown that tells you:
Your interest rate
Your number of payments and rate
The cost of your final payment
The total amount of your loan
Your option to purchase fee
And the total payable amount
Our car finance loan calculator is great, but it won't actually help you know how much you're able to spend on your next car every month. Let's talk about a few tips to help you better understand your budget. Our first piece of advice: grab a pen and paper and get ready to jot a few things down! It'll make it easier for you to look through your situation.
Write down your monthly income
At the top of the page, write down how much you earn each month. If it's not a stable amount, try and find an average of the past 6 months and write that down instead.
Add your monthly outgoings/spendings
This is where you can figure out how much you spend each month, to see how much room there is for car payments. This usually takes into account:
Rent or mortgage for your housing
Utilities and bills such as electricity, gas, water, insurance, TV, phones…
Food expenses
Childcare (if applicable)
Commuting and existing car costs
These costs together should give you a total which you can write down.
Find out your disposable income for every month
If you're lucky, you've got some disposable income left over each month after those indispensable spendings. Here's where you can write down the amount you usually have at the end of each month. Make sure you take into account any expenses you'll have to make in the next few months (new clothes, home furnishings…)
Find out your credit history
Whenever you take a loan, whatever it may be, your lender will most likely ask you for your credit history. This will take the form of what they call a credit score, which is a national indicator of your credit history. Yeah, we know, it's not something you'll necessarily remember off the top of your head. Here are a few websites that will give you your credit score (for free, obviously):
By now, you've most likely got a pretty accurate idea of what you can afford each month. Now is a good time to give our calculator another go and see what results come up.
How Carmoola works
Car finance is frustrating, long-winded, and challenging, at best. Despite that fact, more and more people in the UK are purchasing cars using financing. In 2019, 91 percent of new private cars were bought through financing, and the numbers have risen since.
Here at Carmoola, we're trying to drastically change the way people finance cars. There isn't actually any real need for the exhausting processes and tedious bureaucracy of traditional financing - let's make things easier! Our focus is on helping our customers get that oh so sweet feeling of driving off in a new car.
Okay, so how does it actually work? Well, first of all, it all breaks down into four different steps. They are simple, they are straightforward, and there are no other hidden procedures.
Getting a car loan with Carmoola - how to
The first thing you're going to want to do is download the Carmoola app. It's available on the App Store and on the Play Store. The app will then prompt you to create an account with your full name, mobile number, and email address. Now you're all set to start your easy peasy car financing process.
Step 1 - See how much you can borrow
The first step on your journey to getting your new car is figuring out how much you're going to borrow. To do so, we've made things pretty easy with a 7-question form which will give you your budget once filled out. Your answers will allow us to create your very own personalised payment plan and budget for you, instantaneously.
You will then be able to play around with your tailored payment plan to see what suits you best. You can configure your budget as you please, and come back at any time to change things up if needed. This all means that you can get the right monthly payment amount for your budget: car financing that's flexible, and that adapts to your life, not the other way around. It takes less than 60 seconds to get your budget sorted on the app, so it really is an effortless process.
Step 2 - Check your car's history
Now that you've got a clear idea of how much you're aiming to borrow, it's time to get some more information on that car of your dreams. This step will allow you to run a free history check on your new car and have complete peace of mind when applying for your loan.
Before you can run that history check, you'll be prompted to verify your identity within the app. You can use your driving licence and film a quick selfie video so that we can check your ID using biometric verification.
Right, so once you know which car you want to buy, you can just pop into the app and run a free HPI check on the car.
What is an HPI check?
An HPI check is a vehicle check that explores the history of any vehicle registered in the UK: vans, motorbikes, cars… The HPI check is really important because it shows any information held against the car by insurance and finance companies, the Driver and Vehicle Licensing Agency (DVLA), as well as the Police.
Once you've inputed your new car's registration, mileage, price of purchase, and location, we can check all of these and show you all the car's other details and information.
Step 3 - Pay with your Carmoola card
If you've got to this step, you're really close to getting your new car, yay! The final step is for you to read and sign your financing agreements in the app, and add the details for your monthly repayment method which should be a debit card (not a credit card).
Congrats - now you'll be able to use your virtual Carmoola card to purchase your dream car from any reputable dealership or online car marketplace. The card is accepted at all online car-buying websites, and 1,000's of dealerships. You can buy your car from anywhere. Yep, it's as easy as that!
After you take out your loan
After you've taken out your loan and bought your dream car, the only thing left to do is hit the road! Carmoola was carefully designed for our customers to have control over their loan in the app, at any time. You'll be able to make changes related to:
Your loan's repayment date
Your loan's repayment method
Making an overpayment
Increasing your monthly payments
Settling your loan completely
We also have a customer support team who are available 24/7. They can help you with any questions you may have, even after you've taken out your loan. We're also available on different channels like chat, Whatsapp, email, or phone.
Our app allows you to see details of your payments, get reminders, and get back up to date if you miss a payment, all in the same place.
Carmoola - cruising through car finance
Throughout our process here at Carmoola, you won't ever have to wait around for a car finance decision or for any painful paperwork to come through. There are no broker commissions whatsoever, so no added costs. The Carmoola card lets you pay online easily, or at the car showroom. You won't need to worry about your method of payment.
Taking out a car loan with Carmoola: recap
So, let's recap. You sign up and fill out your profile. You get a budget in less than 60 seconds by answering a few questions to find out how much you can borrow for your next car. You check your car's history with our free HPI check process, within the app.
You can then sign all the paperwork and get your Carmoola card, which you can use to buy your next car at thousands of dealerships and all online car marketplaces. That's it! You've got your car loan sorted. You can check out all your payment options and metrics within the app at any time.
FAQ: Frequently Asked Questions
How to get approved for getting car finance?
Your credit score is important in getting approved for car finance: it lets lenders know you're responsible with money and will be able to pay the loan back each month. Information about your current employment also plays a part.
What is the validation process for car finance?
The validation process for car finance involves a credit check from the lender, an assessment of your financial situation, and proof of your ID and address.
What documents will I need for car finance?
You'll need to have a valid ID, like a passport or driving licence. You'll also need proof of address, employment status, and payslips that show proof of your income (this could be a tax return if you're self-employed).
How does car finance work?
Car finance allows you to buy a car by spreading out the payment throughout a set period of time. You'll own the car when you buy it but you'll pay the loan back to the lender with interest, which is an amount that varies from lender to lender. The amount of interest also depends on your personal circumstances.