The Infamous Cars of James Bond Movies
The name's Moola. Carmoola. And we're here to bring you the best cars of James Bond. Mr 007 knows a thing or two about driving fancy vehicles with all the gadgets included, from Aston Martins to erm, Toyotas. But which ones of his many, many cars were the best of the bunch? Read on and find out with our guide to the cars of James Bond.
Car: Ford Mustang
Movie: Diamonds are Forever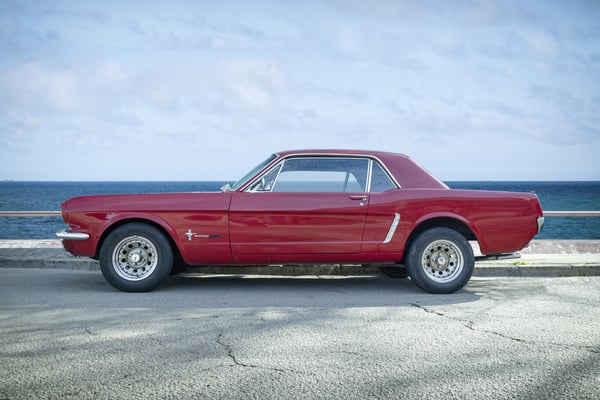 Sean Connery's stint as Bond saw him driving a Ford Mustang as he led Las Vegas police on an epic chase. He shows off the Mustang's features, even manoeuvring the car so it's on two wheels at one point. And while a Ford might not be the sexiest motor 007 has ever driven, it certainly proved its worth in Diamonds are Forever.
Car: Sunbeam Alpine
Movie: Dr No
The Alpine gets a mention because it was the first-ever James Bond car and featured for a few moments in Dr No. Funnily enough, Bond never actually drives the Sunbeam Alpine. Instead, he used it to make an important phone call. It's also one of the few cars to feature in a James Bond movie that doesn't have any alterations from Q. So how did the Alpine end up as the first vehicle to appear in a Bond movie? It was borrowed from a Jamaican resident, as the film crew wanted something that looked sporty, and it was the sportiest one they could find on the island.
Car: Aston Martin DBS
Movie: Her Majesty's Secret Service
Now we're talking. The DBS is a quintessential Bond car and was the second Aston Martin to feature in a Bond movie. This time, the engine was larger than the previous model, with the aesthetics also receiving an upgrade. Her Majesty's Secret Service was the first time we saw George Lazenby taking over the iconic role of Bond, and along with the new actor, the Aston Martin DBS represented a new era in the world of 007.
Car: Aston Martin V12 Vanquish
Movie: Die Another Day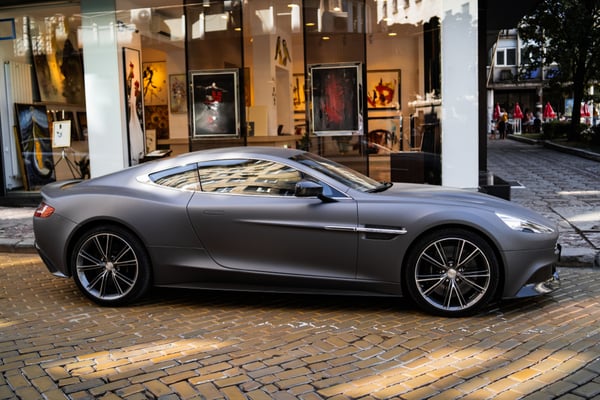 If there is one thing Bond likes, it's an Aston Martin. Fast-forward many years to Pierce Brosnan taking over as Bond, and he kept the tradition alive by getting behind the wheel of a V12 Vanquish. This car had some serious upgrades from Q, with technology and weapons such as rockets, shotguns and machine guns all included with the vehicle. The Aston Martin Vanquish is officially the most expensive Bond car of all time – it's not cheap fitting a shotgun in a car, you know.
Car: Lotus Esprit S1
Film: The Spy Who Loved Me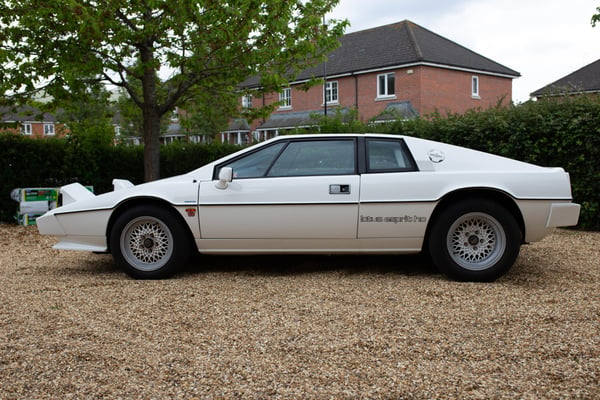 The Esprit S1 appears in another car chase, though this time there's a twist. After escaping the bad guys, it plunges into the water and converts into a submarine, with another chase ensuing below sea level. The iconic Roger Moore played James Bond in The Spy Who Loved Me, and we bet he had a great time roaming around in the Esprit S1. In fact, this car was made so iconic by this Bond movie that Tesla owner Elon Musk bought the vehicle for $1m – though it didn't convert into a submarine, unfortunately.
Car: Ford Fairlane
Movie: Die Another Day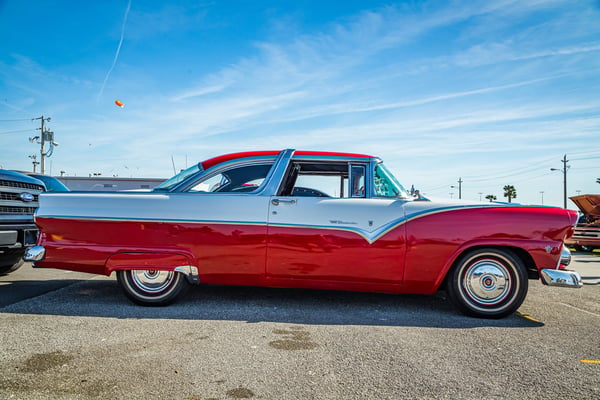 When Pierce Brosnan wasn't zipping around in an Aston Martin as 007 in Die Another Day, you could find him behind the wheel of a Ford Fairlane. The car makes an appearance after Bond gets some information relating to his mission but finds himself without his usual high-end car with gadgets. So he uses the Ford Fairlane to take a leisurely drive back to his hotel – because 007 can't always drive around shooting bad guys in high-speed chases. The dude needs a break.
Car: BMW 750il
Movie: Tomorrow Never Dies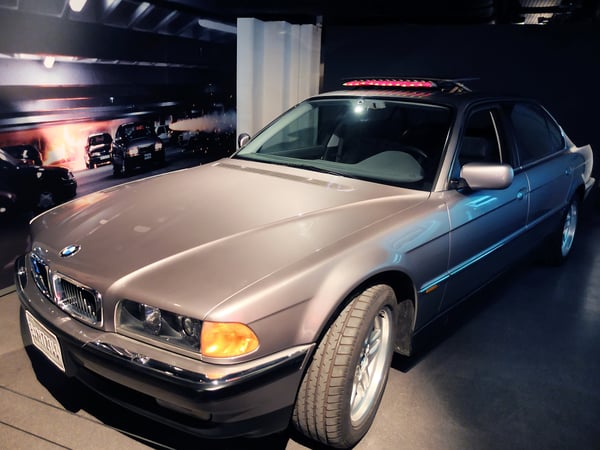 Pierce Brosnan is on a roll here, and he makes smart uses a BMW 750il in 1997's Tomorrow Never Dies. This time, though, Bond uses a remote control in his mobile phone to control the car remotely. An app? In your phone? In 1997? James Bond really was ahead of the curve.
Car: Chevrolet Corvette
Movie: Live and Let Die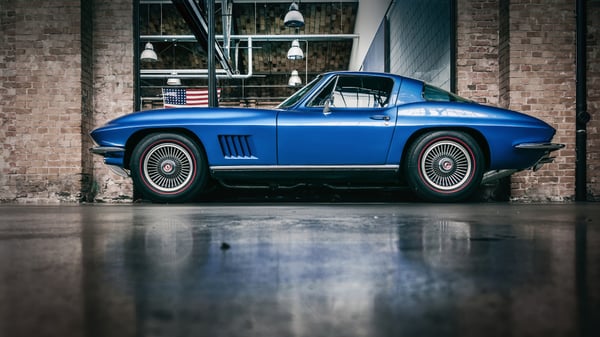 James Bond cars aren't all about the vehicles 007 drove. Sometimes the bad guys got to enjoy a decent ride. That was the case in 1973's Live and Let Die, with Mr Big getting behind the wheel of a Chevrolet Corvette featuring a bolstered body and wide wheel arches. The car was dubbed "Corvorado" and had modifications that include fibreglass moulding of a Cadillac Eldorado. It just so happened to be one of the rarest cars to feature in a Bond movie.
Car: Mercedes-Benz 600
Movie: Diamonds are Forever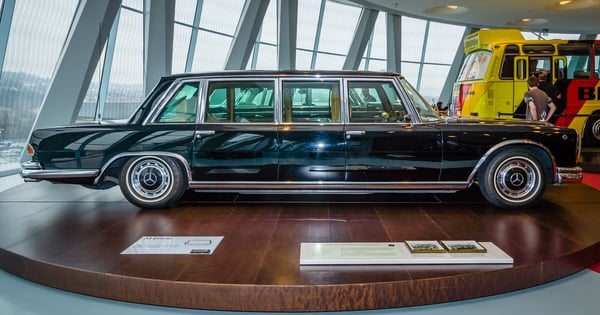 Another Bond villain car, the Mercedes-Benz 600 was the vehicle of choice for Ernst Stavro Blofeld in Diamonds are Forever. It was a luxurious, chauffeur-driven Sedan with hydraulic suspension and hydraulic seat adjustments. Back in the real world, the Benz 600 had famous owners such as George Harrison and John Lennon of The Beatles and iconic actor Jack Nicholson.
Car: Land Rover Defender
Movie: Time to Die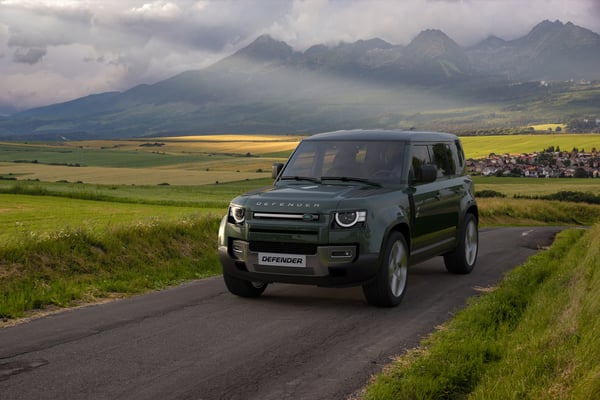 The yet-to-be-released Bond movie, Time to Die, will be the last outing for the current 007, Daniel Craig. Even though the film hasn't yet been released, the trailers show the latest Land Rover Defender in full effect. It looks like it'll be used in a car chase (surprise, surprise) and might just take a walloping in the process. Still, if there's any car that's ideal for an off-road adventure, it's the Land Rover Defender.
The cars of James Bond
Mr Bond has driven the lot with a penchant for Aston Martins. But even when he's been behind the wheel of other cars, 007 always makes them look stylish (and probably helped sales in real life). From zippy sports cars to 4x4s, the cars of James Bond have impressed on screen and got us all excited about driving them in real life, even if they don't come with Q's upgrades.