Exclusive Look at Carmoola: Walkthrough With Chris Palmer
Everyone is talking about Carmoola, and finance expert and YouTube star Chris Palmer recently reviewed us on his channel. Read on to find out why Chris Palmer would definitely recommend Carmoola to anyone seeking car finance.
Turning Car Finance on its Head 🙃
Chris says he was first drawn to Carmoola because of how we operate differently to the 'stereotypical' car finance company. Historically, car finance hasn't had the best rep. Chris says, "You head to the dealers, find your new car, and the salesman is trying to drag you into a finance commitment you don't want at a shocking APR.
"Beyond that, the technology isn't very good, and all the additional costs are passed onto us, the customer." This is where Carmoola comes in, and Chris quickly praises our new way of doing finance -- we're completely online 🥳
Referencing how it all works with Carmoola, he says, "The brand empowers you to be the one calling the shots. You use the app to work out how much you want to borrow, and you can see exactly how much it will cost and work out your budget." 💸
"So then you can walk into the dealership with all the numbers already sorted at a much better rate." He is also quick to praise our virtual card that you pay with, make your life as a customer that much easier 😏
Carmoola was designed to shake up car finance and give customers a better way to borrow on their terms. And it's fantastic that an expert like Chris acknowledges how we're impacting the finance industry.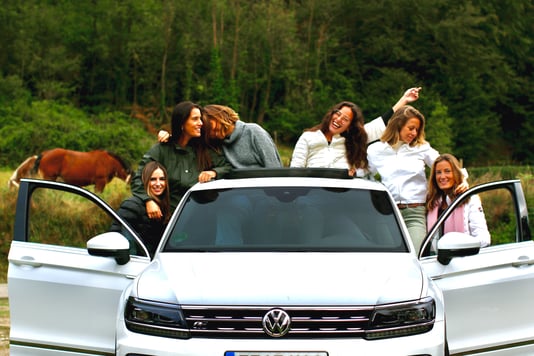 Cool Features 😎
Finance companies have never really placed the customer at the heart and centre, which is odd when you think about it, as they're the ones borrowing money. It's different at Carmoola, and we're giving you more control with helpful features designed to make financing your car all the better.
Chris agrees that we've got some fantastic features, saying, "Features like the vehicle check so you can view the car's mileage history, as well as the ability to check if there's any outstanding finance provided, add peace of mind." Here at Carmoola we aim to prevent any future mishaps and that is why this feature is crucial, so you as the customer know the full history of your car and won't run into any unexpected surprises.
"I also saw that they're about to offer discounts if you go for a more eco-friendly car, which I really like because the environment is so important." Carmoola is all in support for reducing carbon foot-prints. That's why we are in the process of creating a green discount for eco friendly cars 🌳
Along with our helpful and exciting features, Chris also noted the ease of use for switching to Carmoola when it comes to refinancing and how it really helps consumers – especially in a cost-of-living crisis when every penny counts. Refinancing with Carmoola can be done in minutes, and we may be able to give you an even better deal 🤩
Signing Up ✍️
All the bells and whistles won't have an effect if the sign-up process isn't seamless, and we've worked hard to ensure that our customers can sign up and apply for finance without issues ✅ Chris spends some time in his review talking about the Carmoola sign-up process, mentioning how easy it is to find out how much you can borrow. You can have a look at the simple process when finding out your budget on the Carmoola website.
After entering a few details about a potential car he found on Cinch, Chris answers a few questions regarding his income while also agreeing to a soft credit check and, voila, Carmoola offers him an estimate, which he can edit as he sees fit, adjusting the amount and length of the loan. It's that simple 🔥
Chris comments on how the whole process is "so easy and interactive", from finding out how much you can borrow with our calculator to verifying your identity. Not to mention using the app to check out the car you'd like to buy to ensure there are no issues with it (we have a free search history checker) 😉
He was also impressed with the ability to use Carmoola to find approved dealerships online and offline, so customers have total transparency. "It's a really handy and nice feature to have on the app,' Chris says.
"Shockingly Simple" 🤯
Chris was pleasantly surprised over how smooth and quick the whole process of using Carmoola was, from finding out how much to borrow to receiving the funds. He says, "Overall, I've been super impressed with the Carmoola app.
"It's amazing how this technology actually enables you to have the power and how easy it is to do. And it's so nice that you can just go into the dealership and you've already got it all sorted, and you haven't got the hassle of feeling pressured and pestered and kind of just sitting there for a couple of hours with them waiting to see what the damage is going to be."
Perhaps most importantly, Chris says that using Carmoola feels like "having someone there to guide you the entire time and help you on your journey". High praise, indeed. Yes Carmoola is always here to insist you.
Recommending Carmoola
After using the app, Chris was clearly impressed, saying he would "point it in the direction of anyone looking for car finance". We're glad Chris loved using the app, and we can't wait for even more customers to finance their car through us, so they can enjoy a hassle-free and seamless experience. You should compare your own experience.
Check out the review here to see for yourself. And if you're ready to finance your new car, you know what to do. Download the app and get yourself a dream motor 🤩