How Carmoola Was Born: A Note from our CEO
Let me set the scene - I'm taking you back to the summer of 2020... ☀️
Having spent seven long years building my last business, which mainly felt like I was pushing treacle up a hill, I was sitting in the sunshine in Mallorca and had decided it was time to move on. My hair had turned grey, and moving on from the business really felt like I was breaking up from my first love. I knew I would be letting so many people down, and the thought of that made me feel sick. I had come to a conclusion that moving on was not giving up, but just part of the learning process and eventually, the path to success.
I'd been exploring a few business ideas for several months, and it was clear that my true passion is creating something that helps consumers. I guess this is somewhere deep in me. I had learnt so much about financial services, and the immense opportunities in Fintech from my good friend Jasper Dykes, and was growing increasingly interested in the space.
Holidays are not just for sunbathing
So where did Carmoola come from? Well, I have two gorgeous sausage dogs and I was keen to bring them along on our trip to Mallorca, so I needed a new car for what was going to be a pretty epic drive, down through France and then onto the ferry to Mallorca 🏝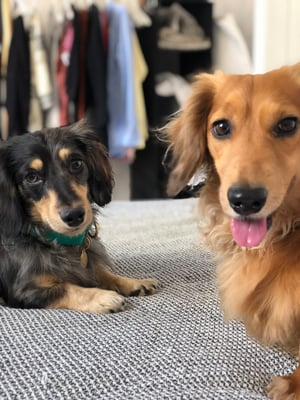 I could not believe how bad it was to sort out finance for the car I wanted. Firstly I had no idea how much I could borrow for a car, was it £10,000, £20,000 or £30,000? So many forms needed to be filled out, and endless phone calls had to happen before I could get anywhere. I learnt that the broker/dealerships get ~20% commission on the value of the loan and I had to wait seven days for the money to sent to the dealership! No wonder the interest rates were so high, they need to be, to pay for all this inefficiency! F**k this was a bad experience!
Time to create a better solution
So, I started to explore the market and learnt that around 8 million people in the UK are buying a used car every year, and a growing number of them are looking to get their finances sorted in advance. I had met some incredible people over the years and knew I was in a good position to bring a special team together to tackle this problem.
The first port of call - Amy. Amy is an incredible product and marketing leader. I'm also lucky enough to call her my fiancé so that was a done deal. Next up, Roman and Igor also known as Rogor. I had met Roman and Igor during my time at the previous business and they are just the most amazing people and unbelievable tech leaders. I was so pleased when they agreed to join. They also convinced Italian Andrew, also know as Andriy, to join us - a great front end engineer. I also asked Jasper to help out where possible, and share his industry experience. Together, we had an amazing founding team and we were excited to get going.
Having done some initial testing we felt the contrarian view of going direct to consumer would be the best approach, along with building our own technology from the ground up to ensure the best possible experience for customers. Everything from the automated decisioning, through to the loan management system. Just as well we didn't know how hard this would be...
Carmoola was born
We had the team, and we had a vision in mind, but one thing we didn't have was a name. We bounced around a lot of ideas - from "Carfin" to "Cardollar" - but nothing stuck. One suggestion was thrown out there and we knew straight away, that was it!
And so - in February 2021 Carmoola, aka Car Money, was born - with an initial idea of a product that would help consumers to:
Finance a used car in minutes utilising open banking, credit and vehicle data

Pay for the car online with a virtual card, or at any dealership with Apple/Google Pay

Save money with better value finance and get a discount for going green

Get flexibility to easily re-finance, trade in or adjust payments in-app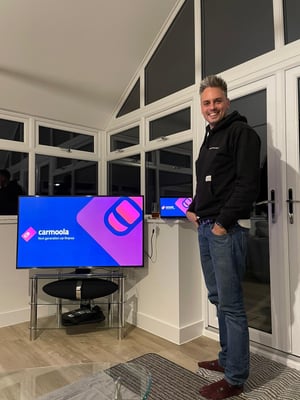 We set out our vision to build Carmoola into a global super app for your car. In a few days we had raised a seed round from some leading Fintech angel investors, and some amazing people that had supported me in my last business. The only thing missing now was a great finance leader with experience in car finance! Wow this search was hard, I must have spoken to 100s of people across the industry, but when we came across Danny we knew he was the one for the role!
So much has happened since then but… stay tuned to find out more, and don't forget to pre-order the app so you can experience Carmoola for yourself!