Barbie on a Budget: Affordable Pink Cars
Pink is in and we're all here for it!
UK Google search terms for 'Barbie car' sky-rocketed by 66% after the highly-anticipated movie rolled out in cinemas.
If you've ever dreamed of driving in style with Barbie's signature colour, then you're in the right place.
We've scoured the market to find some of the most affordable pink cars to allow Brits to channel their inner Barbie.
Whether you're a fan of hatchbacks or classic cars, we've got something to tickle you pink! 🚗💖😎
Volkswagen Beetle: £2,000-£12,000
Back in 2017, Volkswagen created a pink-toned addition to their iconic Beetle lineup.
However, this was no average bubble-gum shade, but rather a sophisticated, rich fuchsia that added an audacious splash of personality to the model.
While bubble-gum pink Beetles are available, these are typically the handiwork of custom wrap jobs, rather than official creations.
The factory-finished pink Beetle carries a modern flair, oozing style, and sleekness in its every line.
Custom pink editions often exude a more retro charm, reminiscent of the carefree, bygone eras of vintage cars.
Given the expansive range of models on offer, pricing for used pink Beetles can be diverse as the models themselves.
Whether you're hunting for a bargain or willing to splurge, there's likely a pink Beetle out there for you. Prices range from as low as £2,000 to a higher bracket of £12,000.
Fiat 500 Pink: £6,500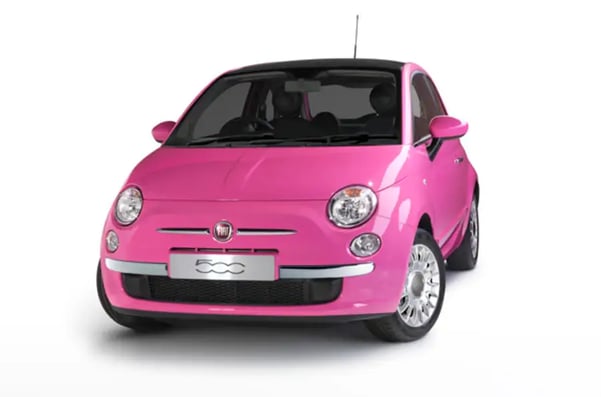 The Fiat 500 Pink is a gem of exclusivity, with only 500 models ever made.
This flamingo-toned variation is built on the blueprint of the 1.2-litre Lounge. However, it's wrapped in an audacious pink, right down to the key cover.
Making its first appearance in 2010, the 500 Pink carried a price tag of £11,700 and was exclusively available for online orders.
As with all members of the 500 series, it's equipped with a fuel-conserving start-stop system as a standard feature.
Today, you can lay your hands on a pre-loved version of this flamboyant ride for a mere £6,500.
Although it hails from an older generation, this model flaunts a playful, sprightly design. It's versatile enough for weaving through city streets or embarking on extended journeys.
Honda Fit She's/Honda Jazz: £10,000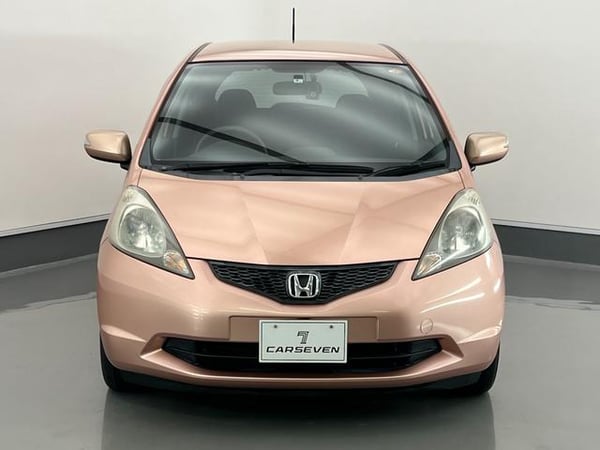 Back in 2012, Honda unveiled a rather distinctive iteration of the Honda Fit, known to Europeans as the Honda Jazz.
This model was intriguingly christened "She's" – a vehicle explicitly designed with women in mind.
The She's Fit stood out with its abundant pink accents, alongside a windshield and air conditioning system tailored to shield sensitive skin.
Initially introduced exclusively to the Japanese market, eventually the model made its way to the US and UK.
It sparked a heated debate due to its arguably gender-biased undertones. The manufacturer even suggested the car's design was designed to match a woman's eyeshadow.
Despite the controversy, there's no disputing the chic charm of the Honda Fit She's. This pastel-infused model offers a bold statement for those wishing to express their personality through their vehicle.
Today, you can add a touch of femininity to your garage by snagging a used Honda Jazz Pink for less than £10,000.
Whether you agree with Honda's gender-targeted marketing or not, the pink Jazz is a car that's sure to stand out on any road.
1956 Chevrolet Corvette: £12,900-£73,000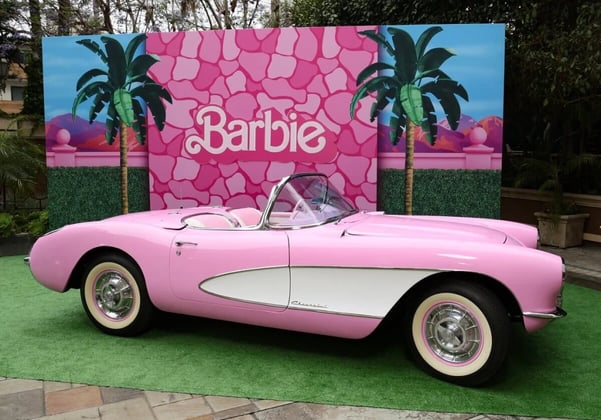 If you're on the market for something vintage, the pink 1956 Chevrolet Corvette is the car to beat.
This specific edition signified a turning point for Chevrolet, as they bid farewell to their inaugural inline-six engine.
In its stead, they introduced a brawnier 4.3-litre V8, enhanced with fuel injection technology for that extra dose of speed.
The 1956 Corvette also flaunted a series of fresh design elements. One of the most significant was the authentic glass roll-up windows, a first in its lineage.
This iconic car plays a significant role in the Barbie film. Hot Wheels are even commemorating its importance by releasing a special diecast model for fans to add to their collections.
If you're wondering about the price tag, a 1957 model of the Corvette would currently set you back around £73,000 at the time of writing.
Barbie's Corvettes from the years 1976, 1985 and 1994, on the other hand, are priced more modestly, ringing up at £15,800, £12,900, and £19,500 respectively.
Drive in Pink Without Breaking the Bank
Our selection of the most affordable pink cars proves you don't need to break the bank to drive around like Barbie.
Owning one of these stylish pink cars doesn't need to be a pipe dream. With car finance from Carmoola, you can make it a reality!
Whether you're considering a splashy pink Honda Jazz, or a stylish Tuscadero Pink Jeep Wrangler, we can help you make it happen.
With Carmoola, you don't have to compromise on style or price. So why wait? Start your journey towards owning your dream pink car today! 🚗💖
Learn more about how Carmoola can help you turn your dream car into your next ride: