How to Plan a Road Trip with a Campervan
Setting out on a road trip in a campervan feels like a unique adventure filled with freedom, flexibility, and the thrill of the open road.
Whether you're tracing scenic coastal routes or exploring quaint countryside villages, the UK has plenty of unforgettable journeys on offer.
However, if you want to enjoy your time on the road, it's going to require a little bit of planning.
From booking campsites, mapping out your route, and making sure your campervan is well-equipped, there's a lot to consider.
In this guide, we'll walk you through the steps to plan the perfect UK campervan road trip.
What is the Best Route Planner for a Campervan?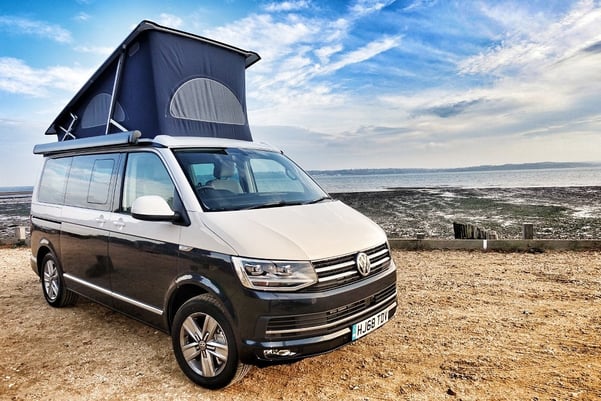 Planning your campervan route is a crucial part of your trip. Luckily, there are plenty of helpful apps for your road trip you can use. Here's some of our top picks for the best campervan route planners available:
CoPilot GPS
CoPilot GPS is an offline navigation app and a reliable ally for your campervan trips across the UK.
With this app, it's not just about getting from A to B. It's about making the journey count, with up to three alternative routes available at a glance. This helps you pick the most scenic or time-efficient path.
In addition to getting you where you need to be, CoPilot ensures your pitstops are well taken care of.
With this helpful app you can search for a campervan-friendly car park, find places to refuel, and locate nearby hotels and restaurants. Its connection with Yelp provides you with even more options.
Navigating complex junctions becomes a breeze with CoPilot's clear 2D and 3D maps and lane indicator arrows.
Plan your campervan holidays with CoPilot, and you'll have more time to enjoy the open road.
Tom Tom's Online Route Planner
Tailoring your route to match your vehicle's capabilities can make a significant difference to your road trip experience. That's where TomTom's online route planner comes into play.
This popular app lets you to select your vehicle type, and factors in the specifics. When you select camper and caravan, an additional "Vehicle measurements" option will appear.
Here, you can enter the specifics about your campervan hire including its length, width, height, gross weight, and even its maximum speed.
This tailor-made route planning ensures you're navigating roads that suit your campervans capabilities, avoiding any unpleasant surprises.
If you're already a TomTom device user, you can even plan your route online, save it, and access it conveniently on your device.
With TomTom, your UK campervan trips just got a whole lot easier.
Google Street View
When you're travelling in a campervan, it isn't just getting to your destination that can be challenging.
We all know that campsites and stopovers, for all their scenic charm, can be tucked away from the main roads. This is where Google Street Maps can save the day.
It's like having a bird's-eye view of your destination before you even start your engine.
If you're heading somewhere new during your campervan trip, Google Street Maps provides you with real visuals of the local area.
You'll be able to see the actual entrance to the site, so you'll know exactly where to turn when you get there.
It takes the guesswork out of navigation, making your campervan hire experience even more enjoyable.
Via Michelin Online Planner
A fantastic feature of the Via Michelin Online Planner is its ability to do more than just map your journey. It's like your personal travel accountant, providing you with a cost estimate for your trip, including potential toll charges.
While the website doesn't let you input vehicle dimensions, it does cater to various brands, models, engine types, and fuel types.
So, whether you're in a campervan or towing a caravan, it's got you covered. It's like having a savvy co-pilot who's always looking for the most cost-effective and scenic route.
And if you love having your plans at your fingertips, there's the Via Michelin app. Download it to your phone or tablet, and you've got your route and budget manager right there with you on your campervan trips UK.
Can You Just Park a Campervan Anywhere?
With campervan hire, there's a sense that the open road is yours to roam. However, it's crucial to know that this does not mean unrestricted parking freedom.
It's easy to think that you can park a campervan anywhere, but sadly, that's not the case.
While your intentions may be pure as you find a serene spot to park your campervan, you could unintentionally block access for the landowner.
This could cause considerable inconvenience and is something to be conscientious about during your campervan trips in the UK.
Parking etiquette for campervans extends to approved zones too. Be mindful of the larger size of your campervan, especially if you're a first-time hirer or owner.
Your campervan could occupy more space than a standard car, so avoid taking up multiple spots or jutting out into the road.
When getting a quote for campervan insurance, ensure that it covers potential damage risks that could occur when parking. After all, even the most experienced of us can have an off day, and it's best to be prepared.
Campsites in the UK for Campervans
The UK has lots of excellent campervan parks and campsites perfect for parking your mobile home.
Everyone who dreams of campervan holidays has an idyllic vision in mind.
You might see yourself travelling down iconic highways, soaking in the scenic coastal views, or exploring the balance between serene nature reserves and vibrant cities.
No matter the dream, a great campervan park is an essential part of the equation.
These sites offer everything from invigorating nature retreats to parking spots with breath-taking views. Some are also famous for their communal spirit.
Here's some of our picks for the best campsites for campervans in the UK:
Cornish Tipi Holidays & Camping, Cornwall

Looking for a retreat away from technology? This campervan-friendly spot in Cornwall offers the perfect solution.
A tranquil site where you can truly unplug, Cornish Tipi Holidays & Camping puts you in the heart of nature.
Enjoy leisurely fishing at the lake, embark on scenic coastal walks, or spend a day at nearby beaches.
The best part? There's no Wi-Fi, so nothing can steal your attention away from the stunning surroundings during your campervan holiday.
Muasdale Holiday Park, Argyll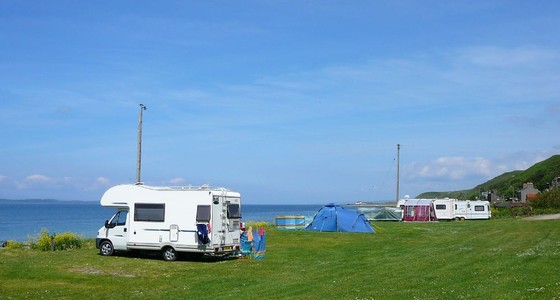 Drive your campervan to the sandy edges of Muasdale Holiday Park for a front-row seat to nature's theatre.
The campervan pitches here offer unspoiled sea views of arguably one of the best beaches in England, with the Scottish islands of Jura and Islay looming in the distance.
This is an ideal spot for campervan trips in the UK that seek the soothing sound of waves and picturesque vistas.
Catgill Farm, Yorkshire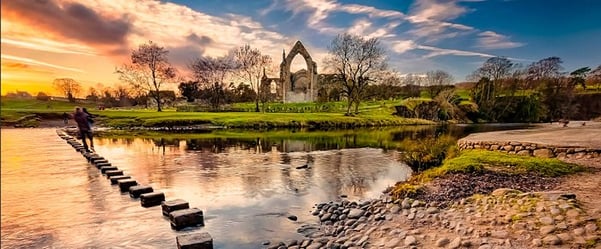 Nestled on the fringes of the Yorkshire Dales, Catgill Farm is a campsite where countryside charm meets convenient amenities.
You will appreciate the hot showers, fire pits, and electric hook-ups, especially if you are heading there later in the year. There's even a coffee shop and a convenience store on site.
All these modern comforts are set against a backdrop of magnificent scenery, with the historic Bolton Abbey Priory just a short walk away.
Digs in the Wig, Pembrokeshire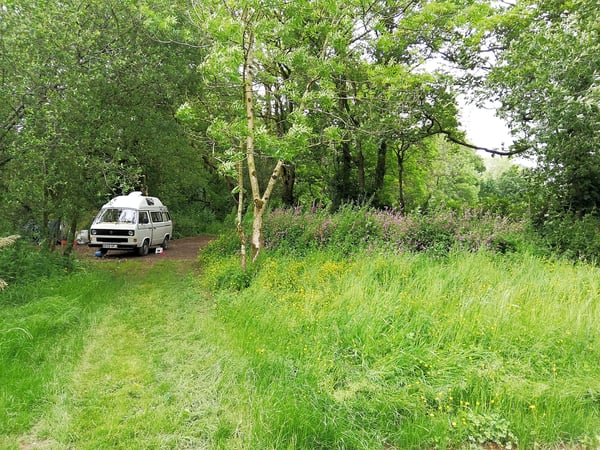 Your campervan parking spot at Digs in the Wig campground is nothing short of a dream.
This quaint woodland site, accommodating small campervans and tents, provides a unique tranquil experience.
Only five spots are available, each nestled in its own peaceful woodland clearing, complete with eco-toilets and a fire pit.
This intimate setting promises a truly secluded retreat during your campervan trips in the UK.
What Should I Pack for a Campervan Road Trip?
Embarking on a campervan road trip is an exciting adventure, but it's important to pack wisely to ensure you have a comfortable and hassle-free journey.
To help you prepare, here's a handy list of must-have items for your trip.
Kitchen Essentials
Whether you're whipping up a full meal or just making a quick snack, a well-equipped kitchen is vital.
Stock your campervan kitchen with a portable stove, pots and pans, cutlery, plates, cups, a chopping board, and a sharp knife.
Don't forget essentials like a can opener, corkscrew, and washing up liquid. It's also handy to have a cool box or mini fridge for perishable items.
Sleeping and Living Comforts
Make your campervan feel like a home away from home. Pack cosy bedding, including a sleeping bag for each person, pillows, and extra blankets for chilly nights.
Bring a few comfortable folding chairs and a table for outdoor relaxation. And don't forget your toiletries and a compact first-aid kit for emergencies.
Outdoor Gear
Embrace the outdoors by packing the right gear. Bring along a camping lantern or head torch for those late-night trips outside.
Consider packing a picnic blanket, a portable BBQ, and some outdoor games.
If you're venturing into the wild, remember to take a bug spray, sunscreen, and hats.
Entertainment
Remember, the journey is just as important as the destination! Pack a good selection of books, board games, or playing cards for those quiet evenings in the campervan.
Don't forget your camera and binoculars to capture beautiful sights along the way.
This comprehensive packing list should help you prepare for an enjoyable and well-prepared campervan holiday.
Just remember, every trip is unique. Tailor this list to suit your needs and the specifics of your campervan holiday.
Get Ready for Your Campervan Adventure with Carmoola
With the right level of planning, there's nothing stopping you from embarking on the campervan trip of a lifetime.
Whether it's the scenic landscapes of Cornwall, the tranquil beaches of Argyll, or the historic charm of Yorkshire that's calling to you, the UK is brimming with destinations that make for unforgettable campervan holidays.
Remember, the key to a successful and stress-free campervan trip is in the planning.
From selecting the perfect campervan-friendly sites to compiling a comprehensive packing list, ensure you have all the bases covered.
This includes ensuring your campervan hire or your own vehicle is in tip-top shape and equipped for the journey ahead.
Thinking of buying your own campervan? At Carmoola, we're here to help with your car finance needs. Offering an easy-to-use platform and a wealth of helpful resources, we simplify the process and put you in the driver's seat.
See how much you could borrow and calculate your budget with Carmoola today.
Download the Carmoola finance app to apply.
Learn more about Carmoola and how we work