How to Buy Your Car on Cinch and Pay With Carmoola
Welcome to the Carmoola blog 👋 lovely to see you here! In this article, we're taking you through the steps to buying you car on Cinch, using your Carmoola card. Personally, we love the Cinch checkout process, it's very slick, and you probably don't need our help... but just in case! Here's a little step by step guide to help you out.
Get approved for a budget on Carmoola 💰
Before you set your heart on a car, it's really important that you are sure you can comfortably afford it. That's why it can be a great idea to start your journey on Carmoola. In just a few simple steps, you'll see if you've been pre-approved for a budget, and what that budget looks like. In fact, the entire application happens online in our app, so you can get an instant decision in a matter of minutes. Budget in hand, it's time to start browsing cars online that you might like to buy. We're guessing that if you're reading this article, you're thinking about buying a car on Cinch - great choice!
Find your car on Cinch 🚙
You can browse over 5,000 cars on Cinch, and when you've found the one you want to buy, you can easily pop the details into your Carmoola app to ensure the car is in good condition and has good history.
On the Cinch website, open the details of the car, look for the "pay in full" option, and click on Buy Now.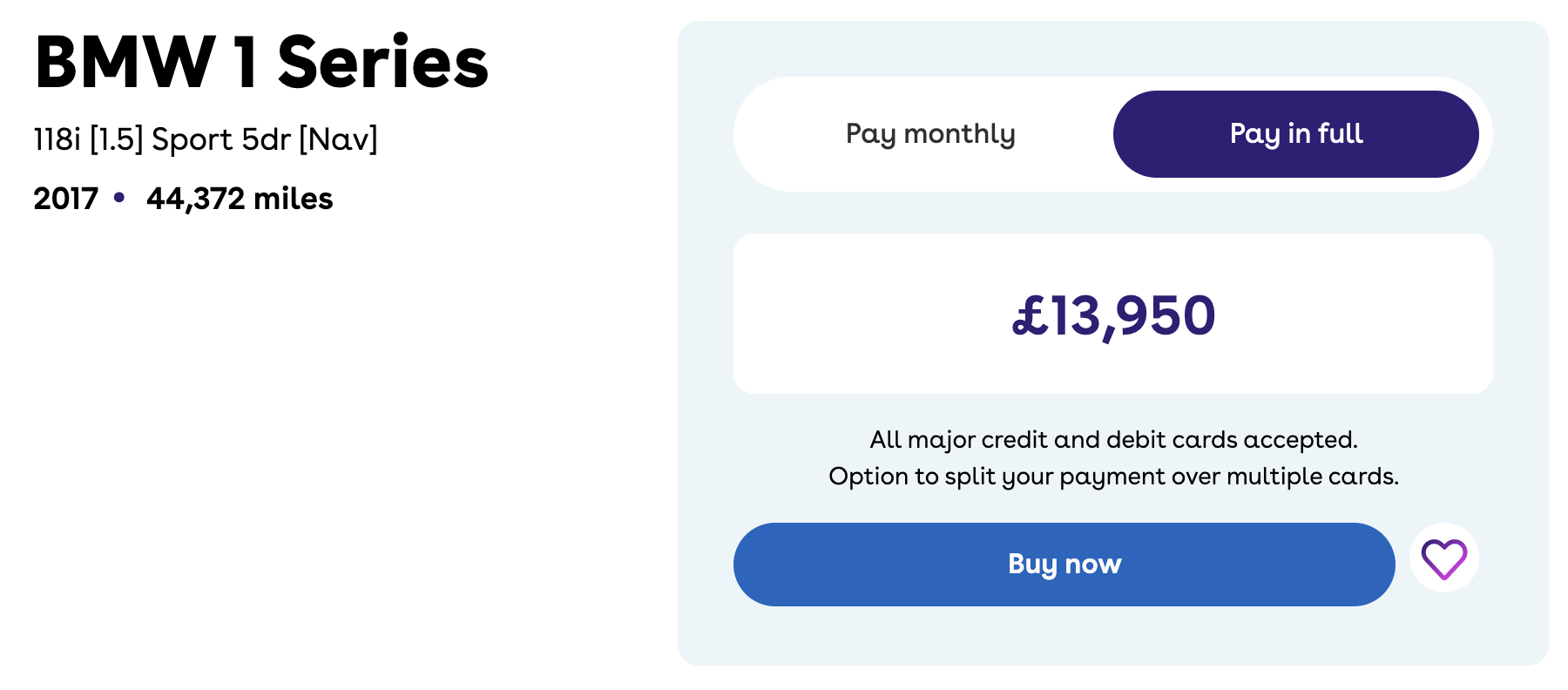 Add your personal details 🙋‍♂️
On Cinch, you need to create an account before you can begin, with an email and password. Once you've done that you'll need to add details like your full name, home address and mobile number.
Are you part-exchanging your old car? 🧐
Now this step can be skipped by some people, but others may want to explore the option of part-exchanging their old car as part of the purchase. You can get a guaranteed price on Cinch by typing in your registration, pretty neat!
Choose your payment option 💳
The next step is to choose how you'd like to pay, so look for the "pay in full" option as shown below. A really cool feature that Cinch has, is the option to split your payment with multiple cards. This means that if you'd like to use a Carmoola loan of £10,000, and also contribute a deposit from your savings of £2,000, you can easily do this in two payments. One from your Carmoola card, and another from your personal card. After this part, you can choose whether you'd prefer to have your car delivered, or collect it from one of Cinch's collection points, and choose to add extras such as Cinch Care (warranty, breakdown and servicing).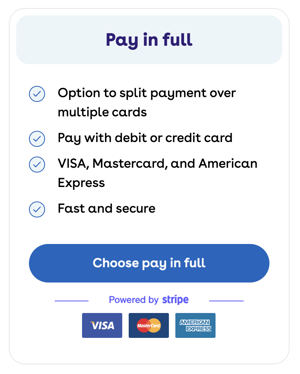 Now it's time to pay 💸
All you need to do now is grab your Carmoola card details, and enter them into the Cinch website. Remember, the details of the total payment amount must be correct on Carmoola before you can proceed. Tap on your Carmoola card to reveal the full card details.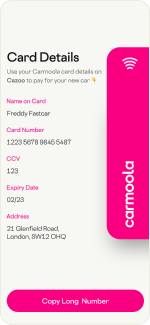 Your new car is on the way 🤩
That's it, you've done it! Now you've completed the checkout, keep an eye out for a confirmation email from Cinch to let you know the next steps. The final step is to start getting excited about your new car... yay!