What Do Our FA England Women's Euro Winners 2022 Drive?
The Lionesses can roar! The England Women's National Football Team is the most talented in Europe, and they've got the trophy to prove it. Smashing to victory in July, they pulled in a crowd of over 80,000 - a record for both women's and men's performances in the Euros - and defeated Germany 2-1. Winning the FIFA Women's Euro 2022 isn't the only thing the team is interested in, and they've been vocal in their support for more widespread access to football for girls in school.
Oh, and in October they were awarded the Pride of Britain award. Well, as lionesses, they're used to being part of a pride. So when they're not inspiring little girls or winning England the first tournament since 1966, what do they do? Travel on the water, mostly. Looking through the ladies' social media pages shows they're (unsurprisingly) very committed to their fitness… but they aren't opposed to taking a nice car when they can.
Mary Earps
Mary Earps might not run around as much as the other lionesses because she's in goal, just in case anyone gets past the defence, so some of her fitness training is a little different. Earps recently took to Instagram to share a photograph of herself rowing a boat. It's not the most conventional motor, but it'll certainly help her keep her arms strong so she can make the most dramatic saves.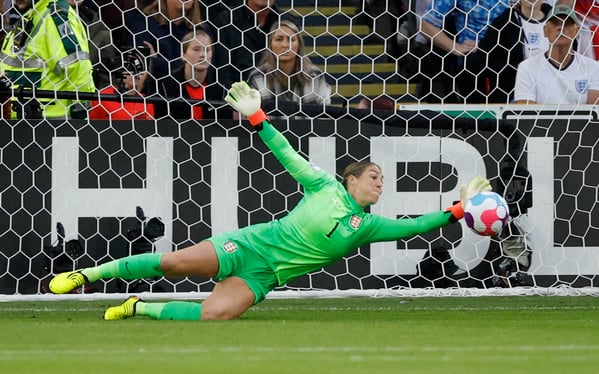 Sandy McIver
Earps isn't the only water sports enthusiast on the team! Sandy MacIver visited South Carolina back in 2017 and decided to cool off after a hot day by taking a jet ski for a spin. Perhaps it's a goalie thing? She certainly seems to spend a lot of time by the sea. Maybe one day she'll combine her love of water with her talent for ball-based team sports and start playing beach volleyball.
Rachel Daley
Another lioness suffering in the heat was Rachel Daley. On a visit to Huston, Daley hired a boat and headed out for the day because it was just so unbearably hot. Maybe that's the real problem Huston has? She's also participated in team building activities with fellow lioness Millie Bright and spent an afternoon following a big match by riding around a swimming pool on an inflatable unicorn. It isn't my preferred method of transport, but you can't deny that it looks like a lot of fun.

Ellie Roebuck & Lauren Hemp
In a promotional video for the team, Ellie Roebuck and Lauren Hemp discussed their cars, amongst other things. Roebuck explained that she drives a VW Polo, because she only recently got her driving licence, and Hemp added that she started off in a white Ford Fiesta and then did what so many other footballers do: she bought an Audi. I honestly don't know what it is about Audis that attracts so many professional footballers, but nobody seems immune to their charms. The only exception appears to be Gabby George… possibly. She's shared a photo of her wheels, shiny grey, but the picture doesn't reveal the make or model of the car. Hopefully next time Roebuck and Hemp get together, they invite George, too.

Katie Zelem
The top cyclist in the team seems to be Katie Zelem. Although many of her fellow players are keen to get some cardio in from time to time, Zelem shared that she used the 2020 lockdowns to get on her bike more and explore the local area. It seems that Zelem almost always favours two wheeled vehicles, and has tried out e-scooters and mopeds whilst on holidays. However, when visiting Toronto, she did rent a mysterious black car. Given how cold Canada gets and how treacherous ice can be, that was certainly a good idea.
Chloe Kelly
One of the most heartwarming moments following the lionesses' victory this year was the revelation that Chloe Kelly used to take the bus to Wembley Stadium for football practice as a teenager. To honour her journey from player to victor, the team bus was briefly renamed that Chloe Kelly and had her name instead of the usual route information.

Team Yacht!
Finally, it's hard to find a vehicle to fit a whole team on. Other than the squad bus, of course. Nikita Parris showed that there are other options, though, and shared a photo of all of the lionesses on a yacht on a team holiday. After their incredible win and all they've achieved, they certainly deserve a treat!

Takeaways
And that is it for today's blog post. We hope that you have enjoyed reading it as much as we enjoyed writing it. At Carmoola, we can help you find the best car finance deal to suit your needs. Why not visit the 'How it Works' section and see how we can help you? If you are looking to finance your very own vehicle, check out the simple steps below;
Go to the Carmoola App

Enter your details & verify your ID

You will then get an illustration of what you could potentially borrow

Then go ahead and apply!
And then if you are accepted, go on to find your dream car, and go ahead and simply pay with your virtual Carmoola card at the dealership (or online)! What's not to like? 😀👍