Newcastle United Football Players and Their Cars
We all know magpies like shiny things, 💍 but can the same be said of their footballing counterparts? When the Newcastle United Football Players arrive onto the pitch to a chorus of Local Hero, are they also praised for their fancy and extensive car collection? Let's peer into the garage and see what we can find.
Let's start with Newcastle's captain, Jamaal Lascelles. Lascelles has been with the team for seven years now, and has certainly left his mark on the pitch. On the road, Lascelles opts for a simple but classy matt black Land Rover. Many of the other players have chosen shiny rides, so the matt paint job is a great way to subtly stand out, and we think it looks great.
Fabian Schar
Fabian Schar has followed his captain's lead, but only in colour. The Swiss player, who also represents Switzerland on an international level, has a sleek black Jaguar. He's also shown off part of his training regimen, which includes riding a stationary bike… but we think the Jag will probably get him to the matches faster.
Allan Saint-Maximin
Finally, we have Allan Saint-Maximin's black sedan. It's nice when the team keeps the colouring consistent! It also seems as though the French player has another black car, small and sporty like Saint-Maximin himself, but we can't actually tell what make or model it is. Head over to Saint-Maxim's instagram page and let us know if you can figure it out. The winger's most important rides, though, must be the cars owned by his little daughters. They won't take after their daddy and have instead branched out with white and grey toy cars. Very cute!

Joelinton
Joelinton has opted for the other choice of home colours and treated himself to a gorgeous white 4x4. Like his teammate, he's kept the make and model carefully guarded, but it's clear to see the luxury emanating from the vehicle. Again like Saint-Maximin, Joelinton also has a mysterious black sports car - let's just hope they don't get their vehicles mixed up in the St James' Park garage! One young man who is happy to show off his ride is Joelinton's little son, who has a tiny toy black audi. Perhaps he races the Saint-Maximin girls while their fathers are at practice.

Matt Targett
Between vice-captain Kieran Trippier and left-back Matt Targett, Newcastle really has some excellently named players. Let's just hope that Trippier doesn't trip and when Targett kicks the ball it actually reaches its target. 😂 One thing that doesn't miss the mark is Matt's gorgeous white Audi.
Sven Botman
Sven Botman might play centre back, but he's more than happy to hop in the front seat. His everyday ride is a beautiful grey Mercedes-Benz 4x4, which must be perfect to accommodate his 6ft4 frame. He's also open to trying new vehicles and recently shared a photograph of himself racing around a buggy track and enjoying the pre-season break.
Callum Wilson
Perhaps next time Botman wants to drive around and have fun he could go with Callum Wilson. The two share a taste for powerful vehicles, and Wilson has a white Range Rover, and he's also keen to explore desert landscapes. The striker went to Instagram to show off a fun day out with friends where he drove a different 4x4 on the sand dunes. Just don't forget to bring a bottle of water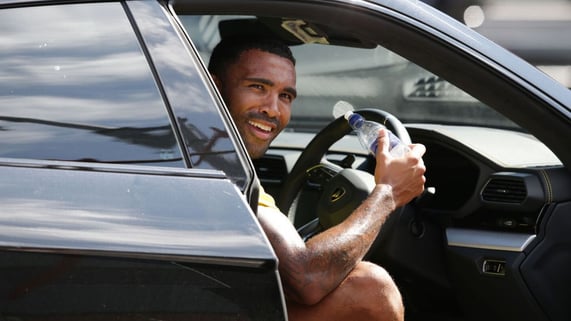 Takeaways
And that is it for today's blog post. We hope that you have enjoyed reading it as much as we enjoyed writing it. If you liked reading about football players and their cars, then you might be interested to know what tennis legend Novak Djokovic drives! Be sure to check it out!
At Carmoola, we can help you find the best car finance deal to suit your needs. Why not visit the 'How it Works' section and see how we can help you? If you are looking to finance your very own vehicle, check out the simple steps below;
Go to the Carmoola App

Enter your details & verify your ID

You will then get an illustration of what you could potentially borrow

Then go ahead and apply!
And then if you are accepted, go on to find your dream car, and go ahead and simply pay with your virtual Carmoola card at the dealership (or online)! What's not to like?