Top 5 Cars for Learner Drivers
Theres so much to take in when you are first learning to drive. And when you are new to driving there is also so much to learn with endless new terminology, acronyms and road signs - as well as just getting used to and being confident out on the roads. So choosing the right cars for learner drivers is really important, and can be a challenge. You want something that's easy to drive and maintain, suitable for your individual requirements, and preferably not too expensive to buy, insure or fuel. With that in mind, we've put together a collection of some of the best, safe and low insurance cars for new drivers.
1) Honda Fit
Second hand price: £5000-£7000.
This car has a 1.5 litre engine which gives 130 horsepower, but that doesn't make it too dainty! The Honda Fit can comfortably fit five people, is incredibly fuel efficient, and really reliable. If you're looking for a sturdy drive that'll be great for road trips with a couple of mates, the Honda Fit is perfect. If you're an anxious parent looking for a safe car, the Honda Fit might well be the best choice. It's got lots of safety features and has a touchscreen. Some people aren't a fan of the way this car looks, but to be honest, that's hardly the most important thing.
2) Chevrolet Cruze
Second hand price: £2000-£3000.
If you'd prefer a car with slightly more engine and horsepower for less money, the Chevrolet Cruze is the choice for you. This vehicle has a 2.0 litre engine which gives 137 horsepower, and it has lane assist, departure warnings and collision warnings. The boot is pretty small, so this might not be the right car for anyone who travels a lot or dog owners. It is a nice passenger vehicle and has a nice audio system. It's also worth being aware of the oil filter, which will require regular changing to keep the fuel economy down. New drivers might find this daunting, but it's a good way to start learning about how cars work and how to notice when something is wrong.
3) Mini Hatch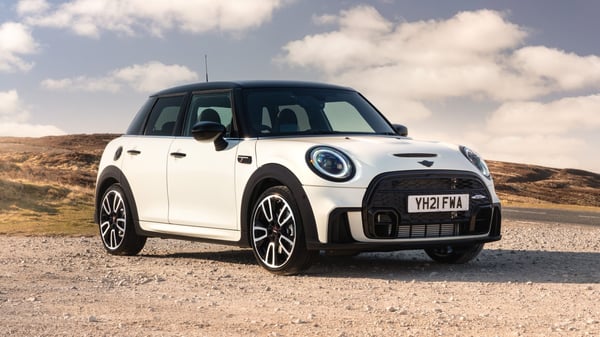 Second hand price: £2000-£3000
We all love a mini. They're cute, iconic and a great first car. The Mini Hatch is available with customisable options, so if you're looking for something specific and prepared to buy new, this might be the right choice. Of course, this is a mini, so there isn't a lot of room on the back seat or in the boot, but on the other hand you'll be able to park more easily and in smaller spaces. As you'd expect with a car of this size, it doesn't use much fuel, which is great for drivers on a budget… especially as new drivers often have to pay more for insurance. The Mini Hatch is nice to handle and has a "limpet-like grip", so if you spend a lot of time on winding country roads, this could be a good choice.
4) Volkswagen Polo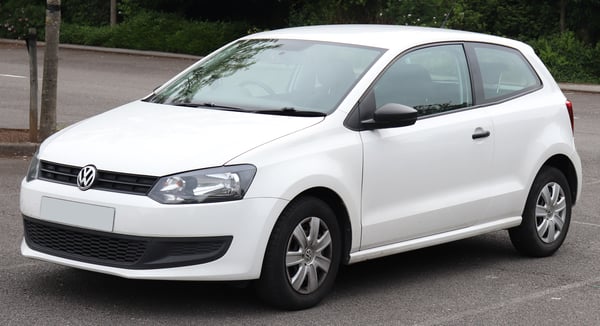 Second hand price: £2000
Tall people often struggle to find the right car. Think of all the lanky goalkeepers in their 4x4s, or of Mr Incredible crammed into a car the same size and shape as a can of beans. Fortunately, for new drivers with legs, the Volkswagen Polo is here to help. There's room to stretch in the front and back, so you won't have your knees under your ears, which has got to be useful. There's an infotainment screen that can connect to your smartphone, perfect for occupying children or playing music as you prefer. Despite having lots of space, the Volkswagen Polo has light controls and is easy for a new driver. There are two options: the 95PS and the 75PS. The first is best for good fuel economy, but the latter isn't too bad either.
5) Volkswagen Up!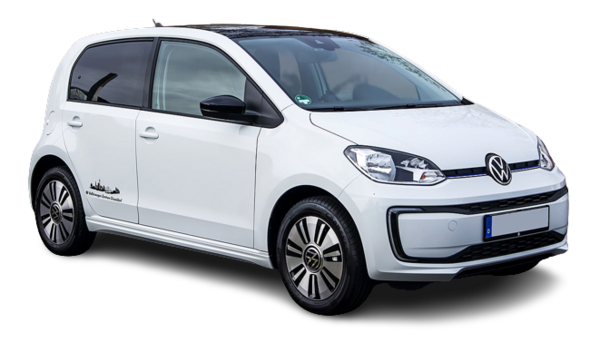 Second hand price: £5000
If you're living in a city, a Volkswagen UP might be the perfect vehicle. It's small and has accurate steering, so you can park it in tight spots, and it runs well on the motorway too if you want to take longer journeys. If you're willing to buy brand new, the Volkswagen UP does have customisation options, including specialist paint jobs or Beats Electronics stereo. The Volkswagen UP is not only available with petrol engines, but also an emission zone compatible electronic version as well! And, even if you are going for the petrol Up!, it's pretty fuel efficient and won't actually use too much of the stuff. Oh, and there's a hidden compartment in the boot so you can store valuables there if you like.
Takeaways
And that is it for today's blog post. We hope that you have enjoyed reading it as much as we enjoyed writing it. And if you are still learning and want some help to pass you test, check out our top tips for learner drivers! At Carmoola, we can help you find the best car finance deal to suit your needs. Why not visit the 'How it Works' section and see how we can help you? If you are looking to finance your very own vehicle, check out the simple steps below;
Go to the Carmoola App

Enter your details & verify your ID

You will then get an illustration of what you could potentially borrow

Then go ahead and apply!
And then if you are accepted, go on to find your dream car, and go ahead and simply pay with your virtual Carmoola card at the dealership (or online)! What's not to like?