Under the Hood with Carmoola Co-Founder... Igor
Well hello there, and welcome to the next piece in our series of "Under the Hood". In this series, we're chatting with the team behind Carmoola, and we'll share with you what we find. And, no, it's not going to be one of those boring interviews with bog standard questions. We're getting deep, up close, and personal. And if there's a burning question you'd love to ask, drop us a message in the comments and we'll get it sorted for you 🙌 Are you ready for this... the awesome Igor Gordiichuk, Co-CTO and Co-Founder at Carmoola!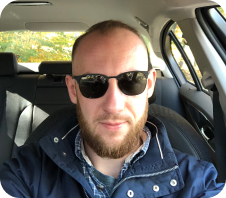 So, we know you've got loads to be getting on with... but you must be a little excited for the interview? 😁
Totally! I never could have imagined one year ago that we would have such a great opportunity ahead of us, so yes I'm super excited!
Amazing! So we're going to ask some pretty personal questions 😉 are you ready for that?
Bring it on!
That's the spirit! So a good place to start, is to learn a bit more about you. Let's pretend we're on a first date 💖 and I say "so tell me a bit about yourself, Igor".
Make/Model: Igor/Male
Date of First registration: 15/05/1989
Dimensions: 6 Foot tall, 11 shoe size
Tuning: Beard
Description: Stubborn, bold, and determined to win. I like fishing and workouts. In a long, deep relationship with cars. Clean HPI history!
Loving the car theme Igor! So, some of our readers may not know that you and the rest of our engineering team are based in Ukraine. For people who've never been there, how would you describe it?
Pleasant and calm place to live, yet to be discovered by others. Resembles unicorn startups at early stages 😉
And when we come to visit you, where are some of the best places to check out?
There are several cities with a lot of history, like Lutsk, Kyiv, Lviv, and many more...
We'd love to know, what values do you live your life by?
"Keep moving despite any circumstances"- is what I value the most and try to live by. That helps me not to be distracted by temporary downs and always brings faith in tomorrow's day.
Love that. So, what does a typical day look like for you?
I like order, so most of my days starting with morning coffee and thinking what priorities are for today. After that, usually I head off to the gym for a morning workout that energises and clears my head before working day. Which starts at 9 am and lasts till I am satisfied with the results.
Everyone has good days and bad days. What makes it a "great day" for you?
When I am in the "flow" - entirely focused on daily priorities. And creating amazing products for our (future) Carmoola customers!
What is the most difficult decision you've ever had to make?
There were many, but the hardest one is yet to come.
Ooh, that sounds intriguing! So, which book have you read 📚 that you think should be added into mainstream education, and why?
Black Swan by Nassim Taleb. I think it's vital for young people to understand and prepare themselves for extreme and uncertain events.
And what's the best TV series 📺 you've ever watched?
Early seasons of Top Gear and The Grand Tour. If Clarkson is there, I will watch the show 😁
What is the most important thing you've learnt in your life, so far?
Patience for the results - nothing is done overnight; Years of immense determination and willpower is needed to succeed!
What is something you think is fundamentally wrong?
I think our current fiat-currency system is shockingly unstable and set to fail
What is the most common misconception others have about you, and why might they think that?
Quite often others think that I am 100% of time optimist... probably because that is what I'm striving to achieve, and I like to look for solutions
What's the naughtiest thing you've ever done? 😈
Oh, I wouldn't say I am a "naughty" guy. But, you know, when someone is saying that, it means they have something to hide. Reach me in private for details 😉
Imagine yourself as an old man 👴🏻 looking back at your achievements. What do you see?
I would see an exciting and challenging road in the glow of the sunset
What are some cool things on your bucket list? 🪣
Drive on all Formula 1 tracks and take Carmoola to IPO 💪
And your favourite place in the world?
It must be the South of France: Nice or Cannes, with perfect weather, architecture, and tranquility. By the way, there is a famous Paul Ricard circuit not far from Marseille.
Can you cook? If so, what would you cook to impress your friends at a dinner party? 👨🏻‍🍳
I do cook for myself, but would rather order uber eats for others, to be safe 😂
What's your guilty-pleasure hangover cure food?
KFC - Sanders Bucket, Hot & Spicy 🌶
Who's the funniest member of your team in the Ukraine office? Can you tell us something funny or embarrassing that they did?
That's for sure, Mister Andriyko! His stories are the highlight of our lunches. The last one was about his date on which he went to her house to configure the internet router 😑
Tell us 2 truths and 1 lie 😜
I sold 10 bitcoins at 147 USD each
Once I have been attacked by a deadly goose
As a kid, I dreamed of becoming an F1 driver


Let us know which you think is the lie, in the comments 👇
When Carmoola launches in Ukraine, which car will you buy?
Porsche 911 GT3 (992) in Shark Blue
Lastly, tell us your thoughts about Carmoola!
Carmoola has a special responsibility to be the first finance experience for a lot of people! I can't wait to get the product live and in the hands of some customers 🙌
Do you have more questions for Igor? If you do, please SHARE them with us in the comments below! We will update the blog with your questions, aaaaaaand answer them live on Instagram next week 🥰