Wolverhampton Wanderers Football Players and Their Cars
Wolverhampton Wanderers FC might not seem like the most inspirational name for a football team, but we know that the squad are much more wolf than wanderer. Sleek, powerful and athletic - but are we talking about the team, the wolf or the players' cars? The footballers have got some pretty sweet rides and they're ready to show them off and let the opposition and the fans know that they'll be arriving in style.
The Black Audi
First on our list is the black Audi. We think the players might struggle to locate their cars in the car park because Hwang Hee-Chan, Nelson Semendo and Raul Jimenez all favour the vehicle. Fortunately, Jimenez's is an SUV, so it might stand out a little bit.
Raul Jimenez
This isn't the only vehicle the forward has. On holiday with friends, Jimenez, who also plays for the Mexican national team, spent some time riding around on jet skis. It might not be the most practical way to get to the stadium, but it could work on a rainy day.
Does Diego Costa Own A Mercedes?
Yes. Was it black? Probably. But there's more to the story. So it seems that our favourite striker had a garage clear out when he moved from Chelsea to Spain, because all of his previous vehicles would be on the wrong side of the road. Therefore, Costa sold off a Mercedes-Benz and a BMW. He also owned a Range Rover, which was apparently abandoned in Stamford Bridge Stadium. Shortly after, Costa decided to treat himself to a red Ferrari, but there's no update on whether he decided to bring it back from Spain when he returned to the UK.

Joao Moutinho
Joao Moutinho also plays for the Portuguese national team, but he's diverted from Guedes in one respect at least. Moutinho drives a silver Jaguar, which is an eye-catching vehicle in the Molineux Stadium or on the road. It might make Daniel Podence's grey mini look a little average by comparison, but that's not really a dis on the petite winger's drive.

Goncalo Guedes
Playing for the Portuguese national team is no small honour, and so it doesn't surprise me that a player with such prestige would go for a fabulous vehicle. Goncalo Guedes took after his teammate Diego Costa and decided to treat himself to a red Ferrari Berlinetta. How European!
The Mercedes-Benz
Another vehicle popular with footballers is the Mercedes-Benz. Boubacar Traore has one in, you guessed it, black. Sasa Kalajdzic doesn't seem to have invested in a vehicle himself, but he has shared pictures of himself looking around the Mercedes-Benz museum. It must be pretty nice to know that you can afford any car in the building, and at least if he does choose to purchase a vehicle it's not another Audi.
Jose Sa
Finally, Jose Sa has tried to show Hwang Hee-chan a different vehicle to his Audi, by taking him out in a golf buggy. It's probably not the best way to get to away matches, but at least it offers everyone some other options. Sa himself has a black car which he showed off on Instagram with his wife and their lovely dog. That's not Sa's only method of transport, though: he's also tried riding camels! Say what you will about the Audis, but they might be a little faster.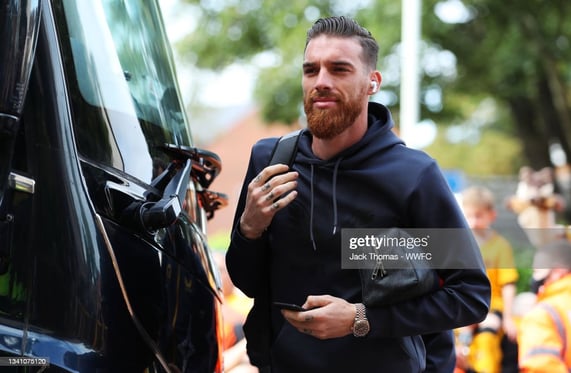 Matija Sarkic
Matija Sarkic kept things mysterious yet consistent. He hasn't shared his normal ride with fans, but he did go on holiday to Qatar and show off a black 4x4. I suppose there are more dunes in the desert, so you might need the extra power a 4x4 provides - although a white vehicle would stay cooler.
Takeaways
And that is it for today's blog post. We hope that you have enjoyed reading it as much as we enjoyed writing it. At Carmoola, we can help you find the best car finance deal to suit your needs. Why not visit the 'How it Works' section and see how we can help you? If you are looking to finance your very own vehicle, check out the simple steps below;
Go to the Carmoola App

Enter your details & verify your ID

You will then get an illustration of what you could potentially borrow

Then go ahead and apply!
And then if you are accepted, go on to find your dream car, and go ahead and simply pay with your virtual Carmoola card at the dealership (or online)! What's not to like? 👍