Best Affordable Convertibles To Drive In Summer
Isn't there something magical about feeling the sun on your skin and the wind in your hair as you cruise down the open road? As you may have guessed, we're all about the joy of convertible motoring during those lovely warmer summer months. But we like to do it whilst saving a pretty penny – not every convertible needs to be an Aston Martin Vantage Roadster. Instead, we're on the hunt for affordable gems that offer a mix of style, performance and practicality without leaving you with an empty bank balance.
What is it About A Convertible?
The convertible – or a cabriolet if you're feeling fancy – has come a long way since its early days in the 19th century. From manually removable tops to fully automated roofs, these cars have evolved to meet our craving for freedom and style. But let's not get too caught up in the history lesson. All you need to know is that there are many choices out there, from soft tops to hard tops and semi-automatic to automatic roofs.
Criteria for Selection
Before we dive into our list, let's look at how we've picked these beauties that drop the top down. We considered price (of course), fuel efficiency (because who wants to spend all their cash at the petrol station?), performance, reliability, comfort and, last but by no means least, style. The cars featured a little bit from every column, so let's see which speedsters made the list.
Top Affordable Convertibles
1) Mazda MX-5 (£23,800 new)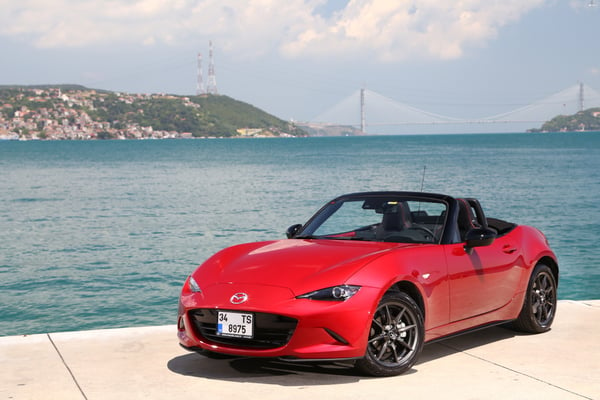 The Mazda MX-5 is a fun and affordable roadster that's been a popular choice for car enthusiasts since its introduction in the late 1980s. It comes with a 181hp four-cylinder engine and either an automatic or manual transmission. It's compact and not particularly spacious inside, but that's not what this car is about.
The MX-5 emphasises fun with a buzzy engine, snappy handling and a removable top. The retractable fastback gives the appearance of a hardtop but can fold down quickly at the flip of a switch to make this Miata a convertible at any time​. New models cost just under £24,000, but you can pick up used ones for under £10k.
2) BMW Z4 (£37,115 new)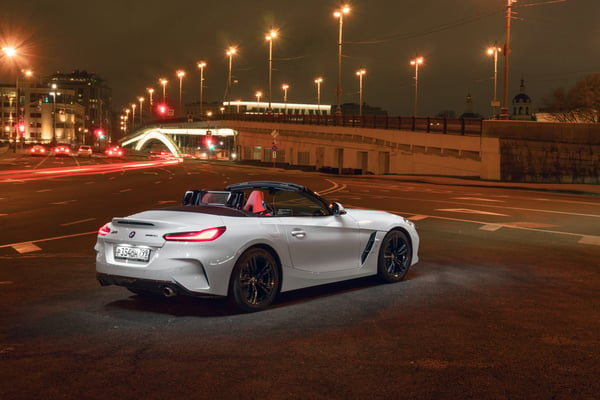 The BMW Z4 is a sporty convertible that provides a fun and engaging driving experience. Okay, it's affordable(ish) rather than an outright bargain. But for a BMW, the price is still pretty low, considering it's a convertible.
It's available with a range of powerful engines, from a 2.0-litre turbo-four that produces 255hp to a 3.0-litre turbocharged inline-six that produces 382hp. The Z4 is also well-equipped with technology and luxury features, offering a seriously snazzy interior.
Being a BMW, it's also well-regarded for its handling and performance, providing a balance between comfort and sportiness that makes it a great choice for both relaxed cruising and spirited driving​. You can pick up a decent second-hand model for about £15,000.
3) Fiat 124 Spider (£21,050 new)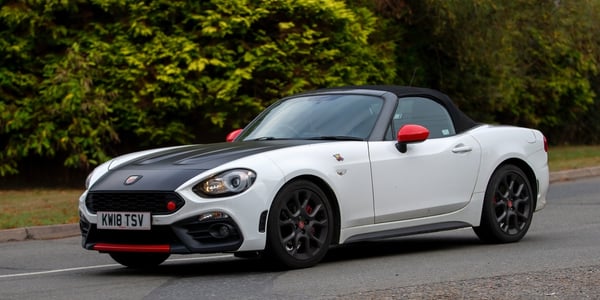 The Fiat 124 Spider is a small, lightweight convertible sports car. It's similar to the Mazda MX-5 Miata in many ways, as they share a platform and several mechanical components. However, the 124 Spider has unique styling and uses a Fiat engine – a 1.4-litre turbocharged four-cylinder that produces 138hp.
It's an agile car that's super fun to drive, with precise steering and a smooth ride. The interior is comfortable and well-made, with a design that combines retro and modern styles. The boot is a tad small, but that's typical for a car of this size​. You can pick up a used version for about £12,000.
4) Mini Convertible (£24,000 new)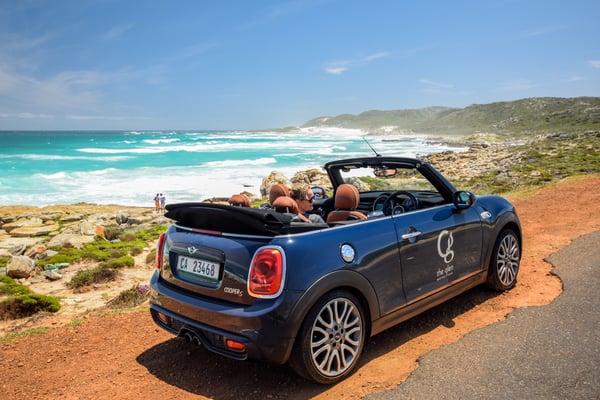 Rev up your engines for the Mini Cooper Convertible, a stunning blend of style, fun and performance. Retailing from £24,800 for the brand-new version (£9,000 for a second-hand one), this exhilarating two-door soft-top model is exclusively designed to deliver a thrilling ride.
Unleashing power across its range of engines, the Mini Convertible showcases everything from the sprightly base 1.5L turbo three-cylinder engine to the robust 2.0L turbo four-cylinder, and the pièce de résistance, the John Cooper Works 2.0L four-cylinder engine, boasting a hair-raising 228hp. The top model races from 0 to 60 mph in a swift 6.3 seconds, guaranteeing an unforgettable experience for the speed enthusiasts out there.
5) Audi TT Roadster (£35,000 new)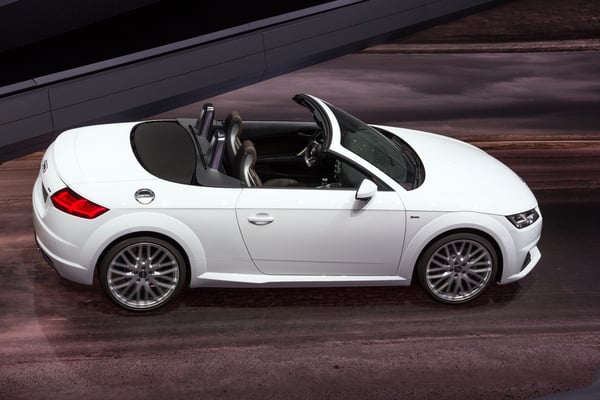 Immerse yourself in the luxurious world of the Audi TT Roadster, an embodiment of cutting-edge design and riveting performance. This top-notch convertible is known for its fluid handling and dynamic TFSI petrol motor, which starts from a hearty 197hp 2.0-litre engine, soaring all the way up to a thrilling 394bhp option.
Retailing from £35,000 brand new and £15,000 for used models, the TT Roadster captivates with its solid build, appealing interiors and a look that turns heads wherever it goes. Get one while you can, as there are whispers in the wind about the end of the TT's production, echoing the industry's shift towards electrification.
What to Consider When Buying a Convertible
Before you dash off to get your new ride, here are a few things to mull over. Convertibles need a bit of TLC, so be ready for some maintenance. Oh, and insurance might be a tad more than your usual hatchback, plus there could be a bit more noise on the motorway. Also, consider the resale value if you fancy a change down the line.
Put the Top Down
That's our rundown of the top affordable convertibles for those gorgeous warmer months. So, don't wait around; get out there and find your perfect topless match, and embrace the joy of open-air motoring without spending a fortune.
Oh, and if you fancy getting yourself a fancy new ride without the roof, check out Carmoola's finance options. Get your budget in 60 seconds, and who knows? You could drive away in style and arrive at your destination with crazy wind hair. 😎