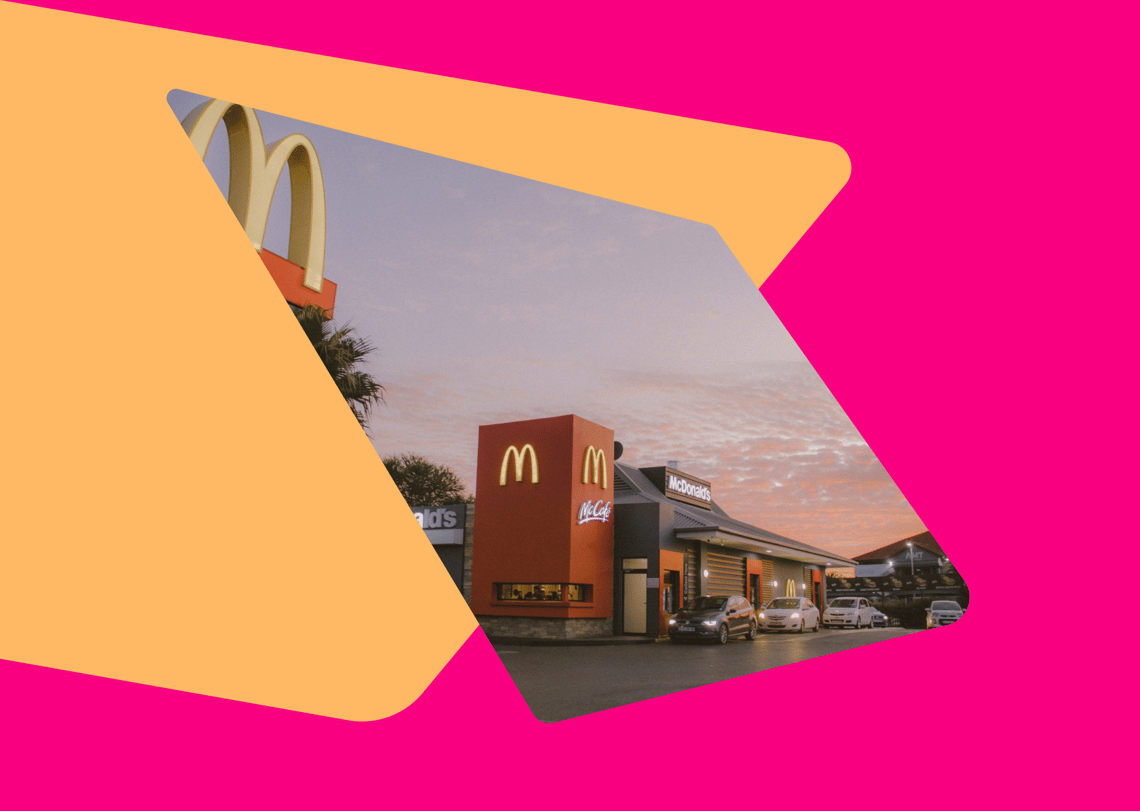 We certainly love the fact that there are so many McDonald's drive-thrus in the UK. And yes, we get it – it's fast food and unhealthy. But if you can't treat yourself every now and then, when can you have fun? And what's better than enjoying a Maccy Ds in your car after pulling into the drive-thru? With that in mind, here are the best drive-thru McDonald's to visit in the UK.
Sunderland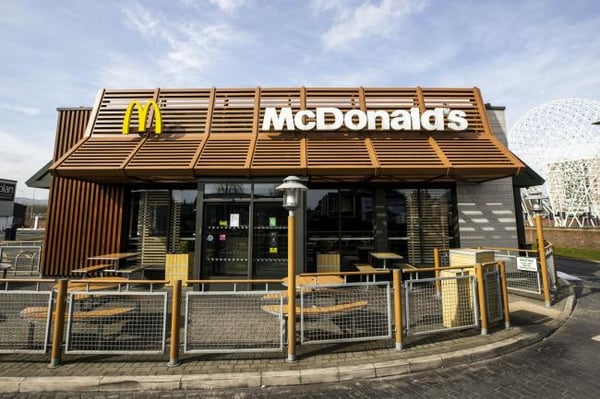 We love the Sunderland drive-thrus because they're quiet, which means no queues. Simply pull up, order your Big Mac and get your grub in record time. Plus, there's much to admire about Sunderland, a seaside city with award-winning beaches. Go for a splash and then order your McDonald's.
Manchester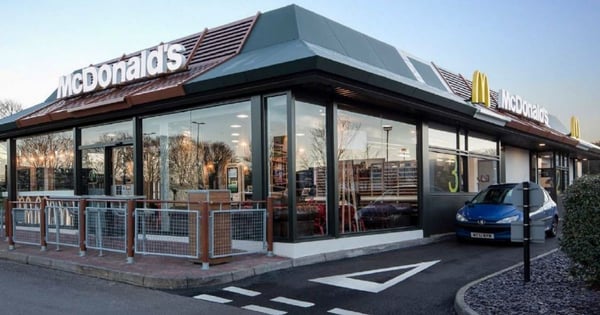 The drive-thru McDonald's in Manchester are also surprisingly quiet. You would have thought one of the UK's most popular cities would be heaving when it comes to people getting their Big M fix. Maybe it's because there are 25 of them, or perhaps they just don't dig the Donald's up north. Head to this drive-thru, get your McChicken Sandwich and then head into the Northern Quarter, one of Manchester's most vibrant neighbourhoods.
Dorchester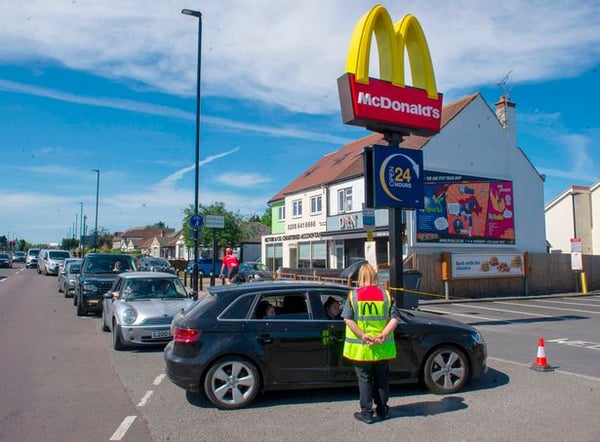 We had to include the Dorchester drive-thru simply because it's the busiest McDonald's in the UK. What are they putting in those Quarter Pounders with Cheese? We don't know, but we're heading over there to see for ourselves. There are 123,000 vehicles per drive-thru in Dorchester. No wonder it's so popular.
Truro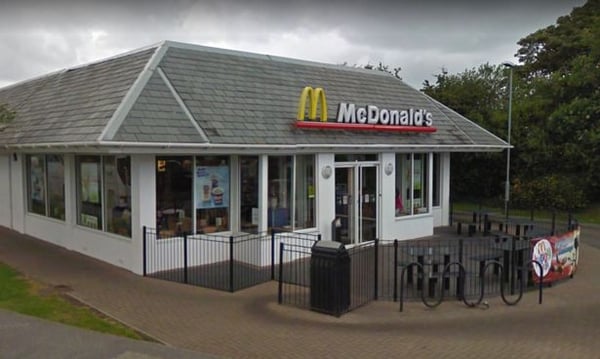 There are lots to like about Truro, a charming city in the heart of Cornwall. From sweeping coastlines to delightfully warm waters in the summer, this is a beach lovers' paradise. It's also an area with six McDonald's drive-thrus. So get behind the wheel and treat yourself to an egg and sausage McMuffin and hash brown.
North London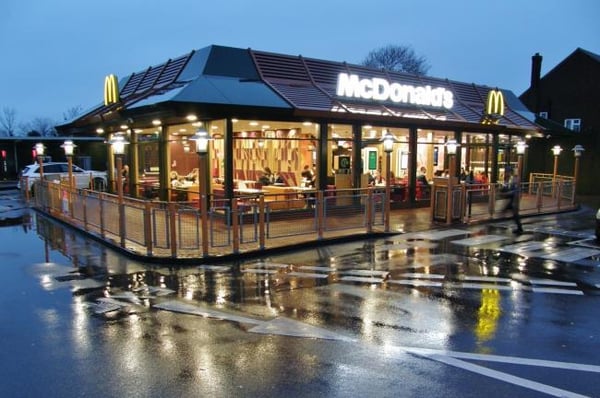 There are three McDonald's drive-thrus in North London and around 224,000 cars. That's almost 75,000 cars per drive-thru, which makes them one of the busiest in the UK. Still, if you're in the North London area, you might want to head over to one of the spots for your milkshake and McFlurry – a combination we thoroughly approve of.
Brighton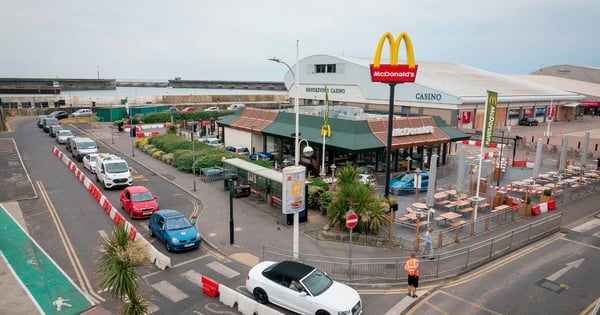 There's a theme emerging here: beachside towns and cities love a McDonald's drive-thru. Brighton has six of them, and the unofficial beach of London is a great place to go for lively nightlife lasting until the early hours of the morning. And you know what you need after a late night of partying? Twenty chicken nuggets, that's what. Just make sure you leave this drive to the Uber driver if you've been drinking.
Romford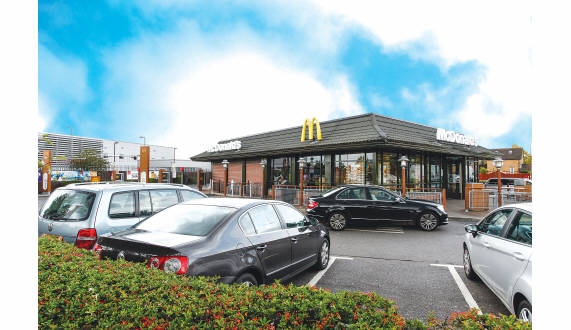 There are a whopping nine McDonald's in Romford, meaning you're spoilt for choice when it comes to choosing one to get your McRib (if you're listening, McDonald's, please bring it back). However, with so many drive-thrus, Romford is also one of the quietest areas to get your fix, so there shouldn't be much queuing while waiting for your McFillet o Fish.
Cambridge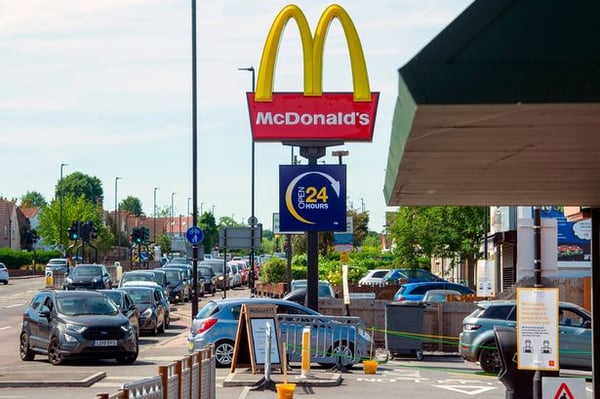 Cambridge is known as a popular university city with stunning architecture and a booming science scene. It's also home to four McDonald's drive-thrus, so you never have to worry about finding somewhere to get your side salad… 😂. Ok, ok, your Big Mac with extra-large fries. Better?
Liverpool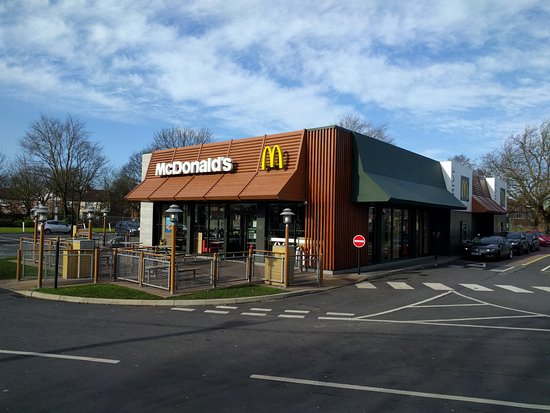 Down by the Mersey is where you will find an impressive 19 McDonald's drive-thrus, all located in a vibrant city with plenty of buzz. Whether we're on a night out, visiting the iconic landmarks, or just admiring the city, we love Liverpool. And we also love the fact that there are so many Mac Ds drive-thrus where we can get a BBQ Bacon Stack.
The best McDonald's drive-thrus in the UK
There really are many, many options when it comes to finding a drive-thru McDonald's in the UK. That means you're spoilt for choice and can visit one of the great cities or towns on this island while enjoying your favourite McDonald's meal in your car. Just make sure you bring plenty of wipes and tissues, so your vehicle isn't left with a Big Mac stain on the seat.