Insights from Ukraine: with Carmoola's Head of Infrastructure
Carmoola is proudly a half British half Ukrainian car finance company that's transforming the way in which you can pay for your car! I've recently had the opportunity to have a virtual catch-up with Carmoola's latest addition, Dmytro, the new Head of Infrastructure here at Carmoola 😎
I've gotten into the habit of chatting with my colleagues and completely overindulging in the conversation (and then sharing their responses to the internet 🫢) Oops.
However, my conversation with Dmytro was different from the other conversations, because he opened up to me about his experience living in Ukraine both with his personal and professional life. I love having these conversations with my teammates, they're a great component to share and provide our customers with the behind-the-scenes of their car finance company!
Being introduced to Carmoola 👫
Dmytro was looking for a new role and heard about Carmoola, he was attracted by the size of Carmoola, so size does matter 👀, and he liked the fact that we have two Chief Technology Officers (Roman and Igor = Roger) as opposed to just one. When he spoke to our CTOs he was inspired by how Roman and Igor were very much goal orientated which reflected well for him in his day-to-day ✅
When Dmytro had the chance to find out more about the working environment with Roman and Igor he was delighted to see that Carmoola has a proactive and reactive management style. Dmytry says "We care about the future and plan/deliver for improvements, but we also reactively solve problems as they arise to deliver a customer-centric product". A team that cares, is an attractive team 😍 I can't fault Dmytro's enthusiasm here!
Similarly to my chat with Sam, The Director of Lending, I had to ask what Dmytro's role actually entails! I am not entirely sure how long you can carry on using the 'I'm new card' but it's still in my deck... so what does The Head Of Infrastructures' daily role involve?
"My daily role in Carmoola is Head of Infrastructure, which makes me responsible for overseeing the design, implementation, and maintenance of Carmoola's external and internal infrastructure. My typical day involves reviewing reports and analysing data related to system performance, capacity, and security. Developing and implementing features to ensure the security and reliability of the company systems. Collaborating with other teammates to align infrastructure goals and overall business objectives." Sounds super complicated so I am glad it's all under control 😉
We also spoke about the size of our team, Dmytro reiterated his excitement about the opportunity to work with our team, he had worked previously in big organisations as well as smaller companies, however, he found in his experience that small companies are more motivated and have a great working culture compared to the big companies 🚀
The topic of team size has come up a few times, where The Head of Customer Operations, Lucinda, and I chatted about her first week at Carmoola and she also agreed that from working in both a bigger and smaller team, she'd choose a smaller team every time 👀
Living in Ukraine 🏡
When the war started in Ukraine, Dmytro and his family moved from the city of Irpin to a village close to the region of Cherkasy close to the city of Kanviv.
Since the war in Ukraine, one of the many issues that have come up is seeing loved ones and it's a bit harder to see everyone as Dmytro has moved out of the city. He is hoping to return to Irpin when it's safer to do so. Despite this, he continues to live life as normal! Which is admiral and I can't imagine the strain.
He works for Carmoola at his home remotely and on the weekends he spends time with his family 👨‍👩‍👧‍👦 Dmytro mentioned that since working at Carmoola he never had realised that car finance could be made this easy...
Dmytro did mention that at the moment his father in law is wanting to get a new car and he wishes that Carmoola was available in Ukraine because at the moment he's growing incredibly tired of all of the paperwork he needs to do! Hopefully in the future Carmoola will be available internationally, who knows what will happen!
One day you may be able to finance multiple cars with Carmoola all the way in Ukraine, Dmytro, and there'll be new cars to take the kids on adventures in 😉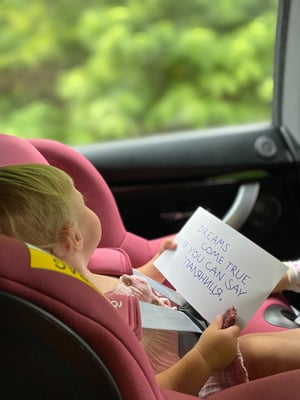 The fun stuff...🕺
A fundamental question that is always asked by the team to the newbie starting Carmoola is: "What car do you drive?" 🚘
You'd think working at a car finance company we get sick of the topic of cars, that we'd venture around different topics when having a chat, yeah we still stick to what we know best! 👀
Dmytro has a BMW 335 xi GT! He emphasised how he's super proud about this purchase as he was able to save up his past bonuses and took the leap to buy it. He now reckons his car is one of his favourite things, and with a family of his own, having a car is especially great, granting him more freedom like road trips 🦅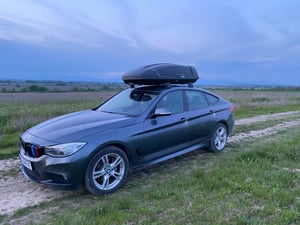 I really enjoyed my chat with Dmytro. It was interesting to hear about his experience with living in Ukraine and how he's found working for Carmoola. I also enjoy hearing my colleague's driving factor to choose to work with Carmoola 👀 It's also a fantastic way to learn more about the different roles, because, honestly reading many LinkedIn profiles I just nod my head like I know what that actually involves... now I can add the Head of Infrastructure to the list ✅
Watch this space, I'm sure I'll have another chat soon and find out more about the inside scoop. Any ideas about who I should interview next? 🤪