Why Would Anyone Want To Work At Carmoola?
My journey with Carmoola is three months in. I'm settled and feel like I know everyone pretty well. Within the last month or so we had the latest edition in the office, Sam. There's been two things I've been certain about: Sam probably drinks just as much tea as I do (minimum three cups per day) and when Sam is working he's in the zone, nothing can distract him. I thought it would be fun to find out a little more about Sam's darkest secrets and motivations, and see if I'd invite him over for a braai (BBQ) in the summer 🍗
There've been articles exposing a colleagues first week of working at Carmoola, and there has been a run down of the conversations we have in the office from our first cars all the way through to our current cars. I think it's time to share my latest conversation with Sam.
When we sat down for a chat, I couldn't help but ask Sam about his previous roles, partly because I was curious but also because I wasn't entirely sure of his current role... I am now 😉 Sam is the Director of Lending here at Carmoola. If you're like me and not too sure what that involves, let me enlighten you, bare with me I did have to ask the question: "what does that exactly mean Sam?" Sam explained "My job is to build out big data underwriting using cutting edge techniques and as much data as possible, like open banking data and car models and deal attributes, so that we can offer our customers the best rates" so Sam's job is super important for the process of ensuring our customers experience is the very best, straight from using the app all the way through to buying their dream car 🥰

Sam has been working in the field of credit for a long time with bunch of different roles, including Head of Acquisitions Valuations and Credit Policy at Capital One; UK Credit Risk Manager at Klarna and Director of Analytics at ClearScore. Sam emphasised his love for getting into the detail of the data and gave an example of this where he is named on the patent for Capital One Quickcheck because of the work he did data using text mining to incorporate big data into Capital One's credit risk assessment! Hat's off to you, Sam! 😳
When Sam told me about his past roles, a question really jumped to mind. What drove Sam's move to Carmoola? This is my first job ever so I haven't got experience behind me, let alone incredible experience like Sam. A key factor that motivated Sam's move has been the car finance market. Sam says: "Car finance is a pretty dysfunctional market - when you buy a used car your main concern is to ensure you buy the right car, and this means consumers aren't always savvy about getting the best rate on their hire purchase loan. Carmoola aims to disrupt this and give consumers a better deal, so they don't have to pay the car dealer's commission. What Carmoola has built is really slick - you can get your loan agreed at a competitive rate before you go to the car dealership and then pay with the Carmoola card (or by bank transfer), but the transaction immediately converts into a standard hire purchase loan at the pre-agreed rate" I must agree with Sam, Carmoola has really changed the car finance game 😉
Sam has shown enthusiasm about the future here at Carmoola saying: "The next step will be to make our underwriting even more dynamic - we offer a free car check so consumers know what they are buying, but we'd like to offer even more competitive rates for the best cars. So you might be pre-approved for 7.9% to buy any car on our list, but get a further reduction if you pick a car that will depreciate more slowly" Another key factor that has been said is "the opportunity to help disrupt a market that is ripe for disruption and will make life better for consumers" 🗝 This has been something that many of my colleagues all have the same goal for ✅
One of the very first meetings that I took part in was with Carmoola's CEO, Aidan. Aidan shared his inspiration about Carmoola and it was so exciting and I still feel honoured to have sat in the meeting hearing why Aidan gets up in the morning. Similarly to Sam's feeling, albeit he is not 'passionate' about car finance, he has a passion to help customers and it just so happens there is an opportunity in the market for this disruption. It's really inspiring having colleagues have such a passion for what they do! 🕺
I have to give kudos to Sam because he was extremely patient with me, firstly he made a time to have a conversation with me when he was working (as it's been mentioned, when Sam works he really gets stuck in) and I disrupted him, he also was happy to repeat himself when I found he was being way too technical and needed a tad more of an explanation 🥸
The final question however, needed to be asked. And that was what has surprised you the most working at Carmoola? Sam mentioned that the office environment was a big surprise, especially the dogs..."I've never worked anywhere with so many dogs relative to people before - they barked a lot on the first day but I think they've got to like me now." 🐶
To put in some of my two cents I also was surprised with the office environment, this being my first job I was super unsure what to expect and it's been a real breath of fresh air being so welcomed by everyone with banter flowing and having my dear Alfie and Archie welcome me each morning 🥹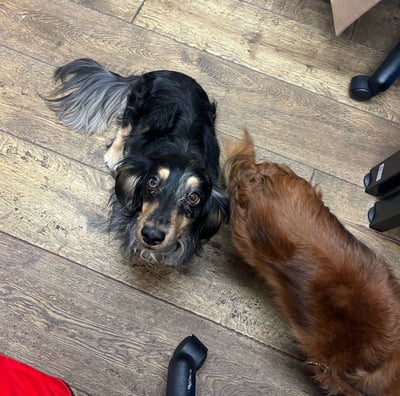 So does Sam's explanation of why he was motivated to make a move to Carmoola answer the title; why would anyone want to work at Carmoola? 😉
Next up: there's potentially an option to chat to my new boss and indulge a little in the world of marketing and what we could expect to see in the future of Carmoola... watch this space 🫢