Day in The Life at Carmoola HQ
Here at Carmoola, we take pride in being a revolutionary car finance company. The whole team works exceptionally hard to ensure our customers are able to buy the car of their dreams quickly and efficiently with zero hassle. So how do we do it? I'm going to put you in my pocket today while I spy on some of the team and share the (not so serious) side of their typical daily routines!
No day is the same, so it can be tricky to give a typical day-to-day run down. Let's call this more of a summary of roles, and an exclusive look behind the scenes at some of our office chats
Carmoola is made up of a relatively lean team and is spread between London, Poland and Ukraine. The London office is situated in the gorgeous Primrose Hill, and our lunchtime break can consist of a little bit of celeb-spotting. As a start-up, we work a bit differently to bigger corporate companies (this is my first job but this is at least what I've been told 🤪). We start off the day with some chit-chat and making coffees and usually end up talking about our evenings after work or the new upcoming trends on TikTok. We also discuss where people are going to sit for the day... our office is pretty small and the team is small but growing so it's a constant battle as to who will sit where.
A current debate we have in the office -- are long denim skirts back in fashion?? Let me know your thoughts. I'm definitely anti-denim maxi skirts.
Product 🚘
Amy, one of our co-founders is the Director of Product and Operations. She's the go-to for pretty much everything. Whenever anyone is unsure about literally anything, she has all of the answers. She's not just a jack of all trades, she's most definitely the master of them too! 🃏 Right now Amy is busy making our app even better for customers as well as working out how we can build a kickass attribution model.
Working with Amy is Jayna, who's joined us to deliver Carmoola's new CRM programme. Jayna gave me a very detailed summary of her day. Thanks, Jayna! 💕
6am - Most days I'm out of bed and to the gym to wake myself up for the day
8am - Commute. I actually quite enjoy my train journey as I can sit on one train and read for 40 mins
9am - Get to Carmoola HQ. Get coffee. Give the dogs head scratches. Plan my day.
9am-5pm - Every day is different at Carmoola! I could be writing communications, planning tests
sending and building new campaigns or working with the engineering team to fix issues.
12pm - Lunch time. Food is life 🥣
5pm - Commute home, eat food, and fall into bed.


What is CRM?
Customer Relationship Management (or CRM) does exactly what it says on the tin. It's all about building trust with our users and helping them via email, SMS and other communications. For example, we might send an email with some top tips on how to choose a great car (because we know it's a difficult decision!). Or we might send them an SMS reminding them to pay for their car within 7 days of getting a great deal with Carmoola.
Operations
Our operations team are miracle workers who help our lovely customers every day. However, with most of them working remotely today (remember how I said we have a rather small office?) I can't spy on them 😢 Shout out to Kayleigh, Tom and Kev! Our Head of Customer Operations, Lucinda, is in today and she's sitting directly opposite me. Lucinda is a legend, she is always laughing and in a good mood, plus she brings in her dog Rusty sometimes too.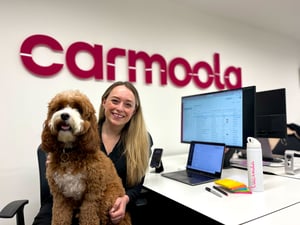 Her daily routine starts with jasmine green tea and maybe yoghurt with nuts if she's feeling fancy. Lucinda leads the customer operations team and ensures everything is running smoothly. She's always finding new ways to make the experience better for our customers, and more efficient for the operations team 💪 Read more about our amazing customer heroes.
Marketing
At the moment this is the best team at Carmoola. The team consists of Wendy and me 😉 Wendy is my mumager (Mum-manager) and I have to put up with her awful jokes daily. Fortunately for me (unfortunately for everyone else), we have the same sense of humour 😐
Wendy is The Director of Marketing here at Carmoola and apparently starts her day 'wondering how to manage Isabella'. Yet I know that's not true; she starts her day with a coffee and overnight oats and then she wonders how to manage me. On a more serious note, Wendy recently moved to Carmoola, where after a twenty-year stint at a big, established brand she was looking to stretch herself in a different environment and a new role. She was excited by the opportunity to be involved in building the Carmoola brand so early on. In the last few weeks, I've already learnt so much from Wendy and I'm excited for the future.
Wendy's daily routine from the horse's mouth:
I work out if I can walk the whole way from my Airbnb or whether
I'll have to get the tube. I like to listen to the Dave Berry Breakfast show while I commute
to the office 🥞
I have my coffee and look at my diary for the day
My main priority at the moment is to build the marketing team so I'm spending
a lot of time reading CVs for the roles I'm recruiting for and screening candidates

If it's early in the week my focus is trading performance from

the previous week so




I work with Kas and our agencies to build up a view of why




the week looked like it did and prioritise our key actions for the week ahead
It's our marketing team's job to make sure that customers are aware of Carmoola so that when they need car finance we're the first brand they think of. Day to day we're responsible for quarterly marketing planning and re-forecasting, media planning, briefing agencies on new creative and improving existing assets, and building our PR and content strategy ✅
Commercial Partnerships
Kas is our Head of Commercial, meaning he's responsible for building and maintaining our brilliant and ever-growing list of partnerships. He's pretty cool! When I asked Kas what his daily tasks are he replied: "No two days are the same, although there is one common theme - making Isabella a coffee every morning" (He's bending the truth here… he doesn't make me coffee every morning 😉).
Kas' primary focus is to ensure as many people as possible are empowered to buy their dream car with Carmoola via our amazing partners. Much of his day tends to be spent exploring new commercial opportunities, talking to existing partners, trying to improve various business processes or discussing prospective partnership opportunities
When Kas isn't busy building great relationships with partners he has a side hustle as Head of HR (we affectionately call him Karen from HR). This has been an ongoing office joke and it's far too long to explain but trust me, it's funny!
Sausages 🐶
The day-to-day of Archie and Alfie varies but the typical day involves:
Barking at strangers
Whining for tickles
Sleeping
Treats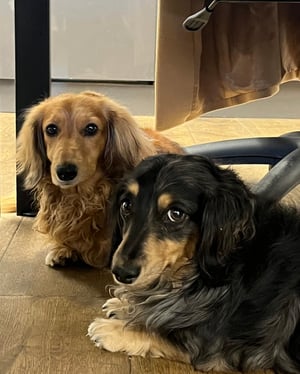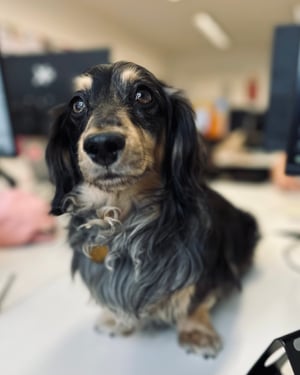 Alright, that's all for today folks. All jokes aside, we're a new team working super hard to deliver the best possible experience for our customers. And why not have a giggle and enjoy ourselves whilst we're doing it! No two days are the same, but one thing you can guarantee is that we'll have fun.
Watch this space for a blog about the more technical day in the life 😉