Super-heroes Or The Customer Operations Team?
Carmoola's priority has always been ensuring a seamless car finance experience for our customers. Allow me to introduce the team that has the privilege of engaging with our Carmoola customers on a daily basis 🥰
In a recent conversation with three members of our Operations Team; Tom, Kayleigh, and Kev, I delved into their best and most interesting moments at Carmoola. Some may think of it as a bit of an interrogation, but I'd say it was an opportunity to highlight the dedication of our hard-working Operations Team. Working in a customer-facing role requires resilience, and for that, I hold even more respect for them.
If you've read my previous blogs, you may already know my go-to chat-up line: "Why did you move to Carmoola? 😊" As I approached Tom, Kayleigh, and Kev, it may have been obvious that a blog was in the works, perhaps my notepad and pen gave it away.
Let's dive right in!
The Journey To Carmoola
Kayleigh joined Carmoola in September of 2022 transitioning from a previous customer-facing role. Hungry for a new challenge, she was excited by the idea of working at a start-up like Carmoola, and when she met the team she was thrilled by her choice.
Similarly, Tom, who was also working in customer operations for an online car retailer, was drawn to the appeal of a car finance start-up and eagerly hopped on board the Carmoola train in May of 2022 🚂
And guess what? Kev, too, had experience in customer operations before Carmoola and joined our team in January of this year! Kev expressed excitement about the opportunity to work in a start-up environment, emphasising the potential for flexibility and honest feedback.
There seems to be a common trend here... 👀
What Aspects Do You Enjoy The Most?
My intention was to uncover their secret chat-up lines—how they build rapport with our customers. Are there any clever one-liners? Well, they all had the same response: it's about genuinely caring for customers, addressing their queries, and making their day better than it was before ✅
Here's my fave one-liner... enjoy!
"How much does a penguin weigh?"
"Enough to break the ice" 😉
They all agreed that the best moment they have is the customer's response when they are given their new car keys, the excitement is truly contagious. Kayleigh even shared that customers are often surprised, asking, "Is that all?" Yes, financing with Carmoola really is that simple!
Tom added, "I never tire of receiving positive customer feedback about how straightforward our application process is—I always look forward to new Trustpilot reviews! Customers genuinely appreciate the user-friendly Carmoola app, which makes my job easier. As my one-year anniversary approaches, I must say one of the aspects I enjoy most here is our close-knit organisation. In previous roles, the Customer Support Team felt disconnected, but that's certainly not the case at Carmoola!"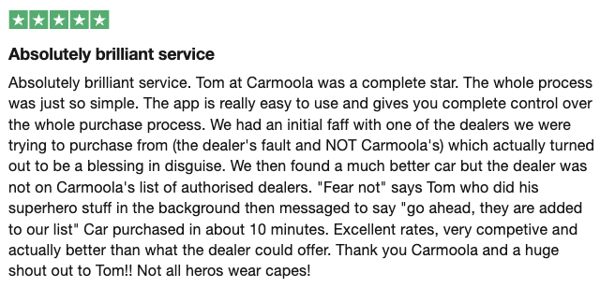 What Aspects Do You Enjoy The Least?
Tom finds it disappointing if it doesn't work out for the customer. If they take a risk not to test drive or view the car before buying it, they can be left unhappy. He asked me to please emphasise the importance of a test drive! A test drive will ensure the car you're buying will be everything you've hoped for and more ❤️ and save you from any disasters!
Kev and Kayleigh both agreed that conversations can be more difficult when you need to chat with customers about missed payments. These times can be stressful for the customer, and it's sad to hear that they're having a bad time. Working in the Operations Team you build up relationships with the customers and we always do our best to help customers through difficult times.

What Have You Learnt The Most Working At Carmoola?
The team has very similar values and personalities as Kev and Kayleigh mentioned they're very introverted. The two have found that their confidence has been boosted whilst working at Carmoola. As well as that, they have found to actually enjoy chatting with people so often.
Tom mentioned he found that he's learnt about different people and personalities and how to communicate efficiently with people. It's so important that you're learning life skills in your job that can be applied even to your personal life ✅
Kev, in his philosophical manner, coined the term 'sales through service.' He believes in maintaining a positive tone and putting himself in the customers' shoes, even on a bad day. This motto is brilliant, and I personally hope to adopt it. Thanks, Kev, for the valuable insight 😉

Takeaways 🍟
I hope this article has shed some light on some of the Operations Team at Carmoola. My favourite part of the week is chatting with my team and then sharing our conversations on the internet for the whole world to see 👀 I think it can also be noted that the Operations Team really does play an important part in the customer journey. From our Trustpilot reviews it is especially evident their passion to give our customers the best car finance experience.
If you happen to be thinking about car finance and whether it suits your needs, hopefully, after reading this article the Carmoola team will be in the back of your head. If you have any questions our useful FAQs page can be a good guide 🕺