Everton Football Players and Their Cars
Everton FC might be known as 'The Blues' but their car collection seems pretty green to us! The women's team have won the Premier League National Division and the Premier League Cup once each and the Women's FA Cup twice, and the men's team have won five FA Cups and the European Cup… but we want to know if there's internal competition over who has the sweetest ride! Let's peer into the Goodison Park Stadium garage and see what's in there.
Jordan Pickford
The largest car collection (that we know of) belongs to Jordan Pickford. Pickford's CV is pretty impressive and many people will know him from his performance as England's goalkeeper in the 2020 Euros. With a busy career, it's good to know that Pickford can get where he needs to be pretty swiftly in his Lamborghini Urus, valued at £160,000. He also took to Instagram to bid farewell to his Audi and announce his purchase of a Mercedes-Benz. Lucky boy!

Dom Calvert-Lewin
Pickford isn't the only Lambo fan on the team, of course. Dominic Calvert-Lewin might be well known for his impeccable fashion and great finishing, but we think he also deserves a nod for his Volkswagen and Lamborghini. It's good to know he's always looking excellent.

Andros Townsend
Another player with two rides is Andros Townsend. Breaking away from the Lamborghini worship, Townsend rides in a £100,000 Porsche 911 Turbo, or a white Range Rover. It's nice to see the mix of fast and versatile, sturdy vehicles. Whenever Townsend is off the pitch, he's travelling in style.
Seamus Coleman
We all know you couldn't have just one team player with a Porsche. Seamus Coleman leads the team on the pitch, and when he's done, he leaves the rest of us behind with his black Porsche Panamera. Perhaps Coleman and Townsend bond over their shared enthusiasm for Porsches.
James Tarkovski
Former Burnley star, James Tarkowski, is keen to show off his cheeky personality in his car, and so it won't surprise any Everton FC fan to learn that Tarky can be identified by his Mercedes with the personalised number plate 'TKRY'.
Asmir Begovic & Yerry Mina
Asmir Begovic seems like a fairly charitable and down to earth player, so it's unsurprising that he's not driving around in a flashy turbo-charged supercar and instead has a pretty normal jeep. We've got to assume that its resale value will be pretty high, though! Similarly, Yerry Mina has a Fiat, which is kind of what I'd expect from a defender. We all know Mina is an incredible player, though - you don't become the co-record holder for most goals scored by a defender in a single world cup without the desire for speed and prestige.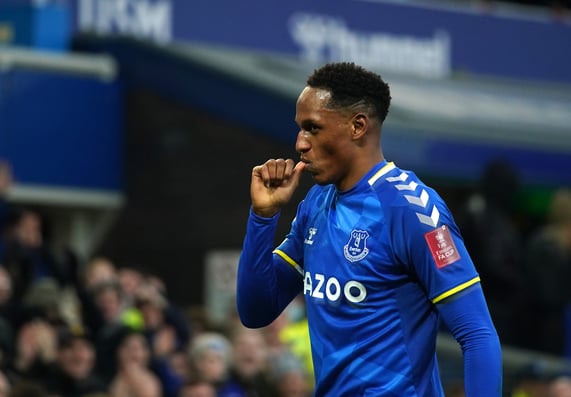 Allan & Demari Grey
Next, we have two very sweet stories. I can't tell you what Allan Marques drives, but he has shared pictures of his son in an inflatable car in a stream, and when young Marques leaves the water, he's rolling in a little red children's electric car. I wonder if he's got his eye on anything in his daddy's garage. Demarai Grey's ride is also very wholesome: before he transferred to Everton FC, Grey was part of Leicester City's Premier League winning team in 2016. To congratulate the team on their win, everyone was given a BMW. Although Grey's moved on, I hope he's kept this keepsake of a very special season.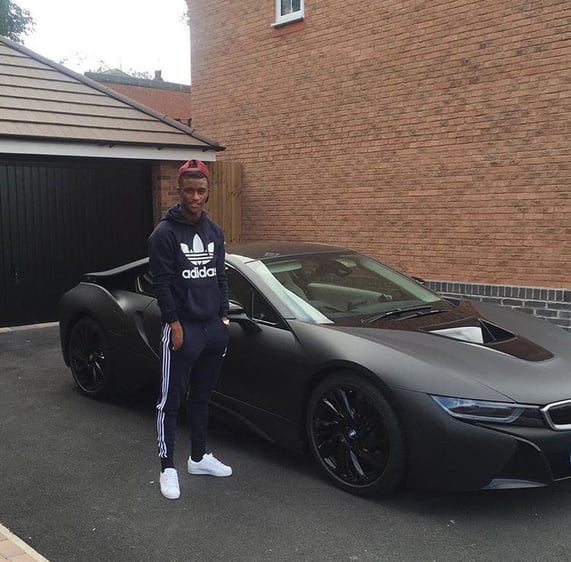 Takeaways
The Everton F.C. team are established and excellent on the pitch, so it's completely in character for the players to keep the best rides as they strive for achievements and perfection. As the league gets started again, we'll have to keep our eyes peeled to see which vehicles they're arriving to the upcoming games in. You can also check out the cars of Brentford Football Players here! 🚘