Where Can I Get Car GAP Insurance in the UK?
GAP insurance is one of the extras that dealers will try to sell you when you purchase a new vehicle. It stands for Guaranteed Asset Protection and covers any unforeseen expenses that may arise after filing an insurance claim if your car is written off or stolen.
Purchasing a new car is a wonderful experience. However, if the worst happens and your new wheels are stolen or written out in an accident, you could find yourself in a very tight financial situation. Your standard car insurance will usually only cover you for the car's replacement value, which will be less than what you spent when you bought it new. GAP insurance makes up the difference so you can repurchase the vehicle or at the very least pay off the financing.
At the end of the day, you probably don't need GAP insurance if you have enough money on hand to comfortably cover the cost of paying off any existing debt, and replace your car, in the event of it being totalled out or stolen. However, GAP insurance is necessary if you would not be able to replace your car.
In this blog, we will be going over where to buy cheap gap insurance. Let's dive right in. 🏊
How Much Does GAP Insurance Cost?
With rates starting at £300 at the time of writing, and consistently going up, you can end up overpaying for GAP insurance if you get it through your car dealership. A three-year policy purchased independently from a reputable dealership might cost between £150 and £300, but generally speaking, the cost of your insurance will increase with the value of your car.
The cost of GAP insurance is typically upfront. The last thing you want to do after buying a new car is to pay for more insurance, but you should think about how you'd feel if you couldn't receive your car's full value back. It's best to shop around if you decide to buy, as not all insurers offer the same amount of coverage.
Where Can I Get Gap Insurance
Are you are wondering where you should purchase gap insurance from? No worries, we've got you covered! Here are our three favourite GAP insurance providers in the UK.
Totallossgap.co.uk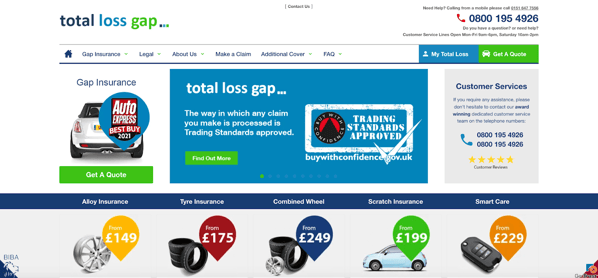 Getting a quote from Total Loss Gap's website may take longer than with certain competitors, but the wait may very well be worth it. You'll be able to get a truly competitive quotation after responding to seven questions.
Gapinsurance.co.uk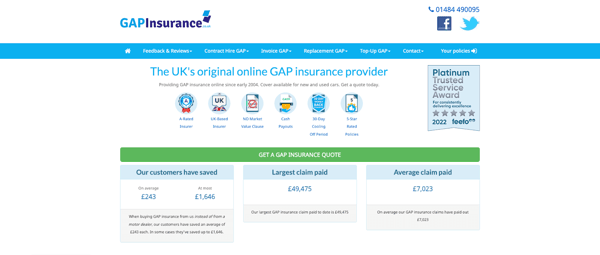 Don't be surprised by the lengthy form you will have to fill out with personal information before you get a quote. Persist and you will be pleasantly surprised by a delicious price, particularly given that it covers the entire worth of the car and includes a £250 contribution to whatever excess you would have to pay on your car insurance. However, be careful of the replacement policy's premium, at £283.53, which you'll need to find out more about if you need this coverage.
Directgap.co.uk
Direct Gap one is by far the easiest and fastest GAP insurance website to use. You will receive three quotes for the various forms of protection in less than 20 seconds after entering the price of the car and the policy's terms.
Please note that all prices included are correct as of the time of writing and may be subject to change.
How Much Can GAP Insurance Pay You?
Most GAP insurance agreements have a pay-out ceiling that is determined at the time you purchase your contract. Therefore, it's crucial to check that this sum is enough to pay the price of replacing your car with a brand-new model. Some policies don't have a cap on how much coverage you can get, which makes them the ideal option for really expensive cars. You will need to pay higher monthly rates, though, if you want to take advantage of this type of coverage.
How Can I Get GAP Insurance at a Lower Cost?
There are several ways to lower your GAP insurance costs. Instead of purchasing a vehicle replacement policy that will pay for the whole cost of replacing it with a brand-new model, go for return to invoice cover, which guarantees you get back the amount you paid for the vehicle, or financing or lease cover, which pays off any outstanding repayments. Learn more about GAP insurance for leased cars in oars in our blog.
You could also consider choosing to contribute a larger surplus to any dividend. And last but not least, instead of purchasing GAP insurance from a car dealership, shop around online.
How Do I Make a GAP Insurance Claim?
Only after your car insurance company has settled your claim may you obtain a GAP insurance refund. Before you accept a settlement, you should check with your GAP insurance provider to see if the amount being provided is acceptable. You might only have a limited amount of time to file a GAP insurance claim after receiving your car insurance pay-out.
If your GAP insurance policy includes questions related to car finance, you should also talk about how any outstanding loans will be paid off and whether this will be done automatically on your behalf. If you are dissatisfied with the way a GAP insurer handles your claim, you can file a complaint and take your case to the Financial Ombudsman Service (FOS).
So what if your car is stolen, will you still be able to make a claim? We've put together a comprehensive blog about GAP car insurance when your car is stolen.
What Is Not Covered by GAP Insurance?
The age, mileage, and price of the car must fall within a particular range to qualify for gap insurance. Most GAP insurance policies exclude:
Cars that cost more than £75,000 to buy (unless they have an approved tracking device).
Vehicles older than ten years
Vehicles that have more than 100,000 miles on them at the time the insurance is bought
Taxis, private hire vehicles, cars, and vans used for any other type of "hire and reward," as well as vehicles used in racing, rallies, or other competitive events
The Bottom Line
New cars lose value astoundingly quickly. As soon as they leave the dealership, their worth decreases almost instantly. A new car often loses a startling 20% of its value every year.
For instance, if you spent £40,000 on a car, it will be worth around £20,000 at market value after three years. This is predicated on a depreciation rate of roughly 20% annually.
In the event that your car is deemed a total loss, your insurer will only reimburse you for £10,000 of the market value. This probably won't be enough to purchase a newer equivalent model. Therefore, you will either need to pay the difference or buy an older car. If you have gap insurance, you would get exactly what you need to purchase your car brand new. Yay!
Got more questions about GAP insurance? Check out the Carmoola blog! We've got you covered 😊🚙