Belgian Midfielder Kevin De Bruyne's Cars
If life is a game, Kevin De Bruyne is winning. 🏆 The Belgian footballer discovered his incredible
talent in 1997 and since then he has scored 25 international goals (not bad for a midfielder),
won Player of the Season in the British Premier League twice, and he has a beautiful wife
and lovely children.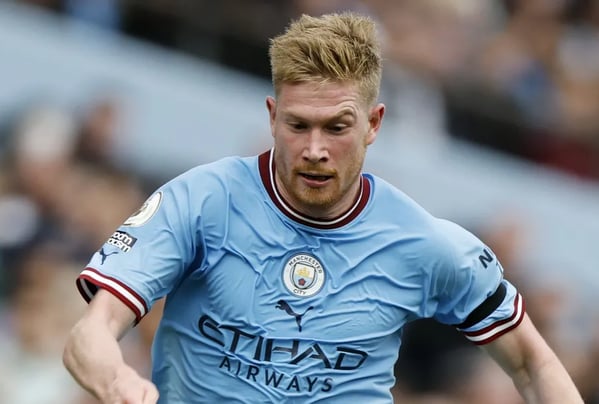 But we're not here for all that! We're here to see if he really does have a
winning garage, or if he's left in the dust by every other footballer's Audi. We think he's got pretty good odds, especially as he didn't go directly to the dealership after signing his first contract with Genk. De Bruyne has had a career for longer than some of his fellow players have even been alive, so we trust him to show them how it's done.
F1 Car?!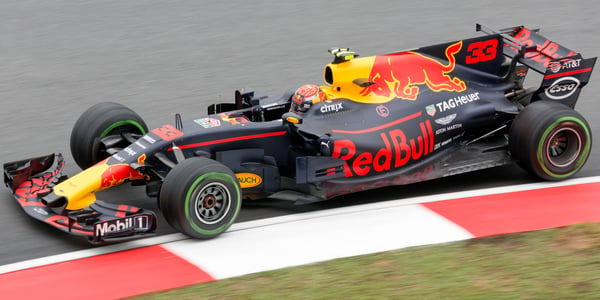 Ok, so De Bruyne doesn't actually own an F1 motor. But the story is pretty funny, so it's
worth including, even if there probably won't be a car to show for it. The tale goes that one of De Bruyne's biggest fans is Chris Horner. The only trouble in paradise comes from the fact that Horner supports Coventry, and De Bruyne plays for Manchester City. So to attempt to sway him over, Horner, who was an F1 Road Racing Cyclist, attempted to bribe the midfielder over to Coventry by offering an F1 vehicle. It doesn't seem to have worked, by props to Horner for finding the most tempting option.
Ferrari 488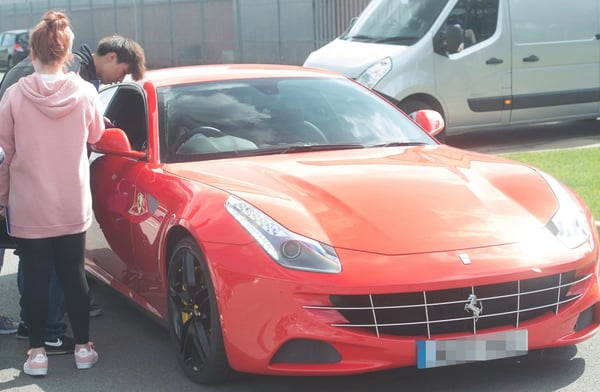 If you're a sportsperson, or even just a fan, you know that speed is crucial in nearly every
game. Including chess, but that's by-the-by. De Bruyne can race down the field and assist a goal at top speed, and he expects the same from his cars. That's why the Ferrari 488 looks so right in his garage. It can do 0-62 mph in three seconds, 0-124 mph in 8.3 seconds, 400 metres in less than 11 seconds and tops out at 224 mph. We can see where it uses the 660 horsepower! The engine has a 3.9 litre capacity and the vehicle itself looks amazing. It'll be difficult to top this car!
Mercedes-Benz G63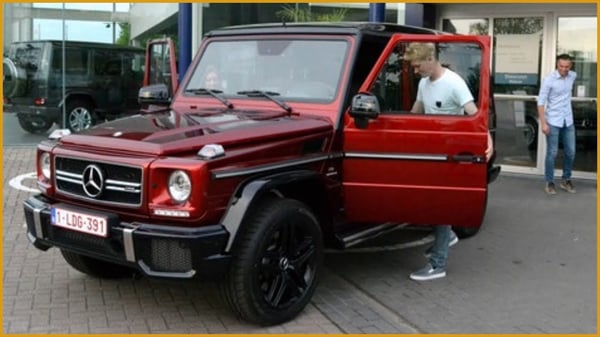 Apparently, this is De Bruyne's favourite car. He's certainly photographed in and around it frequently. It makes me wonder if he's considered getting one model for life in Manchester and another designed for the wrong side of the road, over in Belgium. The engine is 4.0 litres, slightly larger than the Ferrari, and the whole vehicle is more chunky. Pretty useful if you have kids, I guess, or need to stay steady when the paparazzi are after you. The G63 has 577 horsepower, an 8-speed automatic transmission, and a pretty sweet price tag of nearly £300,000.
Mercedes-Benz GLE Coupe
Adding evidence to the suggestion that De Bruyne's favourite make of car is the Mercedes-Benz, we have the gorgeous GLE Coupe. This is apparently the midfielder's ride of choice when he's in Belgium, and although the country is famously flat and not-rugged, De Bruyne is prepared to drive up every mountain in Brussels. It has 516ft-lb of torque, offers 362 horsepower and costs about £144,000, which makes it considerably cheaper then the Mercedes-Benz G63. Given that De Bruyne earns £250,000 per week from Manchester City alone, this really is a cheap and cheerful car for him. Still nice, though!
Range Rover SUV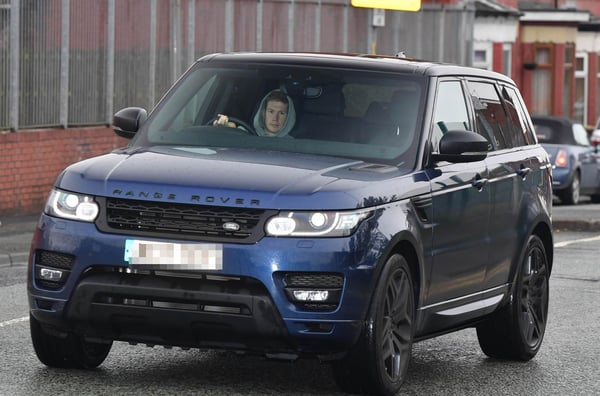 By a long way, De Bruyne's most expensive vehicle is the Range Rover SUV. It's said to be
valued at more than half a million pounds. So what makes it so special to be deserving of
this unbelievable price tag? Well, there's the 440 horsepower, the 456 lb-ft of torque, and the fact that it has an eight-speed automatic transmission. This car is designed to be driven in the UK, but it wouldn't be impossible for De Bruyne to take it over to Belgium if he wanted to. Given that the usual price for Range Rover SUVs is about 10% of what De Bruyne paid for his, it's possible to argue that he's had some pretty fancy adjustments made to keep the vehicle optimised to his specific requirements. Some of the SUVs are hybrid or even electric cars, so don't look out for De Bruyne at your local petrol station.
Rolls-Royce Ghost
The Range Rover SUV might be the most expensive vehicle, but De Bruyne's Rolls-Royce
Ghost is inarguably his fanciest. We can talk about the 6.5 litre engine (V12, twin turbo, of course) or the 563 horsepower the car offers, or even the 664 ft-lb of torque, but ultimately, Rolls-Royces speak for themselves. When you think of fast cars, you think of Lamborghinis or Ferraris, and when you think of luxury cars, nothing compares to the Rolls-Royce Ghost. True wealth doesn't shout: it arrives in a Rolls-Royce. I'm not at all surprised that one of the world's best footballers has one of these cars.
Takeaways
And that is it for today's blog post. We hope that you have enjoyed reading it as much as we enjoyed writing it. At Carmoola, we can help you find the best car finance deal to suit your needs. Why not visit the How it Works section and see how we can help you? If you are looking to finance your very own vehicle, check out the simple steps below;

● Go to the Carmoola App
● Enter your details; verify your ID
● You will then get an illustration of what you could potentially borrow
● Then go ahead and apply!

And then if you are accepted, go on to find your dream car, and go ahead and simply pay
with your virtual Carmoola card at the dealership (or online)! What's not to like? 😀