Lady Gaga Goes Gaga Over Her Cars
Lady Gaga is no stranger to luxury. From her outfits to her homes, the superstar always goes big. So it's no surprise that she also has an impressive car collection. Gaga's car collection includes everything from a Lincoln Continental Convertible to a Lamborghini Huracán. And she's not afraid to show them off. There are a million reasons to adore Lady Gaga, and her extensive car collection is one to add to that list...
But how can I get the car of my dreams like Gaga? You can look to Carmoola for that. Carmoola is a new and innovative car financing company that helps people get the cars they want. We offer competitive rates and flexible terms, making it easy for people like yourself to get behind the wheel.
Gaga didn't sit her driving test until she was 30, but she's been making up for lost time these last five years. She's bought several blue-collar American classics and European supercars. We can't think of a better way for an aspiring car enthusiast to chip off that £230 million fortune she was valued at back in 2021.

Who is Lady Gaga?
Stefani Joanne Angelina Germanotta (Lady Gaga - stage name) is a well-known singer, songwriter, and actress who was born in the heart of New York. In addition to all this, she runs several foundations with a host of different missions. In 2008 Gaga released her first album 'The Fame' to lukewarm radio play; Gaga toured around Europe and in smaller clubs in the US to promote the album - however it was not until her first hit 'Just Dance' came to mainstream attention in 2009 that Gaga exploded onto the music scene. Gaga made her acting debut in Robert Rodriguez's Machete Kills, and also appeared in Sin City: A Dame to Kill For. And finally, in 2018, she starred with Bradley Cooper, in A Star Is Born. Gaga received her first Academy Award nomination for Best Actress for the role.

Lady Gaga's Car Collection
Now we have learnt about the lady of the hour, let's get into her car collection! Today we are going to be taking a look through the following cars...
Lincoln Continental Convertible
Ford Bronco
Chevrolet El Camino
Rolls-Royce Corniche III
Lamborghini Huracan
As you expect with these celebrities, these aren't complete car collections, however, these are the cars that caught our research team's eye. Let's take a dive into today's blog post.
Lincoln Continental Convertible
The fourth-generation Lincoln Continental was a sleek, stately car that became an ultimate symbol of power in America. It served its purpose as the car of choice between 1961 and 1977 during the presidency of John F Kennedy - one of the famous encounters that have included this vehicle, unfortunately. A clear statement piece inside the car is the power roof, which is stored under the electrically operated rear deck. Its 7-litre V8 means Secret Service outriders could have a tricky time keeping up 😂

Ford Bronco
One of the more unique cars that we have ever had in our celebrity car collection series is the Ford Bronco. Looking around the room it's something that isn't really familiar with a lot of the team. However, after some digging, the Bronco is an impressive SUV, just not something that we see in the UK. The Ford Bronco SUV has taken the USA by storm and will now hit European showrooms in 2023 - but not the UK just yet (unlucky for some :/). We think this car looks amazing though - here is Gaga with her very own...

Chevrolet El Camino
The El Camino was born from several brands racing to create a car that was equally popular with farmers as it would be with young, sporty Americans who wanted an ell encompassing vehicle. Initially, production was successful, with thousands of customers worldwide rushing to pick up the Chevrolet El Camino. However, by 1960, production had plummeted and the model was discontinued shortly after. In 1984, a smaller version of the car was reintroduced into the market, with the new Chevrolet El Camino based on several other smaller Chevrolet models. Lady Gaga managed to get her hands on an old El Camino, and doesn't she look great in it!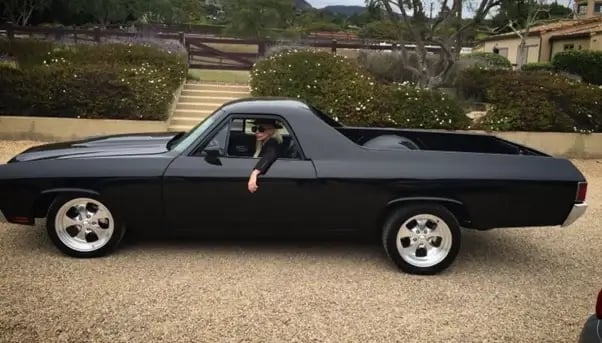 Rolls-Royce Corniche III
Designed by John Polwhele Blatchley, the Rolls-Royce Corniche was a variant of the Rolls-Royce Silver Shadow. It was designed as a combination of the original Silver Shadow and the 1967 drophead. This was not, however, the first instance of the Corniche being used. The nameplate was first used in a 1939 prototype, based on a Bentley, but was never formally produced. The Rolls-Royce Corniche was also briefly marketed as a Bentley but that particular model was later renamed as the Continental. Pretty cool fact, if we do say so ourselves!
Takeaways
We hope you enjoyed today's blog post, and we look forward to hopefully seeing you in the next blog post. Be sure to check out the How It Works section of our website, where you can see exactly how we get people like yourself their dream car.
And make sure you put your opinions on Lady Gaga's car collection in the comments section below, we read every single one! 👍