The Millennial "First Cars" Being Written Off By Gen Z
Carmoola gives a break down of the 'millennial first cars' that didn't Gen Z aren't too interested in. Has your first car been put on the list? Have a read on to see if you agree with the Gen Z taste or if you think these bad boys should be given another chance 😉
From Skinny Jeans, drinking alcohol and even winged eyeliner, Gen Z loves nothing more than writing off some of their older peers, the Millennials, favourite things, and next up may be the humble "first car". Long gone are the days of second-hand motors being passed down from older siblings or trawling the local second-hand car dealership for a rusted run around that costs no more than a few thousand pounds. Whilst Y2K fashion has made a comeback, this trend hasn't applied to the cars we used to drive and you'd be lucky to find a Gen Z who even knew what a Ford KA looked like. Gen Z is looking for an aesthetically pleasing, on-trend car with the latest tech and the humble Millennial run-around is being phased out.
Expensive Taste 👅
According to a recent survey by Heritage Car Insurance, Gen Z is by far the generation that is most likely to have a first car that is "luxurious" differing from Millennials who were lucky to get their older brothers Ford KA or Peugeot 208. According to those surveyed 1 in 6, Gen Zers have had a BMW as their first car and 1 in 12 said they have an Audi for their first-ever vehicle 🫢 According to a recent report by CDK Global, Gen Z buyers are more likely to buy luxury cars than any other generation, with 39% saying that the vehicle they bought was a luxury model vs only 29% of Millennials.
In 2022 the top five makes of licensed cars in the UK were Ford (12.1%), Vauxhall (8.9%), Volkswagen (8.8%), BMW (6.1%) and Audi (5.7%).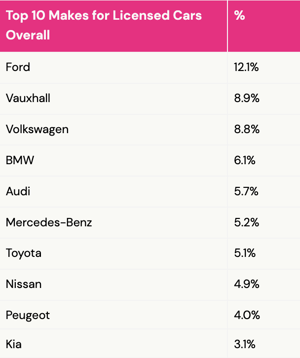 A Millennial's First Car ⚡️
Millennials are individuals born between 1981 and 1996. In 2014, most Millennials would have been aged between 18 and 33 - the time when most people are learning to drive and hopefully passing their driving test so they can get on the roads in their very first car. When looking for their first car back in 2014, Millennials wanted reliability, affordable running costs and being able to take a few bumps and scrapes along the way. Often a hand-me-down or a good-value second-hand car was the vehicle of choice. Seems like times have changed, what do you reckon? 🕰
The Most Popular Cars in 2014 👸
Compiling data from the Department of Transport and the DVLA of the most licensed cars in the UK in 2014 reveals the most popular cars of the Millennial "first driver." The top three most licensed cars in 2014 were:
FORD FIESTA - 66655 🚘 The UK loves the Ford Fiesta. It has a great drive thanks to its direct steering, responsive, well-balanced chassis and comfortable long-distance ride. Engines are economical yet zesty, and buying and running costs impress. Even in 2022

, the Fiesta reigns supreme with 3 of its models in the top 10 licensed in 2022. A little on the pricier side, Millennials were using their first big bonuses to get a hold of this little motor.




FORD FOCUS - 589565 🚘 The second Ford in our list, The Ford Focus, this little run-around has plenty of space, no turbos to worry about, good options and for the most part, is pretty reliable. The Ford Focus first went on sale in 1998 and quickly established itself as one of the more popular cars in the UK. Even in 2022, its latest iteration is one of the most licensed cars on UK roads. The Ford Focus is a popular choice for new drivers who want a sporty yet budget-friendly hatchback as their first vehicle.


VAUXHALL ASTRA - 163297 🚘 The Vauxhall Astra is a British Hero, and changed the game in 2010 the Mark 6 was released, this Astra looked good, performed well, and the interior was all well screwed together. Reliable, solid to drive and offered better safety with a 5-star Euro NCAP rating making it popular among Millennials in 2014. In 2022 the Astra is still just as popular in the top 10 most licensed cars - the Mk6 was so reliable and liked that it's still used by the British police forces in 54 constabularies.
The Millennial Cars Being Written Off by Gen Z 💔
The most popular first cars for Millennials may be a thing of the past in the coming years as research has found they are likely to disappear from the roads completely in the near future. If you're a millennial, you'll most likely have fond memories of these models, bumper to bumper in college car parks, packed up with your possessions when you went to uni or crammed with too many of your mates on your way to a festival. The good ol' days 😏
The five models most likely to disappear off the roads the quickest are: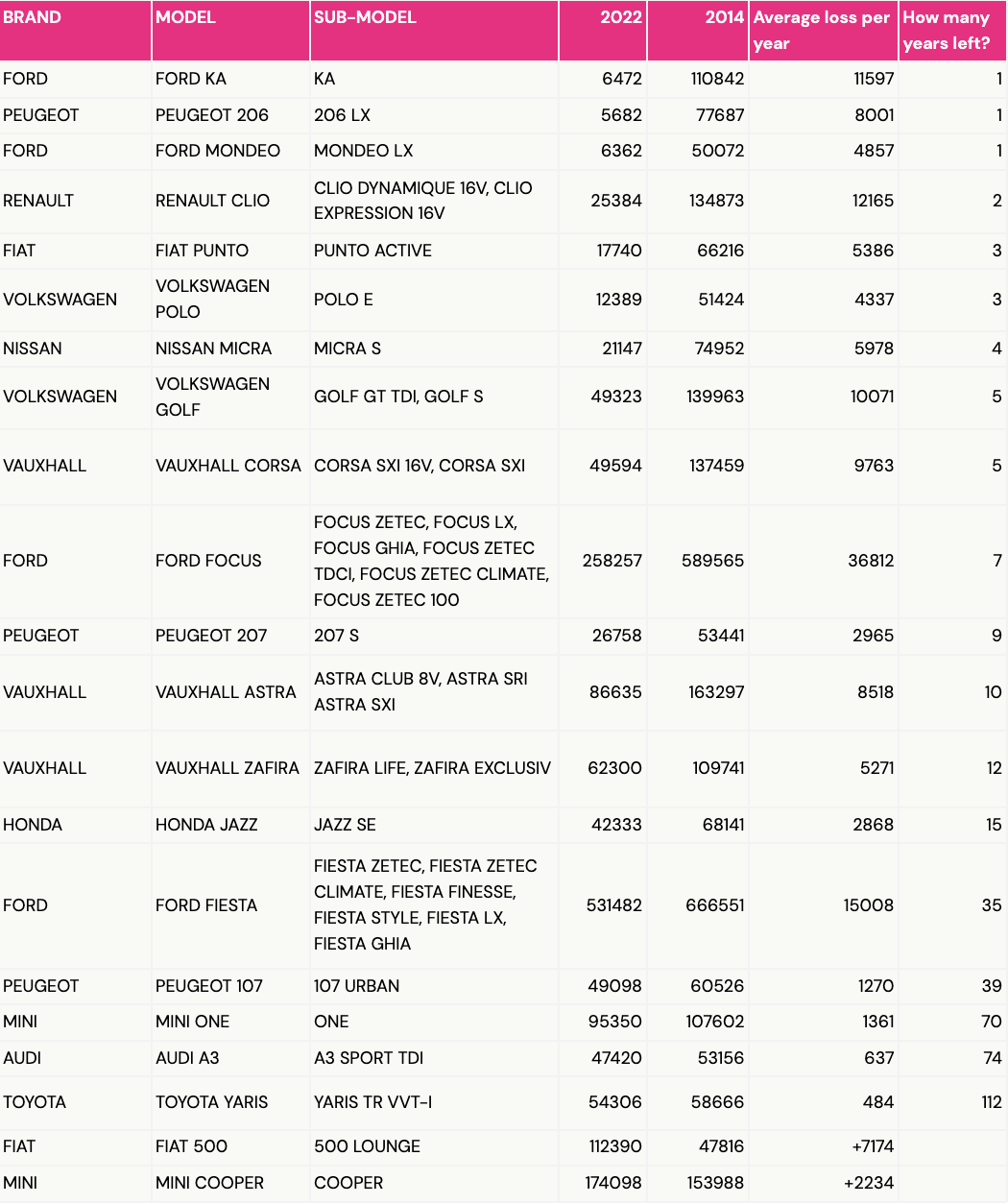 So if you or someone you know is looking for their first car - spare a thought for the Millennial favourites that may soon be a thing of the past. Give an old Ford Mondeo, Peugeot 206 or Ford KA a home before they're gone for good 🥲 Whatever model you go for, at Carmoola we want you to get the most fun out of owning your car! When you need to upgrade your car, Carmoola can sort out a quote for your next set of wheels in under 60 seconds! You can calculate your budget in a quick, efficient process 🤓 Whether you have expensive or humble taste, Carmoola can sort you out.
Data
We sourced the top 40 brands and models of cars registered in the UK in 2014 and compared the number of registrations of the same models in 2022. By comparing the number of licenses in these two years, we found an average drop in these models over the past nine years and predicted how long until these models will be gone from UK roads completely. All models are still licensed and roadworthy.
https://www.gov.uk/government/statistical-data-sets/vehicle-licensing-statistics-data-files
Access the full data set here 📊
Reviews:
To Conclude
It's a sad time, that millennial cars are on the downfall. Thankfully with the help of data we can monitor which cars are still roadworthy and worth being your new 'old' car. Vintage is still in, isn't it? 😉