Which Cars Does the New UK Prime Minister Rishi Sunak Drive?
In October, new prime minister Rishi Sunak arrived at 10 Downing Street. Sunak, a Conservative, formerly worked as the chancellor from 2020 to 2022. He's also richer than the king! Sunak and his wife, Akshata Murty, are worth £730 million, compared to Charles and Camilla's £300 million.
This makes him the richest prime minister the UK has ever had. To be honest, that money must be pretty useful, because Sunak has a whole fleet of cars and parking in Westminster, where he lives at 10 Downing Street, is obscenely expensive. Plus there's the ULEZ. Let's have a look! 😳
Jaguar XJ
First in the current Number 10 garage is the Jaguar XJ. The lowest price on this vehicle is £76,995, but Sunak's model is worth £86,500. This is because of its high specification, 3L V6 turbocharged engine that can produce 225 horsepower and reach speeds of up to 158 mph. It is a sedan, but given that Sunak has two daughters, he needs something with a bit of room for them, too. The Jaguar XJ can go from 0-60 mph in 3.9 seconds and its top speed is 158 mph… theoretically. I imagine that if you're the prime minister you'll stick pretty closely to traffic laws.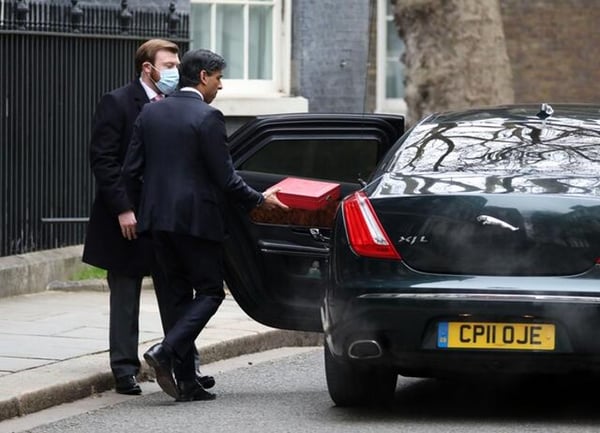 Kia Rio
Oh, Rishi. All politicians have their odd political gaffes, and this was a pretty funny one. Sunak organised a photoshoot at a petrol station so he could discuss petrol prices, and decided to fill up his car. For some reason, Sunak didn't want to use his own vehicle, so he borrowed a Kia Rio from one of the petrol station's employees. The British media - and everyone on Twitter - laughed themselves hoarse, and some people still seem to think he owns the car. At £28,900, it's much more affordable than Sunak's own motors. At least the employee got a free tank of petrol!
Land Rover Discovery
Rishi Sunak might be from Southampton, but he's not immune to the charms of a Chelsea Tractor. Sure, everyone loves a Land Rover Discovery, but the Thames would have to flood really badly for Sunak to require this much power and off-roading ability whilst living in Westminster. Trust me, I used to get the bus around there all the time. The Discovery has a sliding panoramic sunroof, which is pretty optimistic for the British weather. Its engine is 3.0 litres and can produce 355 horsepower, which results in a top speed of 120 mph and the option for 0-60 mph in 7.6 seconds. At £60,000, it's one of Sunak's budget vehicles.

Mercedes Benz S Class
For all of you car fans who love a techy moment, look at the Mercedes-Benz S-Class. It has a 48-volt hybrid system (EQ Boost) which connects to a 9-speed automatic transmission. It's also an all-wheel drive, just for extra power. The all-wheel steering system helps when you drive and, apparently, is great when you're trying to park in a tight spot. Very useful if you're parking in central London! The car can go from 0 to 60 mph in 4.2 seconds and can reach speeds of 130 mph. This car is priced at £110,000, so it's pretty middle of the road for Rishi, but still very nice.

Range Rover SV Autobiography
Would you say that good 4x4s are more-ish? Once you have one, you just want another. The Range Rover SV Autobiography is extremely expensive and powerful. It's priced at £220,000, can produce 557 horsepower, has a V8, 5.0l engine which connects to an 8-speed automatic transmission. It's Sunak's most expensive car, and one look at the exterior - or interior - will easily show you why.
Range Rover Abio Sentinel
World leaders are, unfortunately, are almost always targets for terrorists. They need security details, special vehicles and bodyguards to make sure that nothing bad happens to them and they can get on with their crucial jobs. When Sunak became prime minister, he got a car designed to keep him and his family safe. Luckily for Sunak, it's a Range Rover - his favourite! It is third hand, though, as it was made in 2019 and therefore used by Boris Johnson and Liz Truss. Still, a pretty new car by most people's standards. For obvious reasons, only some of the information about the vehicle has been disclosed, but apparently it has an escape hatch, an anti-tamper exhaust and a self-healing fuel tank. The body of the car can withstand shots from high-velocity, armour-piercing rounds. Getting the keys to this vehicle must have been one of the most sobering moments for the new prime minister as he entered Downing Street.

Volkswagen Golf Mk6 GTI
At £29,000, this is by far Sunak's cheapest ride. Perhaps he needs to go incognito sometimes? It's still a good car, though, and gives 207 horsepower, reaches up to 149 mph and can go from 0-60 mph in 6.9 seconds. Maybe Sunak is keeping this vehicle to teach his daughters to drive, because you wouldn't want to accidentally crash something worth nearly a quarter of a mil.

Takeaways
And that is it for today's blog post. We hope that you have enjoyed reading it as much as we enjoyed writing it. At Carmoola, we can help you find the best car finance deal to suit your needs. Why not visit the 'How it Works' section and see how we can help you? If you are looking to finance your very own vehicle, check out the simple steps below;
Go to the Carmoola App

Enter your details & verify your ID

You will then get an illustration of what you could potentially borrow

Then go ahead and apply!
And then if you are accepted, go on to find your dream car, and go ahead and simply pay with your virtual Carmoola card at the dealership (or online)! What's not to like? 😀👍