Our Topless Calendar Isn't What You Think It Is
Calendars are a great way to keep track of deadlines, upcoming meetings, and milestones. Technology has made it easier by having access on ones phone, laptops etc. However our question is, where is the sentimental value? How much more satisfying is it to wake up and see your physical calendar and look forward to your day. So here at Carmoola we have created the world's first topless calendar.
The world's first topless calendar…for cars. Our models are all different shapes and sizes, your model may even make the cut. We're talking: Bentleys, Minis and Beamers, all posing in classic topless calendar scenarios 🔥
Look forward to different models posing in different ways. From steamy car washes to jungle waterfalls, nudist beaches to sexy film moments, thought of it? We've probably got it.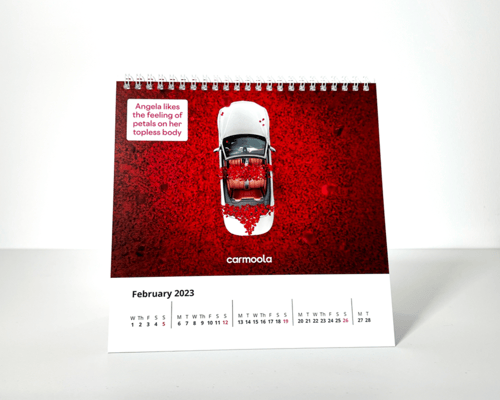 Every month you can expect a new model to enjoy, which is guaranteed to drive you wild and in fits of laughter. We reckon if you weren't that much into cars, you will be now, especially after checking out June 😉
At Carmoola we commissioned a survey showing just how much Brits really love cars. One of the surveys concluded that 9 out of 10 people love their car so much that some felt attached. Another survey concluded that 8 out of 10 people give 'pet' names to their cars So naturally we've included respondents' top names in the calendar.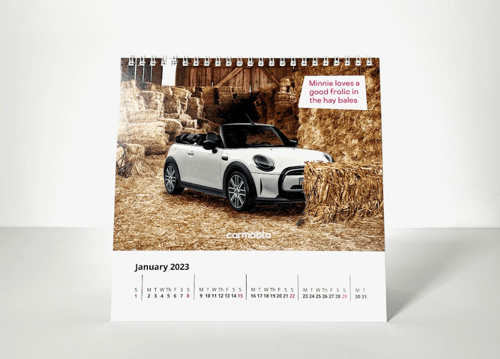 When customers buy a car with Carmoola, we have a random car name-generator to help them name their new wheels, and of course to make them smile. We know that car naming is no joke, but sometimes you need a little inspiration!
Some might think that purchasing this calendar is cheating on your current car, but we believe that there's nothing wrong with looking 👀 And even if you were to start thinking about upgrading your car, the first quarter of the year is one of the most popular time to do so, and, thankfully with the help of us at Carmoola we're able to help you finance the car of your wildest dreams 😍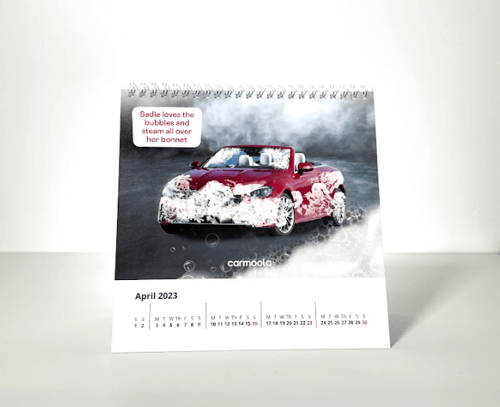 You can get all hot under the bonnet fantasising about your next car, or you can get on an calculate your budget through our new application flow on web (still not considered cheating, you're just looking) and see what cars you can get with the help of Carmoola 🔥 Otherwise, you can simply stick to looking.
Either way, we hope you enjoyed the sneak-peek of our topless calendar, if you think you may want to purchase one take a look at our shop 😉
Otherwise enjoy looking to your hearts content.