What Car Does Youtuber KSI Drive?
KSI, otherwise known as Olajide Olatunji, is a popular YouTuber from the UK. He's best known for his gaming videos, but he's also got a pretty impressive car collection. KSI isn't shy about spending money on cars - he's even got his own customised registration plates on a number of his vehicles...
So, what kind of cars does KSI drive? Well, he's got a few luxury cars in his collection, including a Rolls-Royce Wraith and a Porsche Cayenne. He's also got one more Porsche 718 Boxster, but KSI's most prized possession is probably his Lamborghini Aventador - he even made a music video on the car! The song spent 3 weeks in the official UK charts, peaking at position number 30. The highest ever song featuring the supercar.
Who is KSI?
Born Olajide Olatunji and commonly known as KSI, he is a YouTube and social media phenomenon, particularly in the UK, who has amassed more than 23 million YouTube subscribers on his main channel. He is known for his FIFA, soccer, music, and comedy content. He is also a hip-hop artist and he released his debut studio album Dissimulation in May 2020. His second album All Over The Place, released in 2021, debuted at No. 1 on the UK Albums Chart.
Along with his solo success, he has also featured as part of the hugely popular YouTube group Sidemen. Sidemen (or simply SDMN, formerly The Ultimate Sidemen) is a group of seven YouTubers (KSI, Miniminter, Zerkaa, Behzinga, Vikkstar123, TBJZL, and W2S). The group was created on October 19, 2013. The name is an allusion to a term to refer to those who are "behind the scenes" and are much less noticed than the main people. Originally, Simon was a "side-man" to JJ and Tobi was a "side-man" to Josh. When the Sidemen channel was announced on May 16, 2016, the channel gained over 1 million subscribers within 3 days making it the fastest channel to achieve this feat at the time. At the time of writing it now has over 15 million subscribers
So, if you aren't familiar with KSI, hopefully you now know everything there is to know about the social media sensation. Let's get into his car collection.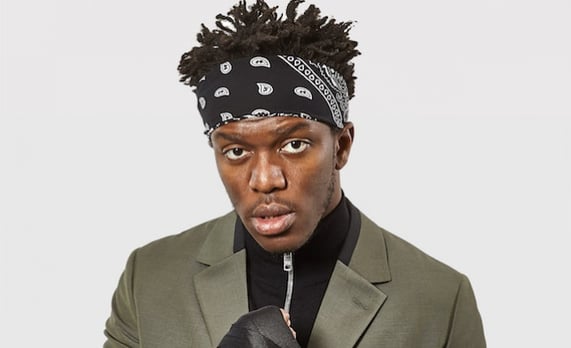 KSI's Car Collection
KSI is known for his crazy lavish lifestyle, and these are the cars we are going to be featuring in today's blog post;
Lamborghini Aventador
Rolls-Royce Wraith
Porsche Cayenne
Porsche 718 Boxer
Not a bad collection right? Let's take a deeper dive into the cars.
Lamborghini Aventador
The Lamborghini Aventador is KSI's pride and joy. The Aventador is a mid-engined sports car produced by the Italian automotive manufacturer Lamborghini. In keeping with Lamborghini tradition, the Aventador is named after a fighting bull. The Aventador was first unveiled at the Geneva Motor Show in 2011. It is available in both coupé and roadster body styles.
The Aventador has a 6.5-litre V12 engine which produces 740 PS (552 kW; 730 bhp) at 8,250 rpm and 690 N⋅m (509 lb-ft) of torque at 5,500 rpm. The car's top speed is 350 km/h (217 mph). The Aventador features an all-wheel-drive system and a 7-speed automatic transmission. KSI's Aventador has an outstanding custom wrap job from famous car modifier Yiannimize.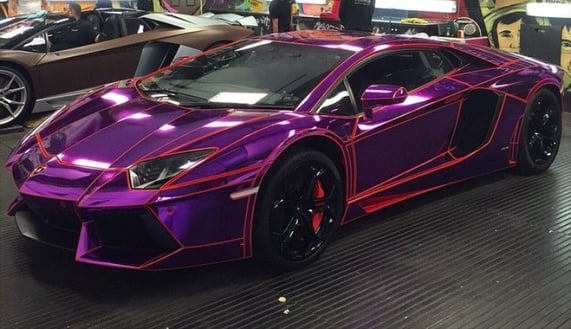 Rolls-Royce Wraith
The Rolls-Royce Wraith is a British luxury grand tourer manufactured by Rolls-Royce Motor Cars. The name Wraith comes from an old Scottish word meaning "ghost" or "spirit". It's fitting for a car with a starting price of over £250,000. The Wraith is powered by a 6.6-litre twin-turbocharged V12 engine which produces 624 bhp (465 kW; 630 PS) and 800 N⋅m (590 lb⋅ft) of torque. The car has a top speed of 155 mph (249 km/h) and can accelerate from 0 to 60 mph (97 km/h) in 4.4 seconds. The Wraith was first unveiled at the 2013 Geneva Motor Show. It is available as a 4-door and 4-door convertible. Take a look at KSIs photo with it here, super cool.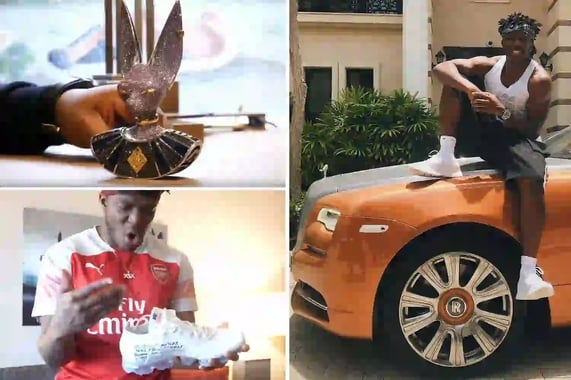 Porsche Cayenne
The Porsche Cayenne is a mid-size luxury SUV produced by the German manufacturer Porsche since 2002. It is the first V8-engined vehicle built by Porsche since 1995, when the Porsche 928 was discontinued. KSI's Cayenne is powered by a 3.0-litre turbocharged V6 engine which produces 335 hp (250 kW) and 332 lb⋅ft (450 N⋅m) of torque. The car has a top speed of 158 mph (254 km/h) and can accelerate from 0 to 60 mph (97 km/h) in 5.1 seconds.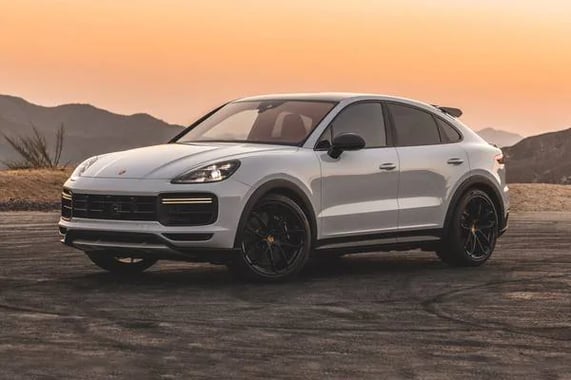 Porsche 718 Boxster
The Porsche 718 Boxster is a mid-engined two-seater roadster built by German automobile manufacturer Porsche. The 718 Boxster was introduced in 2016 as the successor to the Porsche Boxster (986). It is available as a 2-door coupé or 2-door convertible. KSI's 718 Boxter is powered by a 2.0-litre turbocharged flat-four engine which produces 300 hp (224 kW) and 280 lb⋅ft (380 N⋅m) of torque. The car has a top speed of 171 mph (275 km/h) and can accelerate from 0 to 60 mph (97 km/h) in 4.6 seconds.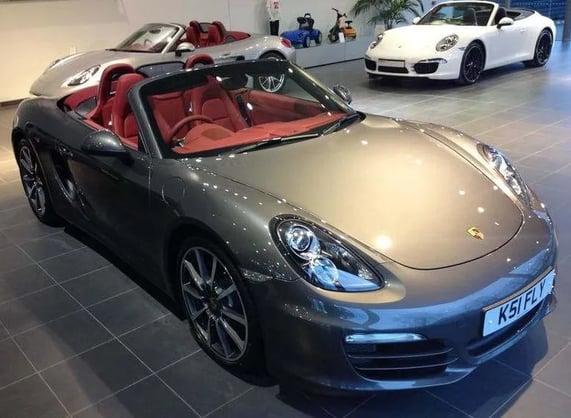 Takeaways
We have always respected the YouTube grind, and we actually have our own channel that you can go and check out - but the YouTube money is serious 🔥.
If you are looking for your very own KSI-approved car, check out our online car finance calculator. It can give you an estimate of the repayment amount to expect for your desired budget.
Follow the steps below or check out the 'How it Works' section of the website to get your car finance journey started today.
Go to the Carmoola App
Enter your details & verify your ID
You will then get an illustration of what you could potentially borrow, over how long & what it would cost per month.
Then go ahead and apply!
And then if you are accepted, go on to find your dream car, and then you can go ahead and simply pay with your virtual Carmoola card at the dealership (or online)! What's not to like." 😃