South Korean Star Son Heung-min's Incredible Car Collection
Son Heung-min is one of the most talented footballers in the world. Hailing from South Korea, Son moved to Germany as a child to play competitive football, and now has been signed for Tottenham Hotspur and captains the South Korean national team. He's the top Asian goalscorer in the history of both the Champions League and the Premier League. This achievement has earnt him widespread recognition and he co-won the Premier League Golden Boot in the 2021-2022 season. 👟
Son is incredibly popular in South Korea and the country now has a dedicated fanbase that loves to watch him play for the Lilywhites. The club's social media has seen such an increase in interaction from South Korea that it's started writing in Korean as well as English! People adore the man as well as the sport, and Son has had two fairly high-profile relationships with K-pop stars, Bang Min-ah from Girl's Day and Yoo So-young from After School. This has helped him to exceed the celebrity status usually given to footballers, and Son is happy to play into this image with an absolutely stunning collection of cars. Let's look into the garage and see which cars Son Heung-Min owns. 🇰🇷
Fancy a look at other international footballers cars? Why not have a look at this one for Virgil Van Dijk
Audi R8 Coupe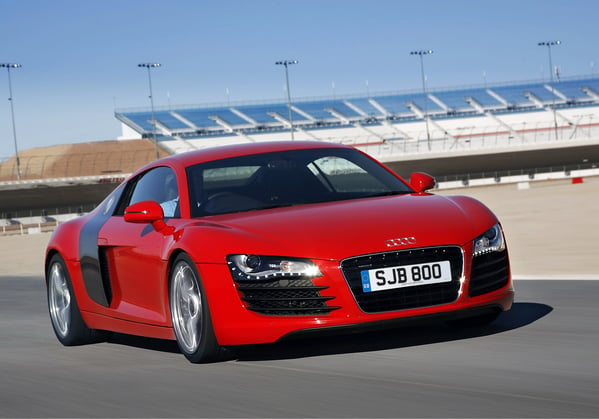 I'm sorry, but I can't R8 this car, if you will pardon the pun. It seems like every footballer immediately goes and gets an Audi, regardless of their skill level, team, pay-cheque, position or anything else. Footballers might disagree on their club loyalties, but their enthusiasm to Audi dwarfs all else. To give Son a tiny bit of credit, his R8 Coupe is at least red, whereas other players frequently only seem to own black cars. The Audi has a 5.2 litre V10 engine and it's also pretty nippy, achieving 0-60 mph in 3.2 seconds. This car is one of the more affordable vehicles Son drives, and costs £112,520
Bentley Continental GT
Bentleys aren't as common as Audis, but that doesn't mean that they don't crop up fairly often. I will admit that I find it easier to see the appeal of these cars: they're powerful as well as classy. Plus, they're marginally easier to spot in the Tottenham Hotspur Stadium garage. Must be a relief for the valets! The Bentley is bigger than the Audi and has a 6 litre twin turbo-charged W12 engine, and can reach nearly 200 mph. It does take longer to get going, but 0-60pmh in 4.3 seconds is still absolutely incredible.
Ferrari La Ferrari
The population of South Korea is about 51 million. Son is considered to be the most talented footballer, so he's the number one in 51 million. The creme-da-la-creme of soccer must get the most exclusive cars, so it's not surprising that Son has a Ferrari LaFerrari. There were only 499 of these ever made. Look, I'm going to be clear: the name is ridiculous. What's almost equally silly is that the car usually comes in red, but Spurs didn't like this because their rivals Arsenal wear red, so they made him get it painted black instead. The Ferrari LaFerrari gives 950 horsepower and 663 lb-ft of torque and is valued at £1.15 million. You've really got to be at the top of the game to consider buying this vehicle. Here Son is signing a Spurs shirt whilst driving the incredible vehicle!

Maserati Levante
The Ferrari LaFerrari is incredible if you want something small, sporty and speedy. But every now and then we all want a vehicle that's less of a prima donna and might even be able to go out in tricky weather conditions or down unkempt roads. Enter the Maserati Levante, the first 4x4 produced by the manufacturer. This was given to Son by Maserati in an attempt to promote their vehicles in Korea, as a kind of native advertising. Certain outlets now claim that this is his favourite car and he is certainly ready to show off pictures of himself with the vehicle. The car is worth £60,000, but it appears that you need to be famous in South Korea to get it for free.

Range Rover
It's good to have a diverse garage. I assume, anyway. My car collection isn't worth millions. So after the obligatory Audi, the fancy LaFerrari and the showy Maserati, Son will need something that can get a bit knocked about from time to time and not be overly precious. Like the Maserati, but not as exclusive. A Range Rover, for example. Son's Range Rover has been customised in matte black and gloss black, with red seats and a fancy little steering wheel trim. It looks great, it can go anywhere… what's not to love? Without customisation, this vehicle costs £31,000. If you want this exact one, you've got to be a real Son fan and ready to find a good car to customise.
Takeaways
And that is it for today's blog post. We hope that you have enjoyed reading it as much as we enjoyed writing it. At Carmoola, we can help you find the best car finance deal to suit your needs. Why not visit the 'How it Works' section and see how we can help you? If you are looking to finance your very own vehicle, check out the simple steps below;
Go to the Carmoola App

Enter your details & verify your ID

You will then get an illustration of what you could potentially borrow

Then go ahead and apply!
And then if you are accepted, go on to find your dream car, and go ahead and simply pay with your virtual Carmoola card at the dealership (or online)! What's not to like? 😀👍