What Car Does Holland's Virgil Van Dijk Drive?
Van Dijk is one of the giants of football. Literally - the man is 6ft4. But he's also widely recognised as one of the best defenders on the planet, and at 31, he's still going strong. He's played for teams in Holland, Scotland and England as well as representing the Netherlands internationally. Apparently, he's also got some Chinese blood through his maternal great grandfather… but we don't imagine they'll be able to claim him for their team any time soon! 🇨🇳
Although defenders aren't often covered in glory, Van Dijk has managed to make a name for himself and was awarded the UEFA Men's Player of the Year - the only time that's happened to someone playing his position. So between all of this acclaim, what does Van Dijk like to do? Well, it seems like he's a fan of cycling (there aren't enough hills in The Netherlands to present much of a challenge) and sometimes, he likes to go a little faster than his legs would usually allow. We've found Van Dijk's cars and we're ready to see if they match up to his impressive standard.
If you enjoy finding out what the international stars of football drive, we're checking out the cars of other World Cup players - starting with Son Heung-Min.
Audi Q7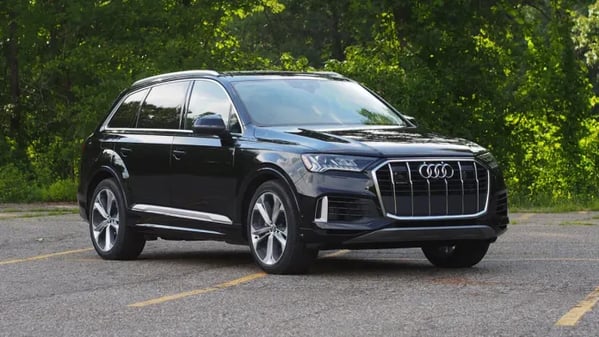 You know how the story goes: a young person gets signed to a professional football team, receives their first paycheque and immediately runs off to the Audi dealership. It's a tale as old as time. To be honest, I'm surprised that the new recruits aren't handed their keys at the same time as their kits. So here we are again. Joining legions of other footballers, van Dijk has got himself an Audi. This one is an Audi Q7. It's big - big enough to fit seven people, which is pretty convenient as van Dijk has a wife and four children. Although children are renowned for their ability to mess up even the nicest car, we think the Q7 will prove a challenge. The vehicle is luxurious outside and inside, and capable of reaching speeds of 155mph. Pretty useful if you're trying to drop everyone off at school and still arrive in time for a warm-up! All of this for the price tag of $91,500
BMW 5 Series
For the footballer on a budget, the BMW 5 Series is the perfect choice. I don't know why van Dijk would be on a budget, but I can speculate that he saved some money to buy one of the other cars on this list. Priced at $60,000 this is the most affordable vehicle van Dijk owns. That doesn't mean it's not nice, though! The BMW 5 Series has a 4.4 litre twin turbocharged V8 engine, which can produce 553 lb-ft of torque and 523 horsepower. That's pretty impressive!
Ferrari 488 Spider
If most footballers buy an Audi as soon as they possibly can, only the creme da la creme make it to the Ferrari shop. The Ferrari 488 Spider is owned by a number of extremely famous, wealthy and talented footballers, not just anyone keeping the bench warm and jogging up and down the pitch. Perhaps that's because it's priced at $284,700. Just as well van Dijk got a good deal on his BMW! The Ferrari 488 Spider is the most powerful convertible Ferrari have ever made, and it's capable of reaching 205mph, going from 0-60mph in three seconds and gives 670 horsepower. Yes, it's popular… but it's easy to see why everyone loves the spider. Provided it's not unexpectedly in your bath.

Mercedes-Benz G63 AMG
If you're trying to find Virgil van Dijk's favourite car, most of the results will probably show you the Mercedes-Benz G63 AMG. As you will have seen, that's not the only vehicle he's got in his garage, but it does seem to be the one that gets the most exercise. Well, you have to take the talent out sometimes, right? Much like the Land Rover Defender, this is a powerful four-wheel drive, perfect for off-roading (again, where?) with 416 horse power and the capability of going from 0-60mph in 5.6 seconds. Speedy! It's also pretty valuable, and usually priced at $171,000. You can decide if you'd open up your piggy bank for this car, but as far as van Dijk is concerned, it's worth the money.

Range Rover Sport
Is anyone else starting to spot a pattern? Perhaps van Dijk just doesn't fit inside normal size cars and only makes an exception for the Ferrari 488 Spider because, well, it's a Ferrari 488 Spider. It's worth squeezing into. The final car in van Dijk's garage is the Range Rover Sport. Much like many of the other vehicles, this is a pretty sizeable 4x4, and again, it's great at off-roading. Widely considered one of the best performing SUVs offered by the company, this car is valued at $89,300 and gives 567 horsepower. The engine has a 5.0 litre capacity and is supercharged.
Takeaways
And that is it for today's blog post. We hope that you have enjoyed reading it as much as we enjoyed writing it. At Carmoola, we can help you find the best car finance deal to suit your needs. Why not visit the 'How it Works' section and see how we can help you? If you are looking to finance your very own vehicle, check out the simple steps below;
Go to the Carmoola App

Enter your details & verify your ID

You will then get an illustration of what you could potentially borrow

Then go ahead and apply!
And then if you are accepted, go on to find your dream car, and go ahead and simply pay with your virtual Carmoola card at the dealership (or online)! What's not to like? 😀👍