Adele's Amazing Car Collection
Adele is a phenomenal British singer and songwriter, renowned for her sensational voice and unforgettable tracks. 🎤 Bursting onto the music scene in 2008 with her hugely popular album "19", she has since gone on to sell over a whopping 100 million tracks to date, as well as earned an MBE for her service to the music industry – What an achievement!
At the time of writing, Adele's net worth is reported to be a staggering $220 million. After her humble beginnings, it's no wonder she now likes to indulge in the finer things in life, including building up an impressive (and surprising) car collection.
The singers garage houses some of the most exciting cars you could ever imagine, from high-performance SUVs to luxurious vehicles that are guaranteed to turn heads. In today's blog, we look at the amazing cars Adele has in her collection.
Bentley Continental GT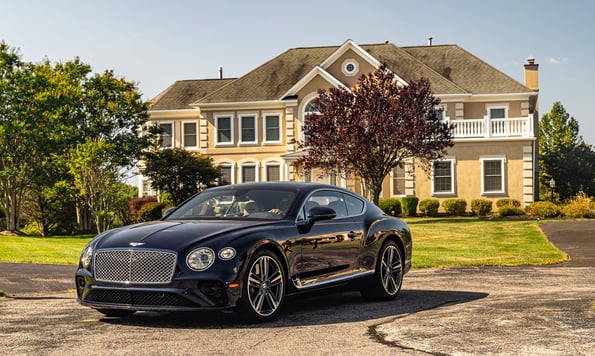 The most expensive car in Adele's garage to date, is a 2020 Bentley Continental GT, highlighting the singer's British roots. The Continental GT seamlessly merges speed and luxury, embodying the best of both worlds. It boasts a lavish interior, crafted from premium materials, and loaded with high-end features.
The 2020 model of the Continental GT offers two distinct engines: a 5.0-litre supercharged V8 with 542 horsepower, and a 626 horsepower W12. With the V8 engine, the GT can accelerate from 0 to 60 MPH in a mere 3.4 seconds, while opting for the W12 will drop this time to 3.3 seconds, further solidifying its impressive performance.
However, it's not just speed that the Continental GT excels in - it also features an array of advanced technology. The vehicle is equipped with a massive 12.3-inch touchscreen display, that sits on a rotating panel behind three analog gauges on the dashboard.
Mercedes Maybach S Class
Adele's 2019 Mercedes-Maybach S560 is easily one of the most luxurious vehicles in her garage. This mighty Maybach is second to none when it comes to opulence and performance. It comes complete with an impressive range of features that take luxury to the next level.
Its cabin features a plethora of high-end amenities such as sumptuous massaging seats for maximum comfort. The 2019 model also came with the option of a Burmester sound system, alongside a cool cabin atomiser feature, further adding to the overall luxury experience.
Under the hood, Adele's Maybach S560 boasts a mighty twin-turbocharged 4.0-litre V8 engine that churns out an impressive 462 horsepower. Despite its size and weight, this luxury vehicle can sprint from 0 to 60 MPH in just 4.7 seconds - proving that it's not just about the plush interior, but also about its exceptional driving performance.
Find out if the Maybach S Class made it onto our best Mercedes cars list.
Range Rover Vogue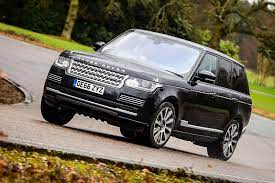 As you can tell by now, Adele's taste in cars is all about luxury. This follows on with her 2017 mid-spec Range Rover Vogue. It may not be the most luxurious model in the range, but this luxury SUV is still packed with a huge range of premium features. Range Rover is renowned for its exceptional off-road capability, and its interior is lavishly appointed to match its opulent image.
Beneath the hood of this upscale off-roader, sits a 3.0-litre V6 diesel engine. This is paired with an 8-speed automatic transmission that delivers a robust 245 horsepower and 443 lb-ft of torque. Despite its weight of 4,883 pounds, the Range Rover Vogue can still accelerate from 0-62 MPH in a respectable 7.4 seconds.
Want something similar to the Vogue that will let you enjoy the ultimate off-road driving experience? Take a look at our picks for the best cars for off road adventures now.
Cadillac Escalade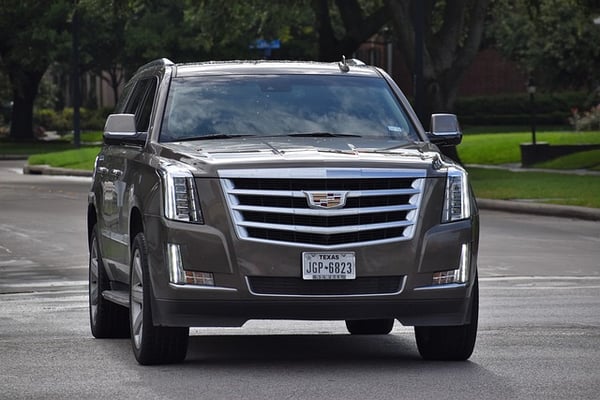 Adele's car collection boasts several luxurious European vehicles, but the English hitmaker also keeps a classic American truck in her garage. The 2020 Cadillac Escalade is a flagship model from General Motors' luxury division. Compared to its cousins, the GMC Yukon and Chevy Tahoe, the Escalade's striking appearance is what really sets it apart.
For the 2020 model year, all Escalade trims feature a 420 horsepower V8 engine and rear-wheel drive, with optional all-wheel drive available. With a remarkable towing capacity of up to 8,300 pounds, the Escalade is not just a pretty face - it also packs a powerful punch.
Beyond its heavy lifting capabilities, the Escalade is a noteworthy luxury SUV, renowned for its impressive features and amenities. Its spacious interior boasts plush seating and state-of-the-art technology, making it a comfortable and enjoyable ride for both driver and passengers alike.
We LOVE American style vehicles here at Carmoola. If you haven't already, check out some of our favourite American cars now.
Porsche Cayenne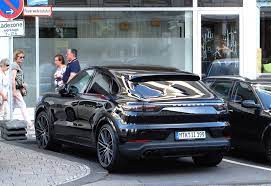 It's clear Adele favours versatile yet luxurious SUVs, so it's no surprise to find she also owns the impeccable 2019 Porsche Cayenne. The singers black Cayenne model remains unmodified, yet its stock configuration is more than sufficient. It delivers exceptional handling around corners, coupled with a renowned all-wheel drive system, and luxurious interior.
Under the hood, the 2019 Porsche Cayenne boasts a powerful 2.9L TwinTurbo V6 engine. This combined with an 8-speed automatic transmission with overdrive, delivers a remarkable 434 horsepower and 405 lb-ft of torque. With such impressive performance, the Cayenne can sprint from 0-60 mph in under 5.9 seconds, and reach a top speed of 152 mph, making it a force to be reckoned with in the SUV market.
This ultra-impressive model is so good it made it onto our best Porsches ever list!
Porsche Macan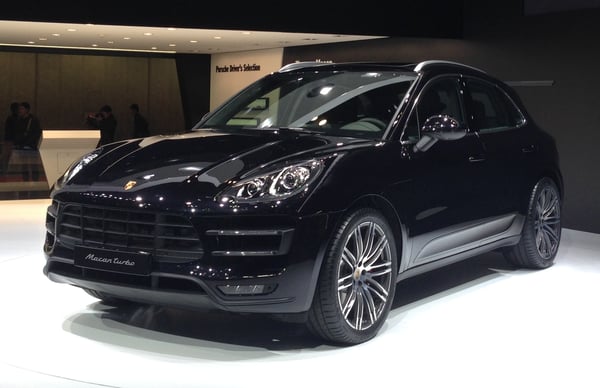 In addition to her impressive collection of high-end luxury vehicles, Adele also owns a fast and stylish SUV: a 2021 Porsche Macan S. This German crossover packs a serious punch with its powerful twin-turbo V6 engine, delivering a whopping 348 horsepower and a 0 to 60 MPH acceleration time of just 4.7 seconds.
While the Macan's cabin may not be the most spacious in its class, the interior quality is top-notch. This reflects Porsche's signature commitment to exceptional craftsmanship and design. For those willing to splurge, the Macan can also be equipped with virtually any feature or package you can think of, making it a truly personalised and impressive ride.
Given Adele's taste for luxury, it's safe to assume that her Macan S is loaded with a range of additional modifications, making her driving experience nothing short of exceptional.
Audi Q7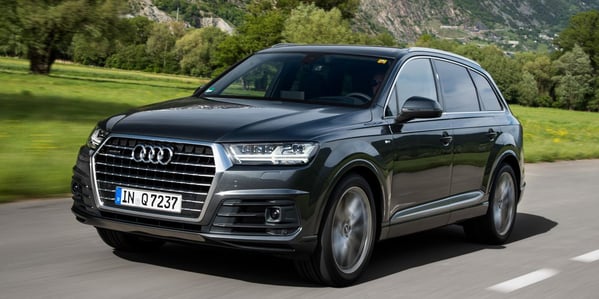 The 2017 Audi Q7 is a premium full-size SUV, renowned for its exceptional driving dynamics, comfortable seats, and powerful engine. With multiple drivetrain options available, the Q7 caters to the needs of various drivers, offering a versatile range of performance and handling capabilities.
Audis are celebrated for their advanced technology and stylish designs. As well as delivering impressive performance, its cars also come with well-crafted interiors, and the brand's signature Quattro all-wheel drive systems.
Adele's black Audi Q7 stands out, unmodified yet impressive on its own. It combined a sleek design and a formidable reputation for superior quality and an unforgettable driving experience.
What a Collection!
So that sums up Adele's amazing car collection! I don't know about you, but we're super-impressed by her taste in luxury vehicles. And if you enjoy reading reading our blogs about celebrities and their cars, why not check out James Corden Carpool Karaoke cars, or on screen detective cars, or even cars from the Drive movie!While some of these models might be out of reach for the average driver, models like the Audi Q7 and Porsche Macan may be attainable through car finance.
Here at Carmoola, we make it easy to afford your dream car. Simply follow these steps to add a used luxury model to your garage:
Step 1: Answer a few short questions and receive a budget you can spend on your new car in just 60 seconds.
Step 2: Use your Carmoola card to purchase your new vehicle from any reputable dealership or online dealership..
Step 3: Buckle up and enjoy your new luxury vehicle.
Learn more about how it works, or begin your application for no-hassle car finance now. 😀👍