James Corden Carpool Karaoke - What a Car Collection!
James Corden is an English television host, comedian, and actor. He is best known for writing and starring in "Gavin and Stacey", and most recently as the host of "The Late Late Show with James Corden" featuring his popular segment "Carpool Karaoke".
With an estimated net worth of $70 million (at the time of writing), Corden is one of the most successful personalities in the entertainment industry. In addition to his love for singing in cars, Corden is also a car enthusiast and is known to have an impressive collection of vehicles. From his luxurious sports cars to his spacious family cars, Corden's garage reflects his extravagant taste.
In this blog post, we'll be taking a closer look at James Corden's car collection and see if his love for Carpool Karaoke extends to his love for his cars. We'll dive into the details of his most prized possessions, his daily drives, as well as the car he uses for his famous Carpool Karaoke segments. If you haven't seen them already, be sure to check out our picks for the best carpool karaoke clips.
So, buckle up, and join us as we take a ride with James Corden and his love for cars.
Range Rover and Range Rover Sport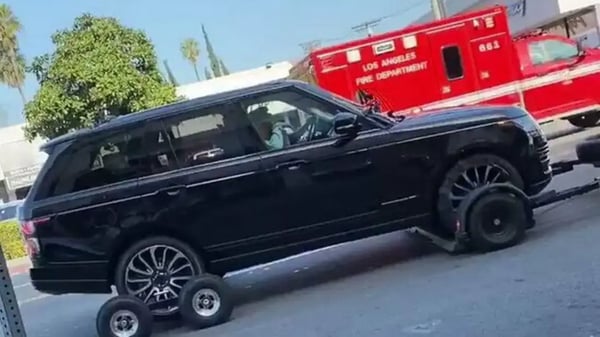 Being British, it perhaps comes as no surprise that two of James' favourite cars are the Range Rover and Range Rover Sport. The Range Rover has dominated the popularity stakes in recent years thanks to its impressive performance, comfort, and style. The Range Rover Evoque was featured as one of our best 4x4s in the UK earlier this month. The luxurious SUV has been a regular feature on Carpool Karaoke, though it's the slightly smaller Sport version that Corden uses as his day-to-day form of transport.
Both vehicles come with unbeatable features such as Terrain Response Technology, adaptive dynamics, high performance engine options, and a world class interior. They also ooze luxury and class, and retain a high resale value, making them an excellent long-term investment.
Aston Martin Vanquish Volante
It's no secret that James Corden loves an Aston Martin, and who can blame him? He's been spotted driving a number of different models over the years such as the DB9 and the DB11, but it's the striking Vanquish Volante that has captured his heart.
The Aston Martin Vanquish Volante is a stunning supercar that combines power, performance, and style in a way that few other cars can match. With a sleek and aerodynamic design, this vehicle is the epitome of sophistication and class.
One of the standout features of the Vanquish Volante is its 5.2-litre V12 engine, producing a massive 563 horsepower. This engine provides plenty of power for acceleration and speed, making it one of the quickest convertibles on the market. It is no wonder it is considered one of the best Aston Martins to own.
Porsche Cayenne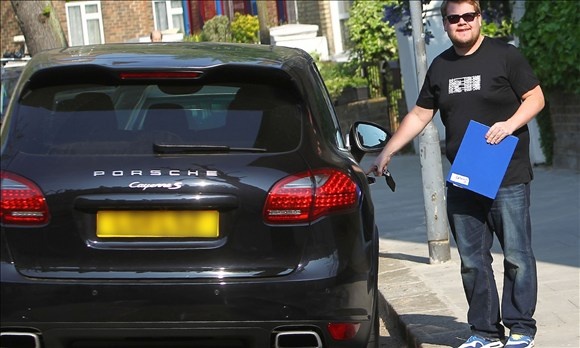 When Carpool Karaoke became a huge hit, Porsche wanted in on the action. The luxury manufacturer provided the latest version of its high-performance Cayenne SUV to the show, where stars such as Adam Levine blasted out some of their biggest hits. James was such a fan of the model he bought one to add to his ever-growing fleet of luxury models.
Providing the perfect blend of power, handling, and comfort, the Porsche Cayenne has been a popular choice among car enthusiasts for years. Rated one of the best Porsches ever, it was he brands first-ever SUV. One its standout features is its powerful engine line-up. With a range of turbocharged engines, the Cayenne delivers plenty of acceleration and speed, making it a fun vehicle to drive. It also comes with top-notch handling, giving drivers precise and responsive steering to help it feel nimble and agile on the road.
Jaguar XK R Convertible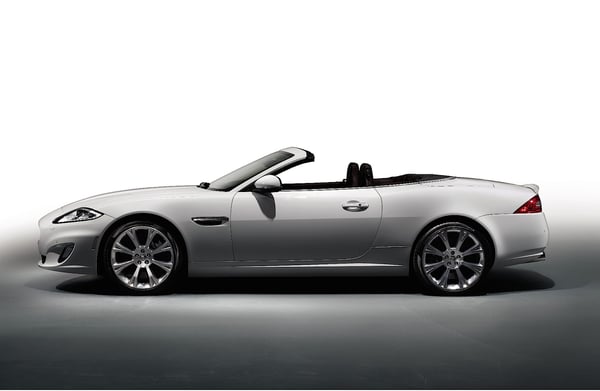 Prior to purchasing his beloved Aston Martins, James owned the cheaper equivalent, and one of our favourite Jaguars, the Jaguar XK R Convertible. Despite being the more budget-friendly option, this popular vehicle still boasts a striking and opulent appearance, alongside a powerful V8 engine. It also doesn't hold back in terms of performance, providing a hefty 503bhp, and a maximum speed of 155mph.
The two-door luxury sports car was produced from 2006 to 2014. It's remained a popular model among car enthusiasts, praised for its sleek and attractive design, luxurious interior features, and impressive performance capabilities. It can accelerate from 0 to 60mph in just 4.6 seconds, making it a powerful and exhilarating vehicle to drive.
It isn't just its performance that makes the Jaguar XK R Convertible and impressive choice. The sports car also features a comfortable and refined interior, made with premium materials and built-in state-of-the-art technology. It also has a retractable soft-top roof, giving you that unbeatable open-air driving experience.
Takeaways
And that concludes today's blog post. We hope you have enjoyed reading it just as much as we enjoyed crafting it for you. Thank you for taking the time to check out the Carmoola blog. If you enjoy reading reading our blogs about celebrities and their cars, why not check out on screen detective cars, or Adele's cars or even cars from the Drive movie!
And if you're looking to finance your very own vehicle, the process couldn't be simpler. Just follow these easy steps:
Head to the Carmoola App
Enter your information and verify your ID
You'll receive an illustration of the potential amount you could borrow
Apply for financing and if approved, you're one step closer to finding your dream car.
Pay for your vehicle using your virtual Carmoola card at the dealership or online. It's that easy!
Don't wait any longer, finance your dream car today with Carmoola. 👍🚘