What Cars Does Billie Eilish Own?
With her unique sound, bold fashion sense, and captivating stage presence, Billie Eilish has established herself as a true icon in the world of pop music. 🎤 From her humble beginnings as a young artist with her debut single 'Ocean Eyes,' to her meteoric rise to fame with a string of hit albums, Billie's journey has been nothing short of spectacular.
While many music artists aspire to own a few flashy rides, Billie's collection is uniquely impressive, showcasing her impeccable taste and penchant for luxury. Her garage boasts a handful of high-end sports cars and a luxury SUV - each one a reflection of her unique style and personality.
Here, we dive into the impressive collection of vehicles the young singer has accumulated in recent years.
Dodge Challenger SRT Hellcat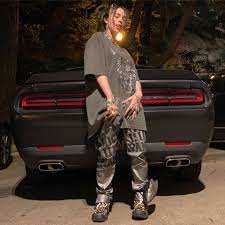 Meet 'Baby Mama,' the Challenger SRT Hellcat that's captured Billie's heart and soul. This bad boy has been Billie's obsession since her childhood, and now she's living the dream by owning one of her own.
With its sleek and sexy exterior and a custom matte black wrap, this car is a real head-turner. However, it's not just its looks that make this one of the most sought-after cars on the market. The Challenger SRT Hellcat is a serious powerhouse, packing a supercharged V8 engine that'll leave even the most seasoned drivers breathless.
The Dodge Challenger has long been an icon of American muscle cars, and Billie Eilish's SRT Hellcat version takes this legacy to a whole new level. Under the bonnet of this beastly machine is a supercharged 6.2-litre Hemi V8 engine that's paired with an 8-speed automatic transmission. This makes for a truly unforgettable driving experience.
With an astonishing power output of 717 horsepower and a torque output of 656 lb-ft, this car is a true powerhouse on the road. Whilst it may not be the most powerful muscle car ever made (that title goes to the limited-run Hellcat Redeye), it's certainly no slouch.
This car is a true work of art with its sleek lines, bold colour scheme, and aggressive stance that demands attention on the road.
Love American muscle cars? Us too! Check out our favourite American cars to date in our recent blog.
Chevrolet Suburban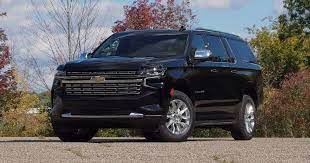 When it comes to big and luxurious SUVs, few can compete with the Chevrolet Suburban. In the hands of Billie Eilish, this mammoth machine is more than just a vehicle - it's a statement of style and power.
With its large dimensions and imposing presence, the Chevrolet Suburban is a true titan of the road. Billie's unique model has been given a special black paint shade that turns heads wherever it goes.
It isn't just the exterior of the Suburban that's impressive. Inside this stunning SUV is you'll find all the latest technology, unparalleled comfort, and all the space you could ever need. It's the perfect ride for an artist who demands nothing but the best, whether she's on tour, or simply enjoying some downtime with her friends and family. There's no denying that the Chevrolet Suburban is a true masterpiece of engineering and design.
Can you get a Chevrolet Suburban in the UK? While you might get lucky enough to find this American powerhouse for sale in the UK, its rarity means you'll be faced with a hefty price tag! However, there are plenty of great SUVs to choose from that you can get your hands on. Check out the best SUVs available right now.
McLaren 600LT
A worthy contender for our best Mercedes cars list, when it comes to exclusive sports cars, few can match the sheer beauty and power of the McLaren 600LT. Based on the already impressive 570S, this limited-run machine takes things to a whole new level, with added aerodynamic elements and a weight reduction of 212 pounds over the standard model.
Thanks to its extensive use of carbon fibre in the roof and front fenders, the McLaren 600LT is not only lighter, but also more agile and responsive on the road. While it may share the same 3.8-litre twin-turbocharged V8 engine as the 570S, this car is anything but ordinary, boasting a power output of 592 horsepower and a torque output of 457 lb-ft, it's an indomitable force on the road.
With an extended front splitter, new side sills, and a lighter fixed rear spoiler, this car is a true work of art that's guaranteed to turn heads wherever it goes. It's the perfect ride for an artist who demands nothing but the best.
Mazda 5
Like many celebrities who start from humble beginnings, Billie Eilish had a modest start before acquiring the dreamy cars that she's known for today. It all began with a Mazda 5 minivan - her first-ever daily driver.
While the Mazda 5 may not have the street cred of some of her other rides, it more than makes up for it in terms of practicality and economy. Not much is known about the specific Mazda 5 owned by Billie, but it's believed to be a second-generation model introduced in the US in 2008.
Despite its humble origins, the Mazda 5 holds a special place in Billie's heart. The blue-coloured minivan features sliding doors and a powertrain combination of a 153 hp, 2.3-litre four-cylinder engine, paired with a 5-speed automatic transmission.
While Billie may not be seen driving her Mazda 5 as often these days, it's believed that she still owns the car as a reminder of where she started. Mazda models are known for their affordability, with the MX-5 recently making it onto our best cheap cars list.
Inspired by Billie's car collection – Apply for finance with Carmoola today
If you're looking for your very own Eilish-approved car, check out our online finance calculator. It can give you an estimate of the repayment amount to expect for your expect budget.
Just follow the steps below or check out the 'How it Works' section of the website to get your car finance journey started right now.
Go to the Carmoola App
Enter your details & verify your ID
You will then get an illustration of what you could potentially borrow, over how long & what it would cost per month.
Go ahead and apply!
If you're accepted, you can go on to find your dream car - and then simply pay with your virtual Carmoola card at the dealership (or online)!
With Carmoola, it's easy to get behind the wheel of your dream car, no matter your budget or financial situation. So, why wait? Start your car finance journey today and get ready to hit the road in style. 😎🚘