What Car Does Johnny Depp Drive?
Johnny Depp is a man shrouded in mystery. How much does he really spend on wine? What
really happened with ex Amber Heard? Can he really act? 😂 He's been in the spotlight for
more than 30 years, but somehow he's still shrouded in enigma. We only know two things for
certain: Tim Burton has the biggest crush on him, and he owns a significant number of fancy
cars. Even then, the reports are mixed - Hot Cars claims his collection is 'surprisingly
simple', whereas Slash Gear believes he has 'at least 45 luxury vehicles'. Let's have a look
and see what Carmoola can find 🔎
BMW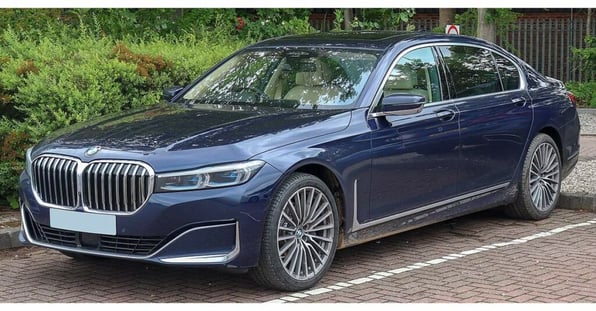 I'm not surprised to know that Depp has a BMW 7-Series. Apparently it's classified as 'ultra-luxury', which seems about right. The vehicle has a twin turbocharged V8 engine and can give nearly 400 horsepower. For all that, it's pretty inconspicuous though, and would probably be perfect for travelling in style without being clocked.
Cadillac
If you want a vehicle that won't be run off the road by the paparazzi, a Cadillac Escalade is the car for you. Yes, it's fast and luxurious and all the things you'd expect Depp's cars to be, but it's also almost intimidatingly sturdy. It's not moving unless it wants to, and it doesn't need to insist on its place on the road.
Chevrolet
Depp owns two Chevys: a Chevrolet Corvette 1959 and a Chevrolet Nova. I was a little
surprised to discover that Depp doesn't seem to own a Chevrolet Impala, the iconic car from Fear and Loathing in Las Vegas, but I suppose everyone's garage has limits. The Corvette is a classic vintage car that'll turn any head, and the Nova is, well, made in 1969 and has a certain 1970s (nearly) charm that doesn't completely translate into 2022. Each to their own, though.
Ferrari
For all the love of classic cars and indestructible metal shells, the Ferrari 488 Spider is a
sporty convertible that's almost basic. Sure, it's got an immensely powerful engine, costs
more than some houses and is undeniably stylish, but it's also, just, you know, a nice, fast
car. It's red. It's what you'd expect a nearly 60 year old man to drive.

Lamborghini
Although we don't really know how many cars Depp has, I'd be surprised to discover that he only has one Lamborghini. Nevertheless, he's only got one confirmed Lamborghini, the Aventador. It's got scissor doors, is worth more than $300,000 USD and apparently it's the fastest car Depp owns. I don't know where Depp is going in such a hurry, but he'll be getting there in style.
Rolls-Royce
Given his, um, prodigious spending on wine, it's not surprising that Depp often uses a
chauffeur. But when he's in the mood to get behind the wheel, the Rolls-Royce Wraith is a
pretty great choice. It's a two door vehicle with limited space but a lot of power to turn heads and can reach over 100mph with ease.

Lincoln Navigator
Much like the Cadillac, this is a beefy SUV that you don't mess with. Apparently Depp has
never driven it alone and mostly uses it to get to and from parties and award shows,
because there's plenty of room for his entourage. Perhaps a bus would be more roomy?
Takeaways
And that is it for today's blog post. We hope that you have enjoyed reading it as much as we enjoyed writing it. At Carmoola, we can help you find the best car finance deal to suit your needs. Why not visit the 'How it Works' section and see how we can help you? If you are looking to finance your very own vehicle, check out the simple steps below;
Go to the Carmoola App

Enter your details & verify your ID

You will then get an illustration of what you could potentially borrow

Then go ahead and apply!
And then if you are accepted, go on to find your dream car, and go ahead and simply pay with your virtual Carmoola card at the dealership (or online)! What's not to like? 😀👍