Brazil Winger Vinicius Junior's Car Collection
Vinicius Junior roared onto the international football field when he first played for Brazil's under 15 team in 2015. He continued to play in the youth team until he aged into the adult squad, and he'll probably be one of the star players in the upcoming 2022 world cup in Qatar. When he's not representing his country, Vinicius has played for Real Madrid and Flamengo. Not bad for someone who's barely 22! 👶
But what of the winger's other activities? According to his online social media presence, Vinicius is a big fan of big yachts, sharp suits and flash cars. Given his earnings from his incredible career, we're not surprised he's decided to treat himself. So let's find out more about what Vinicius has in his garage and how he arrives to training in style!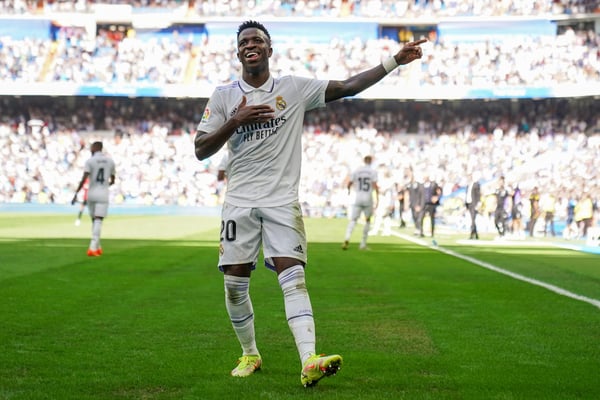 Audi A7
I feel like I've said this so many times recently: footballers seem to absolutely adore Audis! I don't know what it is about them that really brings the whole team together, but I imagine most managers could only dream of the unity and team spirit shown for a car brand. Vinicius has three Audis. One is the Audi A7. To be fair to players, it's a nice car and a good manufacturer. This particular model is a sedan, and it combines the incredible performance of a sporty Audi with the unique design. It has a 335 horsepower V6 engine and can go from 0-60 in less than six seconds. The inside is pretty flashy too and features some of Audi's signature luxurious elements. The price tag is quite significant for most people, costing $72,890 USD - but for context, Vinicius' salary for Real Madrid is supposedly $208,000 per week. It's strange to think of this car as being a budget vehicle!
Audi e-Tron Sportback
Vinicius' second Audi is even cheaper, costing a measly $70,000. Yet many would claim that it is superior to the Audi A7, as it can produce 402 horsepower, looks like an SUV, has a traditional grille and LED headlights. It's one of the new electric cars that makes the idea actually look appealing: it's powerful, fast and can charge to 80% in half an hour. Going for a more environmentally friendly option doesn't mean compromising on style, as Vinicius will surely tell you. It's a roomy vehicle and has plenty of room for all the spare kits and boots Vinicius must need as he travels from club to practice to match.
What car should he buy next?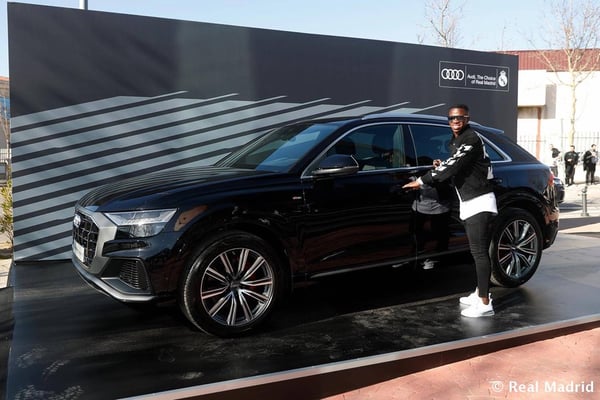 Vinicius's final Audi (for now) is the Audi Q7. It is - by far - his most expensive Audi, and would normally cost $368,000. But because he's such a superstar, Vinicius was apparently given this incredible vehicle for free! Apparently Real Madrid have a contract with Audi and the car company gives the players and the coach a new vehicle each season. So whilst Vinicius does have an Audi Q7, presumably, it'll be replaced next September 😂
Lamborghini Urus
Sure, Audis might be the go-to vehicle for footballers, but that doesn't mean that's the only thing they'll ever be seen driving! If you have a penchant for cars and the opportunity to buy a Lamborghini, who wouldn't take the opportunity. The Urus costs $250,000, and is considered to be one of the most incredible SUVS - and still only 'entry level'! The twin turbocharged V8 engine can produce 641 horsepower and has eight fluid speed automatic transmissions. Although it's an SUV, it's also a lot faster than one might expect - until you remember it's a Lamborghini! If you're going to branch out from the Audis and want something big, fast and tough, the Lamborghini Urus might just be the ride for you.
Range Rover Sport
Finally, we have a car that would seem more at home on a farm, but seems to have settled into its high lifestyle quite easily. It's not a tractor… It's a Range Rover Sport! It's great for off-roading, and has been described as 'comfortable, luxurious and spacious'. Whilst it's not as prestigious as the Lamborghini, we don't think anyone would be offended by the statement. It's a good car! It just costs nearly $200,000 less than one of the other rides in Vinicius' collection.
Takeaways
And that is it for today's blog post. We hope that you have enjoyed reading it as much as we enjoyed writing it. Check out more articles about legendary athletes and their cars! Here's one about the cars English swimmer Adam Peaty drive.
At Carmoola, we can help you find the best car finance deal to suit your needs. Why not visit the How it Works section and see how we can help you? If you are looking to finance your very own vehicle, check out the simple steps below;

● Go to the Calculator
● Enter your details & verify your ID
● You will then get an illustration of what you could potentially borrow
● Then go ahead and apply!

And then if you are accepted, go on to find your dream car, and go ahead and simply pay
with your virtual Carmoola card at the dealership (or online)! What's not to like? 😀🚘