Audi's Electric E-Tron Car Range
If you think of Tesla when someone mentions electric cars, that may very well change in the coming months. Elon Musk is shaking in his boots - Audi is a very strong new contender for luxury EVs. You'll be able to find whatever floats your boat in their full range of gorgeous electric cars, from sports saloon to bulky SUVs.
So, without further ado, let's explore Audi's amazing electric car range, so that you can find out which is right for you. Let's dive right in!
The Audi e-tron GT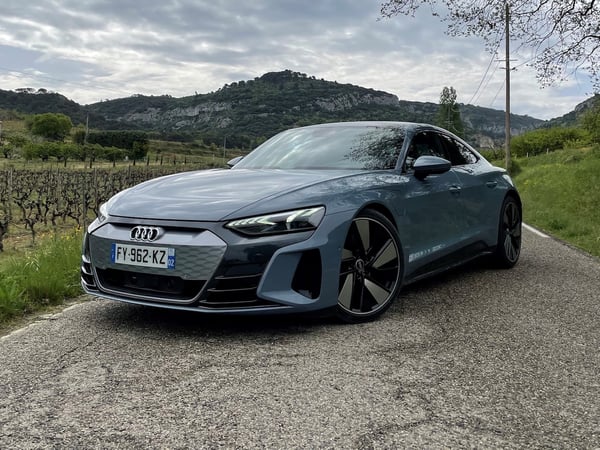 In September 2018, the first-ever Audi all-electric SUV was launched as the Audi e-tron. There's no better way of describing Audi's e-tron GT than an absolute picture-perfect representation of what an electric car should look like. There are two versions of the car, the e-tron GT and the RS e-tron GT. The RS e-tron GT has a boost mode of 637 hp with dual motors and a range of 232 miles with a 93 kWh battery. Sounds monstrous, right?
The Audi e-tron GT is a seamless combination of the roaring fire of Audi sports cars and the high-tech aspect of EVs. The cars are made from sustainable materials and can go from 0 to 62mph in 3.5 seconds. A full recharge of the GT takes 22 minutes only. What's more, the GT is considered to be among the most gorgeous-looking EVs on the market.
Price: from £80,850
Class: Executive car (E)
Body style: 4-door sedan/saloon
Layout: Dual-motor, all-wheel drive
Platform: J1
Powertrain: 2× AC synchronous electric motors, front and rear axle powered by e-tron
Power output: Maximum 475 kW
Transmission : 1-speed direct drive (front axle), 2-speed gearbox (rear axle)
Electric range: 264.1 mi
Plug-in charging: 270 kW
Wheelbase: 114.2 in
Length: 196.5 in
Width: 77.2 in
Height: 55.5 in
Kerb weight: 4,850.2 lb
The Audi e-tron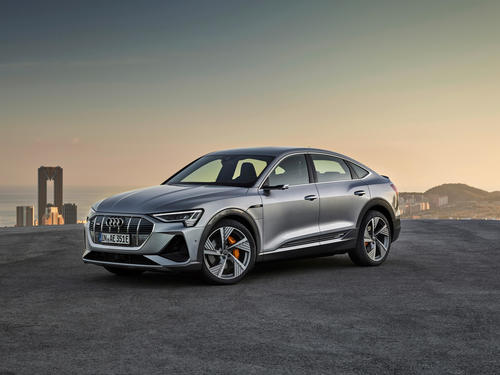 If you're looking for a stylish but powerful SUV, look no further, the Audi e-tron has got you covered. It is available in two different styles of body: the normal e-tron, which is a wide, expensive-looking SUV, and its sibling the Sportback, which is more of an S model.
The normal e-tron has dual motors and a range of 222 miles with a 95 kWh battery, plus a boost mode of 402 hp. You'll find that the e-tron Sportback is more expensive (its price starts at $84,800) but it is much more powerful - 496 hp and 717 lb-ft. The e-tron S also has a trio of electric motors, one for the front wheels and two for the back. A car of colossal strength, without a drop of diesel!
Price: from $65,900
Class: Mid-size luxury crossover SUV
Body style: 5-door SUV and 5-door coupé SUV (Sportback)
Layout: Dual or Triple-motors, four-wheel drive
Platform: MLB Evo[1]
Powertrain: Electric motor, 2x Asynchronous motors
Transmission: Single speed with fixed ratio
Plug-in charging: 150 kW
Wheelbase: 115.3 in
Length: 193.0 in
Width: 76.2 in
Height: 63.6 in
Kerb weight: 5,643.8 lb
The Audi Q4 e-tron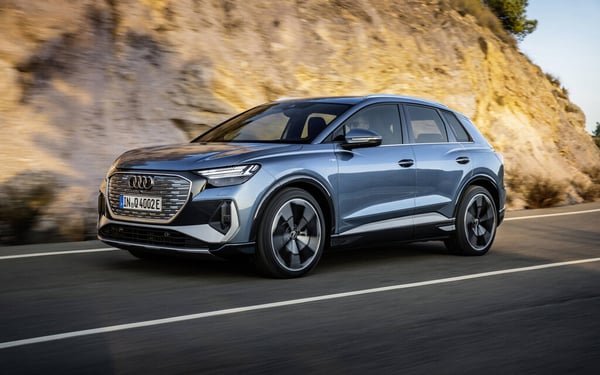 Many EV enthusiasts are put off by the hefty price tag of most electric car options. The Q4 e-tron is a rather more affordable alternative compared to its other Audi counterparts, and it is available in several configurations that you can choose to suit your needs. It starts at an understandable $49,900 for a range of 241 miles and a battery of 82 kWh.
If you need an EV with a bit more storage, you'll be enticed by the Q4's 53.1 cubic feet of storage capacity. You'll also be able to benefit from Audi's fast charging on the go, with a more or less full charge in around 38 minutes.
Price: from $49,900
Class: Compact luxury crossover SUV
Body style: 5-door SUV and 5-door coupé SUV ("Sportback")
Layout: Rear-motor, rear-wheel drive, Dual-motor, all-wheel drive
Platform: Volkswagen Group MEB
Powertrain: Electric motor, APP, 310 permanent magnet synchronous motor
Transmission: 1-speed
Battery: 52–77 kWh (usable) Lithium-Ion
Electric range: 212–323 mi
Plug-in charging up to 125 kW DC fast charging
Wheelbase: 108.8 in
Length: 180.6 in
Width: 73.4 in
Height: 64.3 in
Additions on the e-tron
We thought it might be useful for you to see the additions you can include in your purchase of your e-tron, like:
The "comfort and sound pack" for 1,895.00 GBP
Metallic paint finishes from 750.00 GBP
Exclusive Audi paint finishes from 3,400.00 GBP
A tool kit and jack for 300.00 GBP
A collapsible spare wheel for 300.00 GBP
Aluminium roof rails for 425.00 GBP
Privacy glass on rear and rear-side windows for 475.00 GBP
A wall-mounted bracket for compact e-tron charging system for 150.00 GBP
A 22kW onboard charger (AC) for 1,300.00 GBP
Virtual door mirrors for 1,250.00 GBP
4-Zone deluxe air conditioning for 825.00 GBP
Comfort remote pre-conditioning for 100.00 GBP
A removable and lockable trailer hitch for 650.00 GBP
A storage package for 125.00 GBP
A Tour Pack for 1,950.00 GBP
Side assist and pre sense rear for 625.00 GBP
A 360 camera for 1,895.00 GBP
Rear side airbags with illuminated seat buckles for 475.00 GBP
Audi warranty 4 years, max 75,000 miles for 635.00 GBP
Audi warranty 5 years, max 90,000 miles for 1,670.00 GBP
Takeaway
The recent Audi reports regarding sales stipulate that the popularity of the e-tron models is soaring worldwide. In 2021, Audi sold 81,894 e-trons, which is 57.5% more than the previous year. Audi now has 12 electrified cars, some of which can already be seen roaming through UK roads, as well as in the possession of many renowned world-class footballers like Real Madrid's Vinicius Jr or Luka Modric!
Audi has set clear goals to be CO₂ neutral by the year 2050 through a myriad of technologically advanced assets such as battery charging as you drive and smart connections with your smartphone. There's plenty to look forward to!
"In the future, virtually every market segment will include models powered by a combination of electric motors and a combustion engine that can be charged at an electric outlet." said Peter Mertens, member of the Audi technical development board. This sounds promising.
All in all, the all-electric Audi models include:
the Audi e-tron
the Audi e-tron S
the Audi e-tron GT
and the Audi Q4 e-tron
Though Audi also has hybrid models like:
the Audi A3 TFSI e
the Audi A6 TFSI e
the Audi A7 TFSI e
the Audi Q5 TFSI e
the Audi Q7 TFSI e
and the Audi Q8 TFSI e