What Cars are the Dragons from Dragon's Den Driving?
First off - huge Dragon's Den fans here! This is a blog post we have been looking forward to. We do a lot of blog posts on celebrities, athletes, but rarely on businessmen/women so this one is going to be a good one. The dragons from are known for their love of money and the more luxurious things in life. But what exactly are they driving?
This is the Carmoola blog, and today we are going to be taking you through the Dragons of past and present and delving a little deeper into their personal life to see what they drive on a daily basis. We hope you enjoy...
Dragon's Den
Dragon's Den is a TV program in which budding entrepreneurs pitch their business ideas to a panel of venture capitalists. These venture capitalists are called Dragon's - the subject of our blog post today. The entrepreneurs get three minutes to pitch their business ideas to five multi-millionaires who are willing to invest their own cash, time, and expertise to kick-start the business. After the pitch, the Dragons have the opportunity to ask questions about the venture. The entrepreneurs don't always have to answer, but of course, what they choose not to address could very well affect the outcome. The pitch is over when each of the Dragons has declared, "I'm out", or when they secure the full investment that they are asking for.
Our personal favourite dragon is Steven Bartlett at the moment, but be sure to leave yours in the comments section below...
Dragon's Den & Cars
There have been a few successful car-related businesses that have come through the Dragon's Den enterprise, including Bee Automobiles & Ling Cars. Although they didn't come out with any investments from the Dragons, they did make it onto the YouTube channel & TV reel, which is huge exposure for a business like that.
Here are the dragons other car-related investments in the past:
Deborah Meaden - Who invested in a company called 'DVLA Personalised Registrations'. This is a service that helps people to buy & sell personalised number plates.
Peter Jones - Who invested in a company called 'Wrapology', which is a business that specialises in wrapping cars.
Tej Lalvani - Who invested in a company called 'Bunzl McLaughlin', which is a business that sells car parts & accessories.
Maybach & The Dragons
Maybach has been hugely popular on our celebrity blog posts, and here they are again. Known for being the pinnacle when it comes to luxury, they have combined with Mercedes to design a host of luxury vehicles that compete with Rolls-Royce, Bentley & Aston Martin. Peter Jones & Theo Phaphitis each took delivery of a Maybach 57 - arguably the pinnacle of modern motoring. Speaking to Mercedes, all 6ft 7 inches of Peter Jones said he loved the leg room that the 57 provided and Theo hailed the car as his 'chill out zone' when he is going to and from meetings. We just usually use the couch in the office as our chill-out zone Theo, but I guess that's what you do when you are a multi-millionaire 😂

Steven Bartlett
Forbes estimates the social media phenom to be worth £68 million, we love him over here at Carmoola, and think he has been a great addition to the Den. Let's focus on that £68 million, and how many cars you can buy with that. A driver - that's what you can buy. Bartlett quoted on his podcast that he has now hired a driver to take him and his podcast guests around London (his new home). Following on from this he said he previously owned a Range Rover that he used to drive and still owns.
Deborah Meaden
Environmental activist Deborah has been in the den since 2003. Recently she has operated a plant-based diet and now drives an electric car - the BMW i3. The BMW i3 is an all electric car that has a range of around 124 miles. It's not on the same level as Tesla yet, but for city driving, which we can assume business mogul Meaden does a lot of, it's perfect. Plus, it's a lot cheaper than a Tesla.
Theo Phaphitis
Retail expert and Dragons Den star Theo Phaphitis owns a car that is likely to be on most peoples bucket lists - the Ferrari 458 Italia. This beautiful work of art can accelerate from 0-60mph in just 3.0 seconds, and has a top speed of 202mph. All this speed doesn't come cheap though, with a price tag of around £230,000.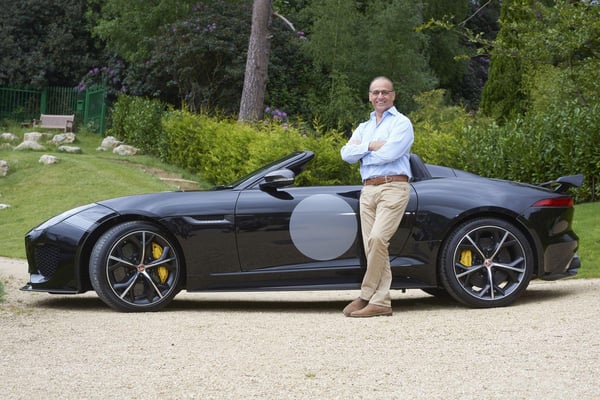 Ruth Sunley
The self-titled 'Queen of Shops' has an impressive car collection which includes a Bentley Bentayga, a Range Rover, and a Mercedes GLE. All 3 are luxurious SUV's that would set you back at least £100,000 each.
Takeaways
The car industry is huge, and we love seeing the dragons get involved in it on Dragon's Den. What are your thoughts on their car choices? Let us know in the comments.
Now, if you are looking to get yourself a car that's Dragon worthy, make sure that you check out our car financing solutions. The Carmoola team work tirelessly to provide the most flexible solution for your needs, simply download our app and get started today...