Fulham Football Players and Their Cars
Fulham F.C. is the oldest professional football club in London, known for their iconic black and white kit that hasn't changed in nearly 120 years. Off the pitch, though, the team are known for their rainbow cars which brighten up Craven Cottage and might make people re-think the nickname 'The Lily Whites'. We're going to look into the garage to see which players are arriving in a style that befits a Premier League football team.
It means there is a car collection to match. And the boys have class on and off the pitch. From Lamborghini's to the trusty Range Rover, the Fulham team has it all. Continue reading to find out more…
Nathaniel Chalobah
Arguably the most impressive car collection belongs to Nathaniel Chalobah. Fans will know he's always up for trying outlandish modes of transport, including a fly-board! The midfielder, who has also played for the English national team, took to Instagram to show himself propelled metres above the water on the strange contraption, and assured everyone that he'd ended up swallowing a fair amount of seawater. When he's on land, he usually drives a silver sports car or the black Range Rover Overfinch, which he gifted himself one Christmas. Chalobah also 'fell in love' whilst in Dubai… with a Mercedes-Benz G Wagon! We don't know if he's actually managed to purchase the vehicle, but it certainly seemed like a priority for him

Tom Cairney
Tom Cairney seems to be the most dedicated team member in terms of bringing a little colour, with a bright yellow 4x4 Lamborghini supercar. There's no way you'd not notice that pulling into the stadium! He also owns an orange sports car, which is hardly incognito. It would seem that Cairney has inspired more than just young footballers: the Fulham captain has also got a car air freshener available on Etsy! It seems an odd way to pay tribute to your team, but at the same time, we do sort of want one.

Aleksandr Mitrovic
Lots of the Fulham F.C. players have taken after their captain Tom Cairney and own cars and other, well, vehicles. Aleksandar Mitrovic has a nice, normal BMW for day-to-day driving, but also used a quad bike whilst on holiday with his partner. No news on whether he's decided to invest in one for home use, but really, why not? They both seemed to be enjoying the experience.

Layvin Kurzawa
Likewise, former PSG man Layvin Kurzawa owns a white Bentley, perfect for luxurious but regular use, and a jet ski. If you like to go fast on the pitch and on the road, why wouldn't you want to extend that to the sea if you had the chance? In the opposite direction, Neeskens Kabano showed off his dune buggy whilst on holiday in the desert, so perhaps the two could race along a beach.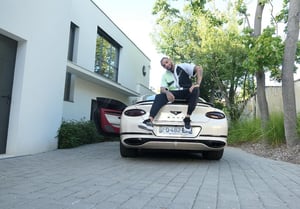 Kenny Tate
Kenny Tate likes to keep things simple but classy. He'll show off his money but never be too ostentatious and owns two cars: a mysterious grey 4x4 and a black sports car. We don't know what make or model they are, so the Dutch footballer can probably switch between his commitments in Europe and the Premier League with ease.
Takeaways
Fulham F.C. might not regularly win the league, but that doesn't mean anyone should discount the talent of the players or, more importantly, how nice their rides are. Whether they're zooming down the pitch or around the country, we know they'll be doing it in style and showing off just what playing for the team is worth.
We have loved every minute of writing this, and we encourage you guys to leave a comment, or check out our app, if you want to support us further! Want to know more about the cars football players drive? Here's an article on the Brentford Football Players and their cars!