Liverpool Football Players and Their Cars
Liverpool Football Club is one of the most successful clubs in England, with a host of trophies to their name. But did you know that the Liverpool players also have some impressive cars in their collection? 😍 In this blog, we're taking a look at some of the best cars owned by Liverpool FC players. From Ferraris and Porsches to Bentleys and Range Rovers, these footballers certainly know how to make an impression on the road!
If you're a Liverpool FC fan and you are thinking of financing a car of your own, be sure to check out Carmoola. We offer flexible no-fuss car finance packages and can help you get behind the wheel of your dream car. So, if you're asking yourself "how much will my car repayment be?", check out the Calculator tool here. We've included helpful things such as how much total interest you could be paying, how much your car payments will be each month, and the APR on your car finance. Now, into the blog...
Liverpool FC 1st XI Squad
With Jurgen Klopp's huge squad we can't include everyone's car collection, we would be here all day, however, what we can do is include the most impressive. So today we are going to be looking at;
Mohammed Salah
Trent Alexander-Arnold
Alisson Becker
Roberto Firmino
And trust us when we say - you are in for a treat here guys...

Mohammed
Salah
The Liverpool & Egyptian legend Salah is one of the most popular athletes in Africa and one of the most talented footballers in the world at the moment. But what does a player of that status drive? A Lamborghini Aventador of course. Obviously that's not all he has, but we do have a Mo Salah car collection blog post planned, so we don't want to give too much away… So, keep up to date with the blog people, that's going to be a big one!
Ok. Ok. A sneak peek for you, the car collection includes;
Lamborghini Aventador
Audi q7
Bentley Continental GT
Mercedes AMG GLE Coupe

Virgil
Van

Dijk

Okay, if we are all being honest here, no matter who you support, Virgil Van Dijk has lit up the Premier League as no other player has since joining Liverpool. At Southampton, we saw a talented but young centre-back. But recently at Liverpool, he has truly become dominant. And off it, Virgil has levelled up his game as well, especially on the roads. He has just bought a £150,000 Mercedes-Benz G-Class G 63 AMG to get to and from training. It's pictured below, and you can see our opinions on the best Mercedes in our previous blog post here…

Trent Alexander Arnold
One of the younger players in the Liverpool team, at 23, Alexander-Arnold has been lighting up Anfield since he was just 18 years old. He's not only known for his skills and technique but his incredible passion & work ethic for the badge. If someone deserves a luxury car, it's Trent. And in fact, he has a collection of vehicles, with a particular fondness for Mercedes-Benz. Our favourite from his collection? The Mercedes-AMG C 63 Coupe. The AMG provides a great alternative to the standard Mercedes that so many people own on the UK roads, making it perfect for a footballer of his quality.
Alisson Becker
Liverpool goalie Alisson Becker has been a stalwart in the Liverpool defence throughout their most successful period. And this burst of success has lead to him enjoying life off the pitch, especially on the roads. The Brazil international enjoys driving around in his Audi q7. And why wouldn't you? It comes with an expressive design, great technology, and first-class comfort. Perfect for getting to and from the training ground.
Roberto Firmino
The Liverpool attacking midfielder Roberto Firmino is known for his flamboyant style on the pitch, and his car collection definitely follows the same pattern. Again, a player we could and probably will write a full car collection on, Roberto Firmino's most notable section of his car collection is the Rolls-Royce hanging around in his garage. Here he is pictured below with them, I mean, isn't this guy the coolest? 😎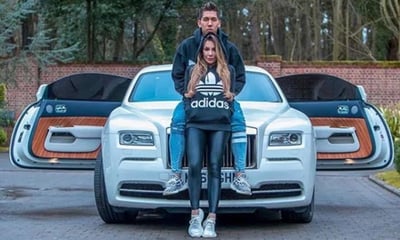 Takeaways
And, with the Liverpool wage bill, it's not really a surprise that the boys have such an impressive car collection. However, a footballer's wage isn't what is needed for an impressive car. With Carmoola's car financing deals, you can easily drive away in your dream car from thousands of dealerships, download our app to get started today. 👍🚘