Manchester United Football Players and Their Cars
Manchester United has some of the best footballers in the world. But they're also pretty flash when it comes to their cars. The United boys are some of the highest-paid athletes in the world. Consequently, they can afford to buy very expensive cars.
In this blog post, we have taken a look at some of Manchester United's top players and the cars they drive. From Rolls Royces to Ferraris, these guys definitely know how to spend their money! And, if you're a Manchester United fan and you're looking for car finance, we can help. We offer competitive rates and can tailor a package to suit your budget. Check out the how it works page to find out more.
Man United 1st XI Squad
With Ragnick/Ten Hag's huge squad we can't include everyone's car collection, we would be here all day, however, what we can do is include the most impressive. So today we are going to be looking at;
Cristiano Ronaldo
Jadon Sancho
Marcus Rashford
Luke Shaw
Paul Pogba
And trust us when we say - you are in for a treat here guys...
Cristiano Ronaldo
The Manchester United & Real Madrid legend Cristiano Ronaldo is one of the most popular athletes in the world. And he has a car to match his status – a Bugatti Veyron. Obviously that's not all he has, but we do have a Ronaldo car collection blog post planned, so we don't want to give too much away… So, keep up to date with the blog people, that's going to be a big one!

Jadon Sancho
Okay, if we are all being honest here, Jadon Sancho hasn't lit up the Premier League like first expected. At Dortmund, we saw a free flowing player who wasn't afraid to show his skills. But recently at United, that flare has been hidden on the pitch. But off it, it still stands, especially on the roads. He has just bought a £380k custom Mercedes Brabus to get to and from training. It's pictured below, and you can see our opinions on the best Mercedes in our previous blog post here…

Marcus Rashford
One of the younger players in the United team, at 24, Rashford has been lighting up Old Trafford since he was just 18 years old. He's not only known for his performances but also for his fantastic charity work and political influence as well. If someone deserves a luxury car, it's Marcus Rashford. And in fact, he has a collection of vehicles, with a particular fondness for Mercedes-Benz. Our favourite from his collection? The Mercedes-Benz AMG G63. The G63 is a great alternative to the standard Range Rover that our blog readers have got to know very well over the past couple of months😂
Luke Shaw
Manchester United left-back Luke Shaw has had a tough few years with injuries. But that doesn't mean he can't still enjoy life off the pitch. The England international enjoys driving around in his Mercedes-Benz S-Class. And why wouldn't you? It comes with an expressive design, great technology, and first-class comfort. Perfect for getting to and from the training ground.
Paul Pogba
The Manchester United midfielder Paul Pogba is known for his flamboyant lifestyle, and his car collection definitely follows the same pattern. Again, a player we could and probably will write a full car collection on, Paul Pogba's most notable section of his car collection are the Rolls-Royce's hanging around in his garage. Here he is pictured below with them, I mean, isn't this guy the coolest? 😎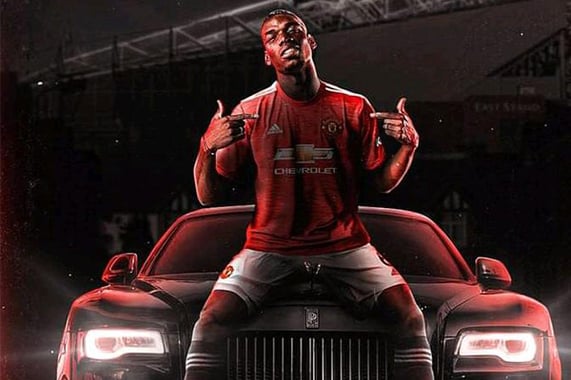 Takeaways
And, with the Manchester United wage bill, it's not really a surprise that the boys have such an impressive car collection. However, a footballer's wage isn't what is needed for an impressive car. With Carmoola's car financing deals, you can drive away in your dream car from thousands of dealerships, download our app to get started today.
Want to know more about what cars athletes drive? Check out this article on Brentford Football Players and their cars!