What Car Does Margot Robbie Drive?
If you're Australian, you'll know Margot Robbie from Neighbours. If you're from anywhere else in the world, you'll know her as the unbelievable bombshell in The Wolf of Wall Street, where she partnered up with Leonardo di Caprio. From the Oscar winning film, Robbie has won many awards, starred and produced films and TV series and started a gorgeous car collection. Our editing team thinks she was also the only bearable part of Suicide Squad 😂. How would you rank her achievements? How would you rank her cars? Read on to find your favourite.
Audi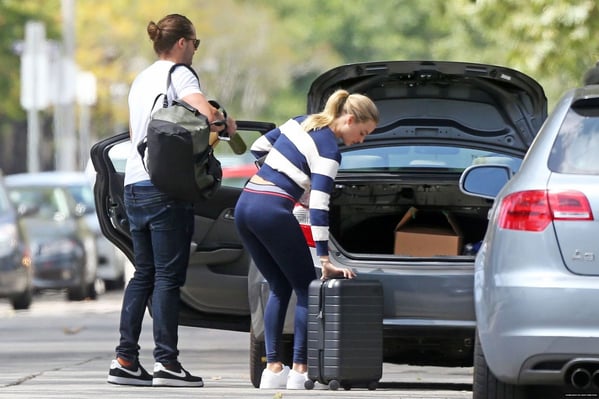 Robbie has two Audis: an Audi A6 and Audi R8. The R8 is inarguably cooler: it can do 0-60mph in 3.2 seconds, reach speeds of over 200pmh and looks every bit as flashy and ostentatious as you'd expect from a car with those capabilities. The A6 is still nice, but after around 100 episode of the celebrity car series, it's pretty standard!
Cadillac
The actress might like tiny, fast cars but she's also prepared to give an entire film cast a lift. The Cadillac Escalade is a pretty roomy SUV with a noticeable price tag, and it's a favourite amongst many celebrities.
Ford
Perhaps Robbie likes to buy cars in pairs. First the Audis, now the Fords. Like her diverse choice in Audis, the Fords have two very different looks. First up is the six-speed Ford Mondeo that looks reliable and quietly luxurious, and secondly is the Ford Explorer, which seems like much more of an all-terrain ride and would probably be the perfect drive to cross the bush in, if you were so inclined. How nice does this car look by the way?! Leave a review in the comments section below :)

Hyundai Excel
Some of us have a soft spot for our first car. Others can't wait to be rid of them and move onto something without Flintstone-esque holes in the bottom. As it turns out, Margot Robbie is in the former category and still owns her Hyundai Excel from the 1990s. The fact that this thing runs at all is genuinely surprising, so props to Robbie's mechanic. 😂

Mercedes-Benz
There's a definite switch between Robbie's Hyundai Excel and her two Mercedes-Benzs. The Excel is excelling by still being operational, but the Mercedes Benz G63 AMG probably has enough power to propel many other vehicles. It's a 4x4 with 4.0 litre twin-turbocharged engine that could confidently drive on almost any terrain without causing any problems for those inside. Then there's the Mercedes-Benz CLA: it's much more conventional, although it's a front-wheel drive, and looks like the kind of thing you'd take your children to school in if you were a moderately well-off parent. Perhaps not the sort of thing you'd expect the Focus actress in, but Margot's always been too talented to get pigeon-holed into a two dimensional stereotype.

Nissan
In 2017, Nissan came out with an unexpected announcement: it was launching an electric vehicle, and Margot Robbie was the spokesperson. In an advert, Robbie drove the Nissan EV BladeGlider around Monaco's Grand Prix circuit and showed off the accelerating capacity of a vehicle which is fast, sporty and environmentally friendly. Later, Robbie talked about the experience and the opportunity to make greener choices in vehicles. We'll have to look out for more electric vehicles in Robbie's garage in the future.
Takeaways
And that is it for today's blog post. We hope that you have enjoyed reading it as much as we enjoyed writing it. At Carmoola, we can help you find the best car finance deal to suit your needs. Why not visit the 'How it Works' section and see how we can help you? If you are looking to finance your very own vehicle, check out the simple steps below;
Go to the Carmoola App

Enter your details & verify your ID

You will then get an illustration of what you could potentially borrow

Then go ahead and apply!
And then if you are accepted, go on to find your dream car, and go ahead and simply pay with your virtual Carmoola card at the dealership (or online)! What's not to like? 😀👍