Arsenal F.C Football Players and Their Cars
In recent years, the Arsenal football team has continued to evolve and improve with the introduction of youth. The Gunners have developed a great team, led by former Arsenal player and now manager, Mikel Arteta. With superstars like Bukayo Saka, Aaron Ramsdale and Martin Ødegaard, they've got a fine crop of tomorrow's starts.
Of course, the players have a car collection equal to their talents. From Lamborghini's to the trusty Range Rover, the Arsenal team has it all. Continue reading to find out more…
The Arsenal Football Team
Arsenal are a Premier League club whose roots began in Woolwich, Southeast London. From its first incarnation as Dial Square in 1886, the Club became Arsenal FC in 1919 after moving to North London in 1913. That was the beginning of a storied history that's delivered 14 FA Cups, a Winners' Cup, 13 League Championship titles, including three Premier Leagues, 16 Community Shields, and two League Cups. It is no secret that Arsenal have dominated over the history of English football, and the Gunners fans in the Carmoola office always let us know 😂
Arsenal 1st XI Squad
With Arteta's huge squad we can't include everyone's car collection. Otherwise, we'd be here all day. What we can do, however, is include the most impressive. So today we're looking at:
Gabriel Jesus
Aaron Ramsdale
Martin Ødegaard
Emile Smith-Rowe
Bukayo Saka
And trust us when we say - you are in for a treat here guys ...
Arsenal F.C & BYD Auto
One of Arsenal's official partners are BYD Auto. The club statement after signing an agreement read: "We have signed a global agreement with the world's best-selling electric vehicle manufacturer, BYD Auto."
"BYD becomes our official car and bus partner. China-based BYD – which stands for Build Your Dreams – designs, develops, manufactures and distributes cars, buses, commercial vehicles and rail stock. Based in Shenzhen, Guangdong Province, BYD has been the world's biggest new energy car sales business over the past three years. It provides single and double-decker buses to Transport for London and employs more than 220,000 employees across five continents."
We think it's super refreshing to see a big Premier League club like Arsenal enter into a deal like this with an electric car company. Check out our previous blog posts on our personal favourite electric vehicles here...
Gabriel Jesus
Jesus is one of Arsenal's latest signing. He is an energetic, versatile, all-action forward who scored 95 goals in 236 games in all competitions prior to joining Arsenal. Gabriel Jesus famously comes from the Brazilian favelas, and his rise to footballing fame has come with a distinct change in economic situation as well. And more money means more cars... Jesus will start to ride around the English capital in his Mercedes, that he bought after his £4 million a year new deal was announced. We love it Gabriel!

Aaron Ramsdale
Ramsdale has his very own Mercedes G63 AMG, a great car with an even better defence system. Just like his playing style, this car is bulletproof, and ready for just about anything. We don't know why Aaron would ever need this, but just in case of a zombie apocalypse, he has got it just in case!
The car was modified by Urban Automotive who wrapped it in an amazing satin grey aluminium colour for that classy finish. We absolutely love it, but you can decide for yourself...

Martin Ødegaard
Arguably Arsenal's most talented player, Martin Ødegaard's car choices are just as good as his decisions on the pitch. The Norwegian ace drives an Audi, that he got for joining Real Madrid as part of their deal with Audi. That means he can hit some serious speeds on the road, which is ideal for Martin who puts on the burners to escape defenders on the pitch.
Emile Smith-Rowe
Ødegaard's Arsenal teammate Emile Smith-Rowe likes to get behind the wheel of a host of cars and is often spotted around Croydon on his way to the training ground in a host of cars. The flamboyant youngster has a car collection that is unattainable to most of us, but it's pocket change for a Premier League footballer. His favourite cars are his Range Rover, the Audi Q7, and his Mercedes Benz. Just reading that list makes us feel like we are in a luxury car garage 🥵

Bukayo Saka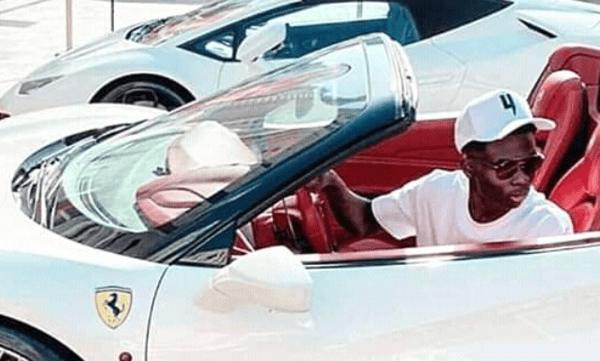 Arsenal's Star Boy is also a full-on England international lighting up the world stage. He holds a special place in the heart of Arsenal fans, after breaking into the team at just 17 years of age. He's a special one and has the car to match. Saka has been spotted driving a white Lamborghini. A fine wide forward with an excellent taste in cars. What's not to love?
Takeaways
The Emirates parking lot is like a car dealership. Just writing this, we have been in awe the whole time. From Pepe's Ferrari, to Ramsdale's apocalypse proof Mercedes. We have loved every minute of writing this, and we encourage you guys to leave a comment, or check out our app, if you want to support us further! 👍